CRM Software
SalesLogix CRM Review
Complex sales cycles require complex software solutions. SalesLogix CRM ramps up sales cycle management with a powerful system that is chocked full of features and benefits. Here's why we think SalesLogix is the "logical" choice for companies who require more from their CRM system.
If you're company is successful, you will eventually reach the stage when an entry-level CRM system is no longer capable of keeping up with your sales activites.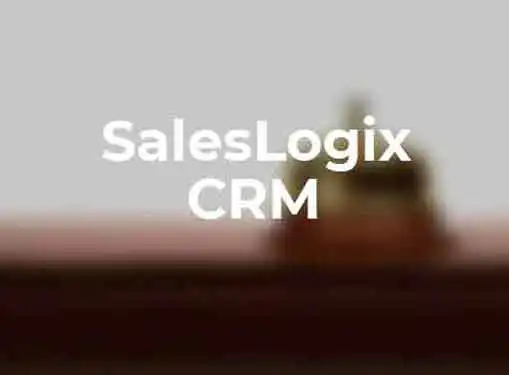 The more complicated your sales cycle, the more important it is to implement a CRM with the capacity and horsepower to deliver higher conversion rates and more comprehensive features than the system you are using now.
SalesLogix is an award-winning CRM system that is designed for companies who are interested in taking CRM to the next level. Although it is an extremely feature-rich product offering, don't let its sophistication fool you. It has also garnered wide praise for its ease-of-use and streamlined integration with other common business software applications.
Is SalesLogix the right CRM choice for every small business? Probably not. But if you've been impressed by the results you've seen from CRM and are hell-bent on squeezing every last drop of productivity from your CRM solution, SalesLogix CRM deserves a closer look.
Power and versatility. SalesLogix is the industry standard for delivering the right combination of technological capacity and usability. Its user interface is widely considered to be one of the most accessible for sales and service personnel. And since it's completely scalable, expandable and customizable, you get the assurance of having the best possible CRM today and tomorrow.
Features. It's impossible to describe all of SalesLogix's CRM features in a single paragraph. Suffice it to say that this solution is known as being extremely feature-rich. You get all the features you need to define and manage sales processes, identify selling opportunities, forecast sales volumes and facilitate top-tier collaboration within your organization.
Import/export capabilities. SalesLogix is intentionally designed to simplify the process of importing data from popular CRM systems like Act!, Goldmine and other text-delimited formats. It can also be configured to automatically synchronize with Outlook so you have up-to-date contact information when and where you need it.
Deployment options. Like other leading CRM providers, SalesLogix lets you choose between on-site or cloud computing platforms. Both have the same benefits and features.
Implementation. SalesLogix can be trickier to implement than other CRM solutions because it is a more comprehensive and sophisticated option. Implementations require careful planning and are usually done through value-added resellers.
Cost. Expect to pay a little more for SalesLogix than you will for an entry-level CRM application. But given its advanced capabilities, many business owners are more than willing to pony up the extra cash.
Share this article
---
Additional Resources for Entrepreneurs