Real Estate Decisions
Small Business Office Condos
Office condos represent a way to build equity with your rent money, instead of giving it away. Purchasing an office condo makes sense but there are a few drawbacks you should consider.
Small business owners have traditionally been faced with two options for space.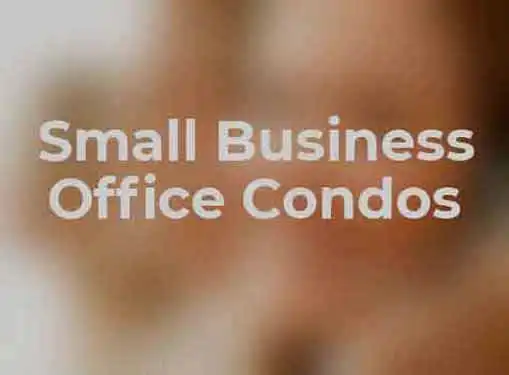 Either keep shelling out cash in monthly lease payments or plunk down a sizable chunk of change to buy a free-standing building. Both options have advantages and disadvantages, but for some business owners neither is ideal. Wouldn't it be great if there was a third option?
In recent years, a third option has appeared in the marketplace - office condominiums. Office condos have been most well-received by small businesses because they give smaller the companies the ability to own their space without giving up many of the benefits of renting - a big plus for businesses who lack the staff and resources of larger competitors.
Even so, before deciding whether or not an office condo is right for you, you need to carefully the benefits and drawbacks.
Benefits of Office Condos
When you purchase an office condo, you are purchasing space in a larger office complex that often shares the burden of maintenance costs and building upgrades. The nice part of the arrangement is that you don't have to worry about securing contractors to mow the loan or remove the garbage and you don't have to solicit bids should the space need a new roof. All of those details are handled by the condo association, leaving you and your staff free to run the business.
Many would-be condo owners are also surprised to learn that the mortgage payment on a condo is usually lower than the monthly payment for leased space.
Lower interest rates have done a lot to make office condos more appealing and affordable to the average small business owner, however buying real estate over time is generally a better financial move than leasing because it also gives you the ability to accrue equity.
By purchasing rather than leasing, you are left with something to show for yourself after you have paid your monthly payment. Since you own the property, you can then deduct it as an appreciable asset for income tax purposes as well.
Drawbacks of Office Condos
Buying an office condo also has some drawbacks. In addition to your monthly mortgage expense, you will also be required to pay an association fee that covers shared maintenance expenses. Additionally, you may also be charged periodic special assessment fees to pay for capital improvements.
Since the timing of these expenses is determined by the association, it is entirely out of your hands and it's possible you could be hit with a special assessment at a moment that is highly inconvenient for your business.
Another significant drawback of an office condo is that it can severely limit your flexibility. Since you own the property, you can't simply walk away from it should your business outgrow the space.
Instead, you'll have to try and sell the property, a prospect that could leave your resources tied up for several months or more. Although you will likely make a profit on the sale, a real estate downturn could even incur a loss.
Ultimately, the purchase of an office condo should be viewed as a long-term investment decision. If you are relatively comfortable with the size of your business and don't anticipate outgrowing the space anytime soon, an office condo might be the right move for your company.
But if you anticipate quickly outgrowing your current space requirements, an office condo is probably not a good idea - at least not now.
Share this article
---
Additional Resources for Entrepreneurs