Raising Money
Starting a Business on a Shoestring Budget
Written by Brenda Stokes for Gaebler Ventures
Many business owners have started their business with very little money. Of course it depends on the type of business you are establishing, but how is it these business owners do this?
There are many entrepreneurs who have been able to start a business on a shoestring budget and sustain their business.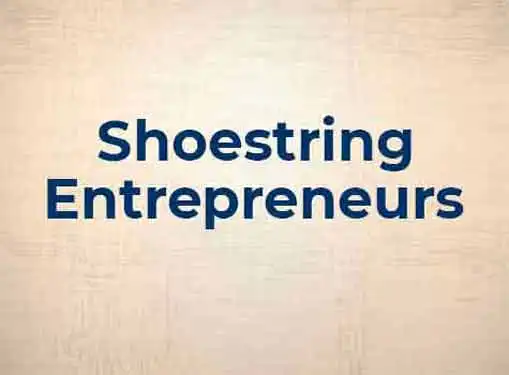 The types of businesses they start range anywhere from home-based businesses to Mom and Pop stores. Although it may sound too good to be true, there are ways that you can take your shoestring budget and be a success.
Those ways are:
1. Consider buying used materials. If you need a computer, a printer, and other equipment, you can find these items for sale in the classifieds, on eBay, and businesses that are going out of business.
2. When you need merchandising equipment, stores that are going out of business sell their display cases, shelving, and other items for a great price.
3. Don't worry about your new business being fancy. When you have limited capital, you have to put aside the image in your head of a fancy start and think small. Rent a space at a flea market or find a cheap store space to rent. You can later do such things as move to the mall or rent a larger space as the revenue starts coming in.
4. Spend money when you have it. Don't try to spend money you don't have or you are going to be held liable to others. Operate as tightly as you can. Buy items used, use what you already have, and identify what is not necessary right this moment to start a business.
5. Choose your business type carefully. You do want to do something you enjoy, but it has to be feasible in relation to your budget. Not all business types can operate on a shoestring budget. If you have big dreams, it is sometimes best to start a small business and then use revenues from that business to achieve larger business goals.
6. Be creative to expand the resources that you have. If you have an idea that you think just might work so that you can start a business on a shoestring budget, use that idea. Most entrepreneurs wouldn't be where they are today without using their imagination to make things work.
7. Be passionate about your business. Starting a new business can be hard, but you can let your passion drive you. You have to be full of heart to win the battle that having limited capital can start.
8. Make sure you get your cash quick. You don't want to wait 60 or 90 days to pay, so ensure you have a cash option for your customers to pay you. For a store this is easy. For those starting a business out of their home, it is a little harder. Make sure you implement multiple payment options, such as using PayPal and taking a partial payment up front for services.
Starting a business on a shoestring budget can be hard, but it can be rewarding. Be creative, use the resources available to you, don't be afraid to ask questions, and do some research. When you do all of these things, you can start your business on as little money as possible.
Brenda is a graduate of California State University and a professional writer covering a variety of business topics. To learn more about Brenda, check out her website at The Digital Inkwell.
Share this article
---
Additional Resources for Entrepreneurs