How to Start a Small Business
Starting a Furniture Rental & Leasing Business
These tips are perfect for entrepreneurial folks who plan on opening a furniture rental and leasing business. Read this before you begin your venture.
Thinking about opening a furniture rental and leasing business? We tell you what you need to know to get started.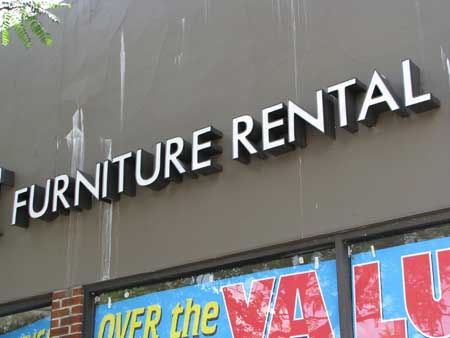 If you can keep your furniture inventory out of your warehouse and have it be actively rented, a furniture rental business can be very profitable.
The Dynamics of the Furniture Rental & Leasing Business
For individuals with short-term furniture needs or limited credit resources, furniture rental and leasing is a godsend. As a startup furniture rental and lease provider, it's important to understand the dynamics of the market. Not everyone is a good candidate for furniture rental, so you will want to focus your marketing plan on targeted segments of consumers rather than the entire furniture marketplace.
Lease payments are the backbone of the furniture rental industry. As in other industries, leasing is ultimately more expensive than an outright purchase or loan. But the advantage is that lease payments enable individuals to obtain furniture without making a long-term commitment or relying on credit.
Although terms vary, it's not uncommon for a two-year lease to more than double the retail cost of the furniture. If that sounds like usury, consider this: At the end of two years, there is no guarantee that you will be able to recover even a fraction of the cost of the merchandise. When you add the cost of the furniture to the time value of money and deliver/pick-up expenses, it's not hard to see why lease fees add up.
Key Selling Points in Furniture Rental and Leasing
Although furniture renters have fewer options than buyers, it's a mistake to assume that your customers have no other alternatives than to rent from your business. For starters, extremely high lease rates and poor furniture quality can send prospective customers running to the competition. They could also choose to buy secondhand furniture or simply get by with whatever they can piece together rather than settling for a bad deal.
As you plan your furniture rental business, embrace the idea that you need to sell your business concept to furniture buyers using a handful of key selling points. Although you can't compete on price with furniture sellers, you can offer a low price guarantee within the furniture rental market. Likewise, you can emphasize flexibility, ease of access and product quality as primary points in face-to-face selling.
Revenue Strategies for Furniture Rental Startups
Effective lease rate pricing is a core business function for startup furniture leasing companies. But pricing isn't the only revenue tool at your disposal. In order to capture a larger share of the market, many furniture rental providers also offer rent-to-own or financing options on their merchandise.
From a consumer perspective, rent-to-own and other financing options allow people with no credit or bad credit to buy furniture on an installment basis. Since there is no credit check, you will incur more risk than a traditional lender. To compensate, you will need to charge higher rates and be proactive about collecting on bad accounts. But the good news is that with the right strategy, you can significantly boost revenues by creating a path to ownership for your customers.
Best Practices for Furniture Rental & Leasing Company Business Plans
The idea of writing a business plan is intimidating to most aspiring furniture rental and leasing business owners. A good furniture rental and leasing company business plan, however, is a reality check that gauges your business instincts against hard industry numbers.
After the plan has been completed, its effectiveness will largely depend on what you do next.
A business plan distribution strategy represents the backend of your business planning requirements. Generally, effective distribution models include the incorporation of tracking systems into the company's startup plan.
Review the Competition
Prior to launching a furniture rental and leasing business in your area, it's worthwhile to find out how you will fit in the competitive landscape. Try our link below to generate a list of competitors in your city. Complete the form by entering your city, state and zip code to get a list of furniture rental and leasing businesses that are close by.
Gain a knowledge of how existing firms have positioned themselves in the marketplace, and then design your business in a way that sets you apart from the others.
Getting Advice from Experienced Entrepreneurs
After you've evaluated your local competitors, it's essential that you learn from folks who are already in business. If you think owners of nearby furniture rental and leasing businesses will give you advice, think again. The last thing they want to do is help you to be a better competitor.
On the other hand, an individual who has a furniture rental and leasing business on the other side of the country will be much more likely to talk with you, provided that you won't be directly competing with them. Many business owners are happy to give advice to new entrepreneurs If you are persistent, you can find a business mentor who is willing to help you out.
Where do you find an entrepreneur who is running a furniture rental and leasing business who is willing to talk to you but doesn't live nearby?
We can help. Follow the link below, try a few city/state combos or zipcodes, and then start calling!
Branding Advantages of Buying a Furniture Rental & Leasing Business
Startup furniture rental and leasing businesses typically suffer when it comes to brand recognition because unlike entrenched competitors, new brands lack visibility and history with their customers.
Buying a business to get an established brand is a common strategy among growth-minded furniture rental and leasing business entrepreneurs. As a startup, the best you can hope for is to gradually develop brand awareness over a period of months and years.
However, a furniture rental and leasing business acquisition can put you at the helm of a brand that is already highly trusted by your target market.
Consider Franchising
The odds of achieving your top business goals are substantially improved if you become a franchisee in lieu of doing everything yourself.
Before you get too far along in your plan to open a furniture rental and leasing business, you ought to determine whether purchasing a franchise might make it easy to get started.
The link below gives you access to our franchise directory so you can see if there's a franchise opportunity for you. You might even find something that points you in a completely different direction.
Related Articles on Starting a Company
These additional resources regarding getting started as an entrepreneur may be of interest to you.
Have Friends Who Might Like This Article?

Share this on Twitter
Let them know on LinkedIn
Ready to Learn More? We Think You Might Like These Articles:
---
Additional Resources for Entrepreneurs