Good Startup Businesses
Starting a Juggling Instruction Business
Starting a juggling instruction business can get you on the path to a secure financial future if you do it right. We provide a friendly, comprehensive guide on the startup process.
Wondering how to start a juggling instruction business? We take you step-by-step from start to success.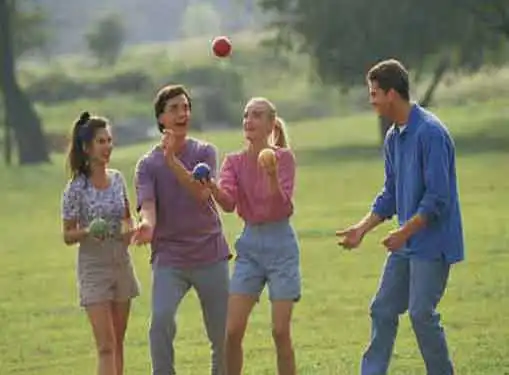 Why Start a Juggling School?
There are a lot of reasons why budding entrepreneurs make the leap to small business ownership. But it's especially important for prospective juggling instruction business owners to evaluate their motivations before they invest in a startup.
Why? Because juggling instruction isn't necessarily the most lucrative small business concept. Although it's possible to make comfortable living as a juggling school entrepreneur, you probably won't get rich doing it -- not to mention the fact that you'll need to constantly hustle to stir up instructional opportunities for your business.
In the end, a passion for juggling and a belief in the developmental benefits of juggling for kids are the best reasons to launch a juggling instruction business. If you love to juggle and truly enjoy teaching young people how to become juggling enthusiasts, a juggling school has the potential to become a highly rewarding career path, even if it won't deliver the same cash rewards as other types of business startups.
Instructional Formats for Juggling Educators
Although juggling instruction businesses are commonly called "schools", they usually aren't schools in the traditional sense of the word. Most juggling schools offer programs in a range of instructional formats including workshops, camps and other limited duration educational opportunities.
Successful juggling educators know that more often than not, the opportunity determines the instructional format. As a result, you will need to be extremely flexible in the instructional programs your school offers and be willing to customize your programs on a case-by-case basis (e.g. for an elementary school phys. ed class, a three-day summer camp, etc.).
For instructional ideas and networking opportunities, you may want to explore the International Jugglers' Association website.
Additional Revenue Opportunities in Juggling Instruction
Even though instructional programming will represent the bulk of your startup's revenue opportunities, there are several additional revenue sources that are worth considering in your startup business plan.
As a juggling instructor, it's possible to augment instructional income with appearances and paid performances. If you specifically target youth audiences (e.g. school assembly appearances, etc.), paid performances can also be opportunities to market your school to your target demographic.
The sale of juggling equipment and supplies can be another source of revenue for juggling instructors. Consider developing a quality website for your school with a modest ecommerce component capable of facilitating the sale of basic juggling equipment to students and site visitors.
Core Characteristics of Juggling Instruction Company Business Plans
Every business plan is unique, yet the most effective plans share a handful of essential traits.
If your plan lacks required elements like an executive summary or marketing plan, it could jeopardize its potential to deliver real benefits to your startup.
To discuss the external factors that will influence your startup, consider dedicating a section of your business to a PEST (Political, Economic, Social & Technological) analysis.
Investigate Competitors
Prior to launching a juggling instruction business in your area, it's a good idea to find out how strong the competition is. Try our link below to find competitors nearby. Just enter your city, state and zip code to get a list of juggling instruction businesses in your community.
Gain a knowledge of how existing firms have positioned themselves in the marketplace, and then design your business in a way that sets you apart from the others.
Getting Advice from Experienced Entrepreneurs
If you are interested in starting a juggling instruction business, it's a wise move to speak with somebody who is already in the business. If you think your local competitors will give you advice, you're being overoptimistic. What's in it for them?
However, a fellow entrepreneur who has started a juggling instruction business on the other side of the country may be more than happy to give you a few tips, as long as they don't view you as a competitive threat. Many business owners are happy to give advice to new entrepreneurs If you are persistent, you can find a business mentor who is willing to help you out.
How would you find a juggling instruction business founder in another community?
Simply, try our helpful link below, type in a random city/state or zipcode, and start calling.
Advice for Acquiring a Juggling Instruction Business
Many entrepreneurs elect to acquire a profitable juggling instruction business instead of navigating the challenges of a business startup.
Yet for many entrepreneurs, financing represents a major hurdle to buying a juggling instruction business. Business acquisitions are easier to finance than business startups, even though the financing process can still be exhausting.
Our Business Acquisition Financing Tips have the information you need to successfully navigate the challenges of financing your new business.
Consider Franchising
The odds of achieving your primary goal of making a success of your new business zoom upwards if you buy a franchise and leverage their successful brand and track record.
Prior to starting a juggling instruction business, you would be wise to assess whether franchising might make sense for you.
The link below gives you access to our franchise directory so you can see if there's a franchise opportunity for you. You might even find something that points you in a completely different direction.
Related Articles on Starting a Company
These additional resources regarding starting a business may be of interest to you.
Share this article
---
Additional Resources for Entrepreneurs