Starting a Lutheran Church
Opening a Lutheran church is an excellent opportunity if you do it right. We provide a friendly, comprehensive guide on the startup process.
Thinking about opening a Lutheran church? We tell you what you need to know to get started.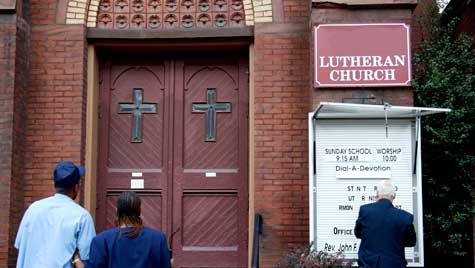 God willing, you'll soon be on your way to having your own Lutheran congregation.
Lutheranism in the U.S.
So you want to start a Lutheran church. That's great -- but what kind of Lutheran church? There are at least three primary branches of Lutheranism active in the U.S.: Lutheran Church Missouri Syndod, Evangelical Lutheran Church of America and Wisconsin Evangelical Lutheran Synod.
Although the liturgical elements are similar, each Lutheran denomination has its own beliefs, ideology and practices. They also have different views and approaches to church planting, so Lutheran religious entrepreneurs need to thoroughly research all options before embarking on a church startup strategy.
SWOT Analysis for Lutheran Church Startups
Strategic planning is essential for any type of Lutheran church plant. Small business entrepreneurs have reaped the rewards of strategic planning for years, and religious entrepreneurs can learn from their experience by conducting a SWOT analysis during the church startup process. A typical SWOT analysis addresses four components:
Strengths: Identify your church plant's core strengths including the resources, people and relationships you can leverage to establish a new congregation.
Weaknesses: Weaknesses can cover a wide variety of challenges like funding, demographic vulnerabilities and the number of churches that already exist in your community.
Opportunities: Through research, you should be able to identify several opportunities or gaps in the spiritual marketplace that can work to your new church's advantage.
Threats: Is there another Lutheran church in your community? Are people streaming out of your town or state? These and other threats need to be identified and addressed early in the church plant planning process.
Related Articles on Starting a Religious Organization
These additional resources regarding getting started as a religious entrepreneur may be of interest to you.
Branding a Religious Organization
Tax Consequences of a Religious Organization Startup
How to Market a Religious Startup Online


---
Conversation Board
Have something to say about opening a Lutheran church? Your input helps this article become more useful to others.
Already Own a Lutheran Church?
If you already are in business and came here to learn about growing an existing Lutheran church, these resources will come in handy:
Marketing a Lutheran Churches Business
Selling a Lutheran Churches Business


Do You Sell to Lutheran Churches?
If you came here to learn about selling to Lutheran churches, this isn't the right place for you. These resources are more appropriate for you:
Selling to Lutheran Churches Businesses
Mailing Lists for Lutheran Churches Businesses


More Information on How to Start a Religious Organization
We offer startup guides for other religions. View some of our sample guides below.