Entrepreneur Guidance
Starting a Middle Eastern Restaurant
Opening a Middle Eastern restaurant is an excellent entrepreneurial opportunity if you have the creativity and tenacity necessary to be a successful entrepreneur. Here is a friendly, comprehensive guide that instructs you on how to start your business.
Wondering how to start a Middle Eastern restaurant? We take you step-by-step from start to success.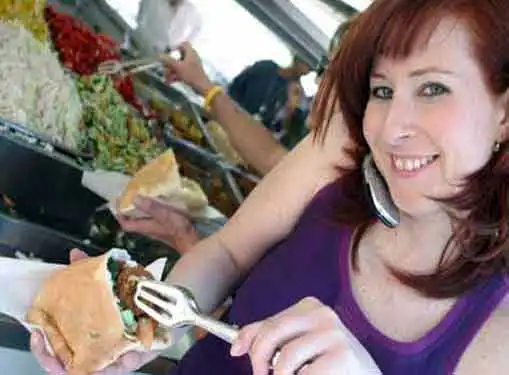 Adventure Dining: Middle Eastern Restaurants
Middle Eastern restaurants are part of the growing trend of adventure dining -- restaurants designed to bring exotic cuisines to the palates of average American families as well as culinary thrill-seekers.
But in order to succeed as a Middle Eastern restaurateur, it's essential that your cuisine is authentic. Any attempts to water down food selections for American diners will likely be met with indifference by the marketplace. Why? Because your customers value the experience as much as the food itself. If they believe the experience is diluted, many will opt for a more "authentic" alternative.
Menu Considerations in Middle Eastern Cuisine
Middle eastern cuisine is exceptionally diverse. Middle eastern food service entrepreneurs need to be sensitive to the culinary distinctions and create menus that accurately reflect the regional variety they are attempting to represent.
From tahini to baba ghanoush to hummus, every item on your menu must be incorporate fresh ingredients and winning Middle Eastern recipes. So before you set your menu, you'll want to establish relationships with suppliers and vendors. If you're having trouble sourcing a critical ingredient for an entrée, it's better to eliminate it from the menu than to be inconsistent about its availability.
Likewise, you'll need to make sure you have the kitchen staff in place to deliver high quality reproductions of every item on the menu. If a specific menu item can only be cooked by one person, leave it off the menu until other chefs can be brought up to speed.
The Importance of Ambiance in a Middle Eastern Restaurant Startup
Ambience and atmosphere count -- even more in a Middle Eastern eatery than other types of restaurants. Remember: your patrons will judge your establishment on the overall dining experience, not just the quality of your food. By investing time and resources in the creation of a unique restaurant environment, you can confirm their choice of your restaurant and solidify the uniqueness of the experience for your customers.
Since it's likely that you will lease space for your restaurant, you will need to talk to your landlord about retrofits before you sign any documents. If the lease can't be retrofitted to accommodate your dining concept (either for practical reasons or because the landlord won't allow it), the smart move is to keep looking until you find an available space that is more suited to your needs.
Tips for Generating a Top Quality Middle Eastern Restaurant Business Plan
A good business plan is the foundation of your entrepreneurial journey. Lenders, investors and other interested parties are accustomed to seeing several key business plan elements and if your Middle Eastern restaurant's plan leaves something out, it could have real consequences for your company.
Business plan software eliminates the guesswork, insulating your Middle Eastern restaurant from the possibility of critical omissions. Robust software solutions incorporate best practices while streamlining the writing process, ensuring that your business plan reflects your company's commitment to quality.
Our list of business plan software packages offers a comprehensive guide to the best solutions on the market.
Be Active In the Community
The first thing you'll need to realize is that Middle Eastern restaurants are mostly local operations. If you are an outsider or a transplant to the community, work diligently to become active in the community. For example, become proactively involved in local business associations and community organizations to reinforce your identity as a local small business owner.
Look Over the Competition
Prior to launching a Middle Eastern restaurant in your town, it's essential to find out how many competitors you have. Use the link below to find competitors in your area. Just enter your city, state and zip code to get a list of Middle Eastern restaurants in your community.
Prior to opening your doors for business, be sure you fully understand the competitive landscape and where your new business will fit in.
Turning Competitors Into Collaborators
As part of your due diligence on opening a Middle Eastern restaurant, you really ought to learn as much as you can from somebody who is already in the business. It's very unlikely that the local competition will talk to you. Why would they want to educate a future competitor?
On the other hand, an individual who has a Middle Eastern restaurant outside of your community will be much more likely to talk with you, after they realize you reside far away from them and won't be stealing their local customers. In that case, the business owner may be more than happy to discuss the industry with you. In my experience, you may have to call ten business owners in order to find one who is willing to share his wisdom with you.
Where would you find a Middle Eastern restaurant owner who is willing to talk to you but doesn't live nearby?
Here's one way to do it. Just use our link below, find somebody and call them.
Reasons to Pursue a Middle Eastern Restaurant Acquisition
As a rule, would-be startup owners are better off buying an existing Middle Eastern restaurant. Yet many new entrepreneurs find it hard to resist the allure of a Middle Eastern restaurant startup.
Financing and funding concerns ought to play a central role in your strategy. Investors and lenders have it and you need it. Yet many are hesitant to fund startups, preferring instead to fund business purchases.
At the risk of oversimplification, we think the idea of buying a business to get acquisition capital makes good business sense.
Explore Franchising Options
The probabilities on your doing well in business are substantially improved if you opt for franchising and leverage their successful brand and track record.
Before you consider starting a Middle Eastern restaurant, it's worthwhile to determine whether buying a franchise could be the right move for you.
The link below gives you access to our franchise directory so you can see if there's a franchise opportunity for you. You might even find something that points you in a completely different direction.
Related Articles on Starting a Company
These additional resources regarding starting a business may be of interest to you.
Questions to Ask Before Starting a Business
Coming Up With Good Business Ideas


Share this article
---
Additional Resources for Entrepreneurs