Entrepreneur Guidance
Starting a Mulch Business
Opening a mulch business? This article discusses the most important things you need to know about starting and running a mulch business.
Thinking about opening a mulch business? We tell you what you need to know to get started.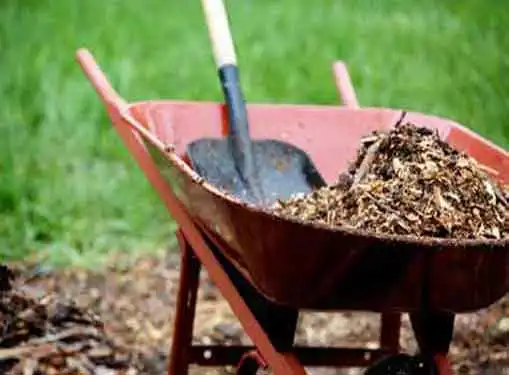 Considerations for Mulch Entrepreneurs
A quick look around the neighborhood will tell you that mulch is big business in the U.S. Americans' desire to transform their residential landscape into an at-home paradise has caused demand for mulch products to skyrocket and dramatically improved the outlook for emerging mulch entrepreneurs.
But the near ubiquity of mulch products doesn't mean that startup entrepreneurs can afford to neglect solid business planning. Specifically, mulch startup owners need to concern themselves with both their supply or mulch (or the raw materials to make mulch) and the development of relationships with buyers for their products.
If your startup business plan calls for mulch manufacturing, you'll also need to acquire grinders, dyes and other resources necessary to produce the most popular mulch products on the market. But even startup providers who plan to focus exclusively on mulch delivery and application need to stay abreast of market trends and developments within the broader landscaping industry.
Supply Tips for Mulch Startups
Securing reliable sources of mulch or mulch materials will be a critical part of your new company's supply chain. During the planning stage, evaluate several mulch providers based on pricing, reliability, product quality and overall reputation. To ensure uninterrupted supply, you may want to establish supplier relationships with more than one provider.
If your startup will manufacture mulch, you'll need to forge relationships with lumber mills (for bark) and with landscape contractors (for brush and other materials). Although pricing may not be an issue, your connection to these providers is important, so it's worth the effort to develop strong relationships with all of your suppliers, even if they will only be used as a backup source for materials.
Distribution Strategies for Mulch Businesses
In the end, company revenue will boil down to your ability to put mulch in the hands of end-users. In some cases, consumers and commercial buyers will interface directly with your business for bulk pickup or bulk delivery. In other cases, you'll need to create strategic alliances with landscapers to provide them with the mulch products they need to serve their customers.
Expansion into bagged mulch can be a lucrative growth strategy for mulch startups. Bagging and packaging your mulch for sale in retail home and garden centers will represent a significant investment in bagging equipment and transportation, but in the right market it can have a big payoff and enable you to take your startup to the next level.
Tips for Creating a Great Mulch Company Business Plan
A business plan is the skeletal framework for your mulch business's mission, goals and strategic vision.
In contemporary business culture, business plans are also litmus tests used by external interests to assess real world viability and marketability.
For the sake of accuracy, you'll want to educate yourself about how to write the market analysis section of a business plan. It includes the identification of your target market and in many cases, the inclusion of supporting research to back up your claims and sales forecasts.
Evaluate the Competition
Long before you open a mulch business within your community, it's a good idea to determine how you will fit in the competitive landscape. Try our link below to get a list of local competitors near you. Just enter your city, state and zip code to get a list of mulch businesses in your community.
If there's too much competition, it may be wise to consider starting the business in a less competitive marketplace.
Finding a Non-Competitive Business Mentor
If you are interested in starting a mulch business, you really ought to speak with somebody who is already in the business. If you think owners of nearby mulch businesses will give you advice, think again. The last thing they want to do is help you to be a better competitor.
However, a fellow entrepreneur who has started a mulch business outside of your community can be a great learning resource for you, once they realize that you are not going to directly compete with them in their community. In that case, the business owner may be more than happy to discuss the industry with you. It can take a while to find an entrepreneur who is willing to talk, but it's well worth the effort.
The key question new becomes: how to find an entrepreneur who is running a mulch business outside of your area who is willing to talk?
Here's one way to do it. Just use our link below, find somebody and call them.
Getting Started in Mulch Business Ownership
Would-be mulch business business owners can either launch a new business or acquire an existing operation.
Startup mulch businesses can be attractive because they allow the entrepreneur to have more control and greater influence. Yet startups are also more difficult to finance because their nature is inherently risky.
On the other hand, a mulch business purchase is more attractive to lenders and investors. Buying a business means that you'll have access to a documented financial history, an established business model and other factors that are unknowns in a startup – and that makes the ownership opportunity less of a risk to both you and your mulch business's key stakeholders.
Consider Buying a Franchise
Your chances of achieving the entrepreneurial goal of doing well with your venture zoom upwards if you decide to franchise and leverage their successful brand and track record.
If you are thinking about opening a mulch business, you would be wise to determine whether franchise opportunities in your space might make sense for you.
The link below gives you access to our franchise directory so you can see if there's a franchise opportunity for you. You might even find something that points you in a completely different direction.
Related Articles on Starting a Company
These additional resources regarding starting a business may be of interest to you.
Share this article
---
Additional Resources for Entrepreneurs