Starting a Business Articles
Starting a Truck Stops Business
Interested in opening a truck stops business? Here's some essential information to get you started.
Thinking about opening a truck stops business? We tell you what you need to know to get started.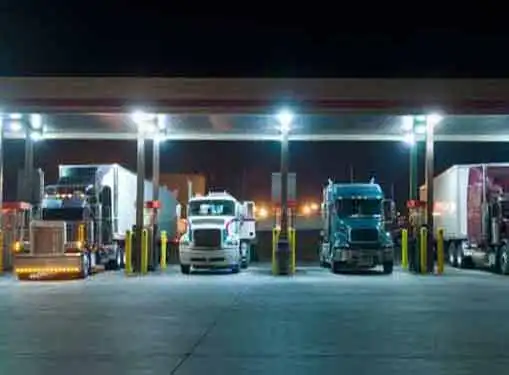 Overview of Truck Stop Business Startups
Truck stops have been around since the 1940s and have quickly become a staple of travel in the U.S. Although truck stops are primarily geared toward truck drivers, average motorists also rely on truck stops for a variety of travel services.
Originally intended to be refueling stations, the truck stop business model has expanded to include parking, food, showers, convenience retail and other services for over-the-road drivers. Highly entrepreneurial by nature, truck stop owners and truck stop chain executives are constantly looking for new ways to expand their services and capture a larger share of the marketplace.
Based on the level of investment that is required to build and launch a full service truck stop, new truck stop entrepreneurs are advised to consult a travel plaza consultant for assistance with planning, development, operations and other prerequisites.
What You Should Worry About as Truck Stop Entrepreneur
Truck stops are unique business opportunities. Although there are a number of things you can worry about as a truck stop entrepreneur, there are a few things that you must worry about to ensure the success of your startup.
From the beginning, stabile demand should be your primary concern. In a sense, truckers and drivers are a captive audience. Many highways offer few service alternatives, so as long as there is a road running alongside your truck stop, your business will benefit from relatively steady demand.
The tricky part is that highway construction or re-routing can strike a devastating blow to your business. Perform thorough research before you invest a dime to make sure the state has no plans to construct a highway that will route traffic away from your facility. Likewise, you will need to secure you market position by determining that no other truck stops exist (or are planning to exist) in close proximity to your location.
What You Shouldn't Worry About as Truck Stop Entrepreneur
Entrepreneurs tend to worry about a lot of things -- and truck stop entrepreneurs are no exception. Some things are worth worrying about. But in general, factors that are beyond your control aren't worth losing sleep over.
For truck stop owners, that eliminates fuel prices and other uncontrollable variables as targets of concern. In theory, rising fuel prices could ultimately lead to less traffic, and less traffic could mean less revenue for your truck stop. However, if you have done your research, your truck stop will be located in a high traffic location - literally. Truckers and motorists will still need access to fuel, food and other amenities, practically ensuring that your business will survive periods of high fuel prices.
Creating Business Plans for a Truck Stops Business
Never underestimate the value of a good truck stops company business plan. If it's sound, your business plan will keep you new venture on course and help you avoid the pitfalls that plague other startup entrepreneurs.
To assist your efforts, you may want to consider enlisting the aid of a professional business plan writer.
Time and time again, the best entrepreneurs we see rely on professionally crafted plans to guide their decision making. However, outsourcing doesn't completely eliminate your responsibilities in the writing process.
As the primary stakeholder in your truck stops business, you will intentionally need to insert yourself in various stages of the plan's development.
Don't Overlook the Competition
Prior to opening a truck stops business within your community, it's a good idea to see how you will fit in the competitive landscape. We've provided the link below to help you get a list of local competitors nearby. Complete the form by entering your city, state and zip code to get a list of truck stops businesses that are close by.
Prior to opening your doors for business, be sure you fully understand the competitive landscape and where your new business will fit in.
Turning Competitors Into Collaborators
As part of your due diligence on opening a truck stops business, it's essential that you learn from folks who are already in business. If you think owners of nearby truck stops businesses will give you advice, think again. What's in it for them?
Thankfully, an owner of a a truck stops business outside of your community will be much more likely to talk with you, once they realize that you are not going to directly compete with them in their community. Many business owners are happy to give advice to new entrepreneurs In my experience, you may have to call ten business owners in order to find one who is willing to share his wisdom with you.
How would you find somebody who runs a truck stops business in another city who you can speak with?
Simply, try our helpful link below, type in a random city/state or zipcode, and start calling.
Is It Easier to Buy an Existing Truck Stops Business?
Tough decisions are what business ownership is all about. And one of the first decisions you'll have to make is whether to start a business from scratch or buy an existing truck stops business.
In general, purchased truck stops businesses fare better than startups, at least during the initial few years. From a financial perspective, you'll receive more income sooner in a business purchase than you will in a startup.
Entrepreneurs who are committed to a highly unique value proposition may need to pursue a startup approach. But for the sake of minimizing risk and maintaining your sanity, a business purchase is often the right move for emerging truck stops business entrepreneurs.
Consider Franchising
The chances of making a success of your new business immediately improve if you buy a franchise rather than going it alone.
If your goal is to start a truck stops business, you may want to investigate whether there are good franchise opportunities available that might alleviate your startup process.
The link below gives you access to our franchise directory so you can see if there's a franchise opportunity for you. You might even find something that points you in a completely different direction.
Related Articles on Starting a Company
These additional resources regarding starting a business may be of interest to you.
Buying vs. Starting a Business


Share this article
---
Additional Resources for Entrepreneurs