The law of demand states that, all else equal, consumers will buy more and more at a given time period when price decreases and buy less and less as price increases.
(article continues below)
Generally, there is an inverse relationship between price and quantity demanded.
It is important not to confuse the associated change in price and quantity demanded as a change in demand: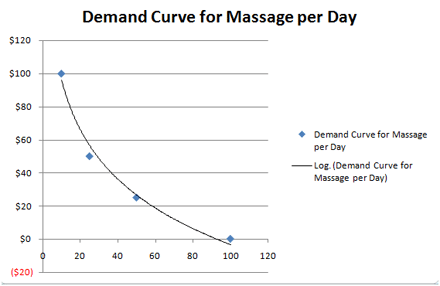 The movement is along the demand curve, which describes the current demand situation for a good.
So why is the law of demand true? Let's take a look at the law of diminishing marginal utility, the income effect, and the substitution effect.
Diminishing Marginal Utility
First, let's review what marginal utility means. Marginal utility is, essentially, the amount of satisfaction you get for consuming an additional piece of good. Economists have observed that at some point, as you consume more and more of the same good, the satisfaction you receive form consuming that good decreases with each additional good you consume.
Let's say that you are very hungry. The first cheese burger you consume brings you a lot of satisfaction. The second one you consume brings some more satisfaction, but probably less satisfaction than the first. As you eat more and more, each additional cheese burger you eat brings less satisfaction than the previous one until you don't want to eat anymore (no more satisfaction).
The Income Effect
The income effect is the effect that increasing or decreasing prices has on the purchasing power of consumers. When prices change but consumers' nominal income does not change, then consumers' real income changes.
For example, Jake makes $40,000 a year. An economic shock, such as a war, increases the price of everything Jake buys to twice its previous levels without changing Jake's income. In income effect this event has on Jake is to cut his real income, or purchasing power, in half. As a result, Jake can only buy half of what he previously bought with his $40,000 a year income.
As price increases for a good, the quantity demanded for the good decreases because the purchasing power of consumers decreases. The opposite is also true. As price decreases for a good, the quantity demanded for the good increases because the purchasing power of the consumers increases.
The Substitution Effect
The substitution effect is the effect that increasing or decreasing relative prices have on the consumption choices of consumers. It is common sense for an entrepreneur not to charge too much for a product if customers can easily replace your product with another product.
For example, as the relative price of butter to margarine increases, more and more people will simply switch from butter to margarine.