Online Market Segmentation
e-Marketing Strategies
e-Marketing strategies create powerful connections between companies and buyers in the digital space. But to succeed in today's online environment, you'll need a strategy that is designed to make the most of every digital interaction.
As consumers and B2B buyers flock to the Internet for everything from social networking to products on-demand, brands and businesses are becomingly more aware of the contribution robust e-Marketing strategies add to the bottom line.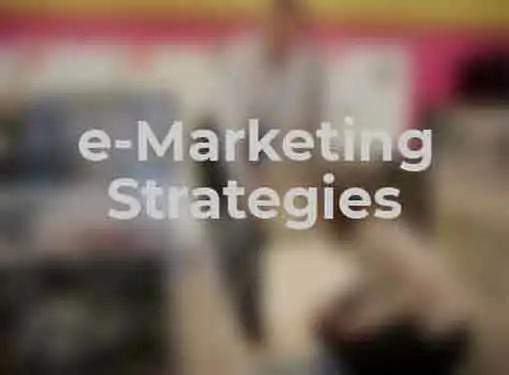 With the right e-marketing strategy in your corner, it's possible to not only capture your share of the existing digital marketplace, but to also generate new demand for your products and services.
Now here's the catch: a successful e-Marketing strategy isn't as simple as slapping together a few, random online marketing tactics and then waiting for consumers to visit and convert on your company website. Instead, sound Internet marketing strategies leverage carefully defined outcomes and strategic process elements to forge connections with the right digital audiences.
Defining e-Marketing Outcomes
Precise e-marketing outcomes are fundamental prerequisites for the development of effective e-Marketing strategies. Although businesses universally desire high conversion rates, marketers plunge headlong into the creation of strategy and tactics without ever considering the actions want consumers and/or B2B buyers to perform.
Broadly defined, all e-Marketing initiatives should be geared toward creating deeper relationships with target audiences. But deeper relationships come in many forms. For example, while one business may want their audience to make an immediate online purchase and become a repeat customer, another business may want their audience to contact a sales rep and enter into a longer sales cycle.
Desired e-Marketing outcomes should be determined by the types of products or services your company sells. E-retailers and businesses that sell highly affordable consumer products are usually looking to attract new customers, quickly complete purchase transactions and boost loyalty through additional engagement opportunities.
B2B sellers or companies that sell higher-priced goods and services have different desired outcomes -- typically the completion of a contact form, a phone call or other type of response that enters the prospect into a sales cycle that is more typical in the B2B sector.
Elements of Successful e-Marketing Strategies
After you have defined the desired outcomes you want your e-Marketing strategy to generate, you can begin to consider how elements of successful e-Marketing strategies can be incorporated into your online marketing agenda.
Market Segmentation. Like traditional marketing, no single e-Marketing offer or tactic can be all things to all audiences. For some online marketers, B2B industry segmentation can be a pivotal part of the selling process. So to properly engage prospects, you will need to segment your online audience into segments that can be targeted with specific offers and value propositions.
Research. Ineffective online marketing strategies are based on assumptions rather than research. As an online marketer or eCommerce provider, it's a major misstep to assume that you know what is important to customers and audiences. By conducting thorough market research, you gain concrete understandings about your audiences and improve your ability to market to them with confidence.
Buyer Personas. Buyer personas are essentially profiles of likely buyers or decision-makers. For example, if your B2B business is marketing a cloud-based SMB accounting solution, potential buyer personas might include the Small Business Owner or even the VP of Accounting. The idea is to create personas that help you create pitches or propositions to solve problems that are felt by key players in the buying process.
Tactics. One of the most valuable lessons successful e-Marketers have learned is that strategy determines tactics -- not the other way around! Once your e-Marketing strategy begins to take shape, you will need to decide which tactics (e.g. SEO, landing pages, site features, etc.) you will use to execute your strategy and achieve the outcomes you defined at the beginning of the process.
Measurements & Metrics. Measurements and metrics play a critical role in e-Marketing, enabling you to adjust strategic elements and tactics based on performance. Sophisticated e-Marketing programs can even utilize testing or pilot mechanisms to determine the effectiveness of particular initiatives before they are rolled out to actual customers and prospects.
Share this article
---
Additional Resources for Entrepreneurs