Good Business Books
Book Review: Chicken Lips, Wheeler-Dealer and the Beady-Eyed MBA: An Entrepreneur's Wild Adventures on the New Silk Road
Frank Farwell gives entrepreneurs a birds-eye view into the wild and wooly reality of transforming a small business into an Inc. 500 company.
Chapter 1: Building & Blundering. From the outset, Frank Farwell creates an instant connection with anyone who has ever stepped into the unforgiving ring of small business ownership.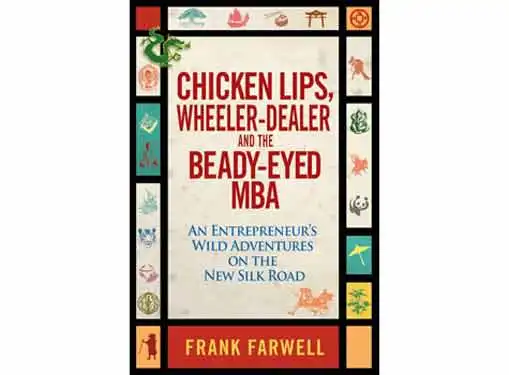 If you're looking for a theory-heavy, textbook-style primer on the latest entrepreneurial strategies, you won't find it here. Instead, Farwell invites readers to join him as he showcases the warts and wrinkles of his eleven-year journey to entrepreneurial success.
Starting from an operation based in his basement, Farwell launched a catalog business called WinterSilks and transformed it into a profitable company that was sold to New York institutional investors in a successful bidding process.
Not surprisingly, the road from the basement to the boardroom had more than its share challenges and disappointments. At several points along the way, Farwell offers readers a glimpse into the doubt and uncertainty that most entrepreneurs know all too well.
But in a very entertaining writing style, Farwell goes on to discuss the decisions (and in some cases, the sheer good fortune) that enabled him to overcome the doubts and obstacles standing in his way.
Farwell's recap of supply challenges, product selection and employee management should be required reading for any entrepreneur who has yet to be bloodied in the real world business arena.
Yet Farwell's most enlightening tidbit for budding entrepreneurs may be his dogged resistance to venture capital and other funding mechanisms. Financing concerns form a sort of meta-narrative throughout the book, reflecting the nagging funding realities that constantly haunt growth-conscious small business owners.
By listening to the advice of a sagely mentor-figure, Farwell retained a 100% ownership stake in his company a decision that ultimately paid off in spades and allowed him to leverage the full benefits of his hard work.
At the end of the day, "Chicken Lips, Wheeler-Dealer and the Beady-Eyed MBA" is a highly insightful and entertaining read, a must-have accompaniment to the stacks of dry, theoretical business tomes taking up space on your bookshelf.
Share this article
---
Additional Resources for Entrepreneurs