Ethics and Entrepreneurs
Business Ethics
Business ethics? Some people think that's an oxymoron, like jumbo shrimp. The reality is that a lot of business owners are taking all the right steps to run their businesses ethically.
The single biggest threat to the survival of your company is not the competition.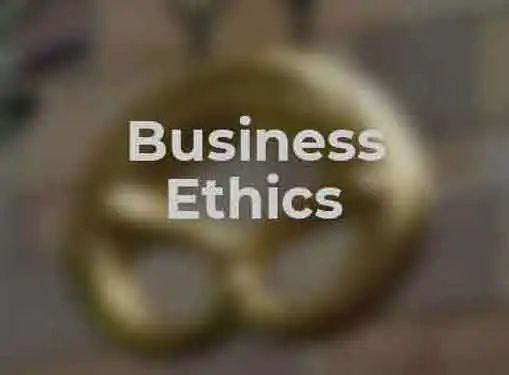 It's not the rising cost of gas or fluctuations in the stock market or any of the things people typically think of when they consider all the variables that can tank an otherwise thriving small business. In reality, the single biggest threat to your company may be you - or more specifically your company's lack of a comprehensive business code of ethics.
Pick up the business section of any newspaper and chances are you'll read another story about a company that went under because the owner or its employees engaged in unethical business practices. Far too often these days, ethics has taken a back seat to profitability, bringing ruinous consequences on large and small businesses alike.
The first step in inoculating your company from an ethics nightmare is the implementation of a code of ethics. A code of ethics is not a guarantee against ethics violations, but it does communicate to your employees (and to the world) that you take ethical behavior seriously, and that's important.
Step 1: Model ethical behavior - The first step toward implementing an effective code of ethics is modeling ethical behavior yourself. If your employees see you cutting corners and consistently working in gray areas, then they are probably going to do the same thing regardless of what your code of ethics says. It's a monkey see, monkey do world we live in, and like it or not, you're the big monkey everyone looks up to in your company.
Step 2: Create an ethics advisory board - Once you are sure you are modeling ethical behavior yourself, the next step is to create an ethics advisory board. This board should be comprised of a diverse mix of people from within the company, and maybe even a few people from outside the company. The advisory board's job is to research existing business codes of ethics and devise one that makes sense for your business, seeking input from people at all levels of the business.
Step 3: Put it in writing - After the ethics board has settled on a code of ethics for your company, put it in writing and distribute it to all employees. When you distribute it, you should have a staff meeting to discuss it and detail the consequences that will occur in the event of violations.
Step 4: Discuss ethics in staff meetings - Another important step in ethics code implementation is to periodically discuss ethics in regular staff meetings. This can happen in the course of regular discussion, although from time to time it may also be helpful to dedicate entire staff meetings to an ethics-based topic.
Step 5: Conduct annual audits and reviews - A code of ethics is a fluid document, designed to change with advances in technology and business practice. To keep your code of ethics current, your ethics advisory board should plan annual or semi-annual reviews as well as audits to make sure your business is in compliance with your code.
Share this article
---
Additional Resources for Entrepreneurs