Business Travel Advice
Business Travel Tip: Stay Home!
As remote conferencing tools become easier to use and more reliable, many business travelers are saving travel time and money by staying at home, instead of making a business trip.
As travel costs escalate, more and more business travelers are opting to reduce travel and conduct long-distance business from the comfort of their home office.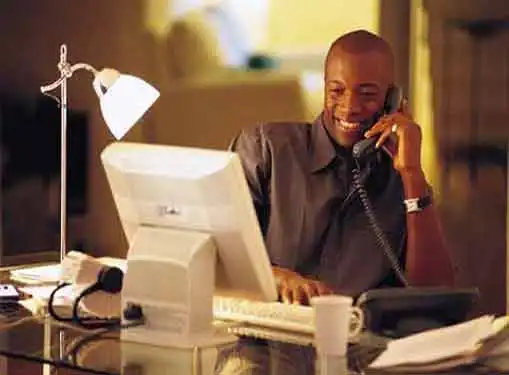 How do they do it? With remote conferencing - an existing communications tool that is experiencing a big resurgence in the marketplace.
Remote conferencing isn't completely new to the business scene. The previous generation of remote conferencing was touted as a panacea that would virtually eliminate corporate travel. However, it didn't turn out that way because the technology was clunky and corporate culture required most business to be done face to face. As a result, many of the people who have used remote conferencing in the past are resistant to giving it a second chance.
The reluctance of past users is unfortunate because the current generation of remote conferencing technology has improved considerably and corporate culture has become more sophisticated about the role of remote conferencing in the workplace. If your company isn't currently utilizing remote conferencing as a travel alternative, here are some things you need to consider . . .
Time & Money
The most obvious benefit of remote conferencing is cost. By reducing your travel load you not only save the direct expenses of transportation, food, and lodging, but also the indirect cost of lost time. For example, depending on how far you have to travel a one day meeting can quickly balloon into a three day trip when you factor in a day of travel each way. Remote conferencing costs less money and completely eliminates lost travel days - and that means savings all-around for you and your employees.
Efficiency
It's not easy keeping pace with the lightning fast speed of today's business environment. Sometimes you feel like you need to be in a dozen places at once just to survive. Although you still can't be two places at once, many business travelers are using remote conferencing to increase their efficiency and conduct simultaneous meetings with people in diverse geographical locations.
Strategic vs. Non-Strategic Travel
Savvy travelers understand that remote conferencing doesn't entirely eliminate their travel requirements. In some situations, there is simply no substitute for a face to face meeting. However, today's travelers are becoming more adept at differentiating between meetings that require physical attendance and meetings that can occur remotely. At issue is whether or not a face to face encounter has any strategic value. If the purpose of the trip is to generate revenue for the company, most travelers can justify the time and expense of travel. But if the purpose of the trip is to simply touch base with fellow team members, an increasing number of travelers stay home and conduct the meeting remotely.
Decision-making Tools
Across the board, the decision to use remote conferencing as a travel alternative is being left to the employees themselves. Business owners have discovered that a one-size-fits-all policy on remote conferencing is impractical and ineffective. Instead, they equip their employees with decision trees, training, and other decision-making tools, but ultimately allow the employees to make the ultimate determination.
Share this article
---
Additional Resources for Entrepreneurs