Digital Cameras
Buying A Digital Camera for Your Business
A high quality digital camera can be a valuable purchase for the average small business. But buying the right digital camera is more difficult than it sounds. Here are some of the factors you'll want to consider in your next digital camera purchase.
Sooner or later, most business owners get onboard with the idea of buying a digital camera for their company.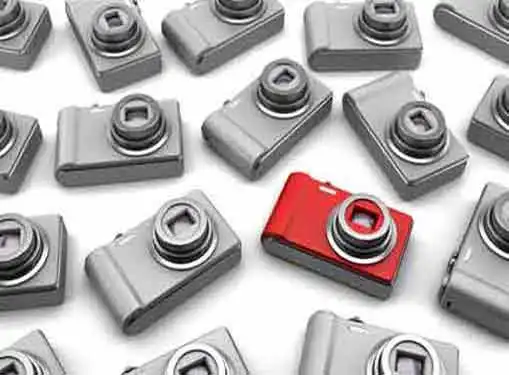 Today's digital technology creates extremely high quality images that have a range of business and personal applications. And the best thing about today's technology is that it's so easy to use that any employee can take great pictures for your website or printed marketing materials.
Knowledge is your friend in the digital camera marketplace. The multitude of features and options that are available can quickly overwhelm even street-savvy business owners, so you'll need to arm yourself with information about what to look for as you enter the market.
Types of Digital Cameras
There's more than one type of digital camera to consider as you begin your search. Digital SLR cameras are very similar to traditional SLR products in the sense that you will have access to interchangeable lenses, manual zoom and advanced aperture/shutter settings. Although these cameras are less portable and more expensive, they can offer more flexibility for photographers.
Point-and-click (or compact) digital cameras are the ones that most people turn to for their personal photographs. They are small, light and very easy to use. Compacts are a good digital business camera option for companies with inexperienced or highly mobile photographers, and in companies where the camera will be used by multiple employees.
Image Quality
You also need to consider the quality of images you expect your camera to create. If you plan on using your digital camera primarily to add photos to your website, a lower quality image will do just fine. However, if you plan on using the camera to create pictures for print materials, you'll need to go with equipment that's capable of producing a higher quality image. Ask the sales associate about the pixel count and photosensor capabilities of their digital cameras -- both will affect image quality.
Storage & Other Concerns
When you buy a digital business camera, the equipment itself is only part of the purchase. Other considerations include how you will power the camera and store photos. Compact flash and SD cards are common storage devices, and many cameras come with the option of purchasing additional, rechargeable batteries.
Share this article
---
Additional Resources for Entrepreneurs