Small Business Advertising
Evaluating Advertising Efforts
Written by Samuel Muriithi for Gaebler Ventures
Modern day businesses are being forced to contend with the fact that there is ever-increasing competition and a subsequent shrinking of profit margins. This has forced managements across the business sector to enforce strict appraisal measures on every type of expenditure, including advertising. The aim here is to determine if indeed the advertising effort has been effective.
In evaluating the advertising effort the management of a business must measure the effectiveness of what has already been done and what is planned for the future.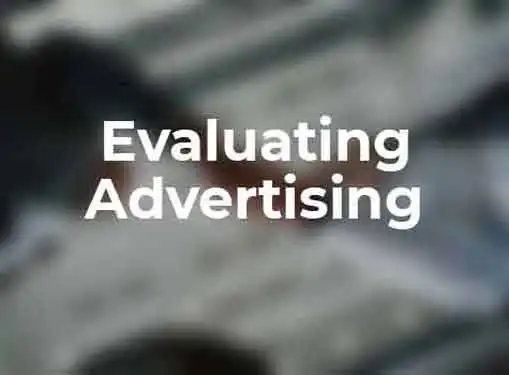 There is much difficulty in gauging this effectiveness ideally because it is quite impossible to attribute results achieved to a certain advertisement or indeed any other component of the promotional mix. Speaking of the promotional mix, the various elements which make it up are so intertwined which makes it virtually impossible to tell which of them is responsible for a given proportion of success/failure thus achieved.
Further, the difficulty in evaluating the advertising effort is also attributed to the two basic components of an ad i.e. what has been said and how it has been said. While the 'how' part has progressively been assessed through evaluation of the people who saw, read and remembered the ad contents, the 'what' part has remained difficult to evaluate. This is because not all ads are aimed at making immediate sales. Some are strictly meant for goodwill while some are just meant to introduce the new company logo etc.
These difficulties do not imply that evaluating the advertising effort is totally impossible. One of the means of doing so is by evaluating the volume of sales that have been achieved in the period before the advertisement is launched, the volumes sold in the course of the ad campaign, and finally the sales achieved after the campaign has run its course. This is a direct sort of evaluation.
There are also indirect means of evaluating the advertising effort. One of these techniques can involve testing a group of respondents to determine if a particular ad was read, what parts of the same can be remembered, and whether or not the respondent can remember the ad's sponsor. This technique assumes that the greater the number of people who can recall these particulars the greater the number of those who actually do as the ad would have them.
While these means of evaluating the advertising effort are quite telling to some extent, a business will rather seek to assess those attitudes and behaviors that an ad influenced in an audience rather than what details the same audience can recall. It is these behaviors and attitudes that really lead to sales.
Samuel Muriithi is a business owner in Nairobi, Kenya. He has extensive international business experience in the United States and India.
Share this article
---
Additional Resources for Entrepreneurs