Lodging for Business Travel
Extended Stay Hotels for Business Travel
Extended stay lodging has become extremely popular with business travelers. But what are the benefits of extended stay hotels and are extended stay accommodations a smart choice for your next business trip?
The premise of extended stay lodging is that it gives travelers more for less. You (the traveler) get the advantage of a less expensive, yet more comfortable space while the hotel gains the advantage of a longer term room booking.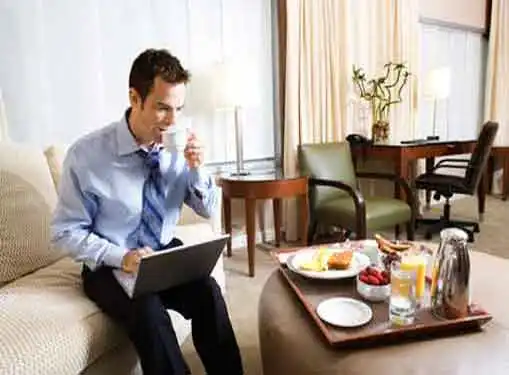 But extended stay lodging may not be the best bet for all business travelers. For example, many extended stay hotel chains (e.g. Extended Stay Hotels, La Quinta Inns, Candlewood Suites) allow guests to bring their pets for an additional fee. If you aren't prepared to deal with the occasional bark or possibly even lingering pet smells, an extended stay hotel may not be the right lodging choice.
However, for many business travelers, extended stay delivers cost savings and a more comfortable travel experience.
Affordability. Extended stay lodging is typically offered at a cheaper daily rate than other business travel hotels. But the catch is that the rates only apply to stays of 5-7 days are more. So if you're planning to stay in one location for at least week, chances are you can achieve cost savings by staying at an extended stay hotel.
Atmosphere. Extended stay lodging is intentionally designed to provide a "homey" atmosphere for guests. Most extended stay suites are similar to an apartment - an inviting atmosphere where you can kick back at the end of the day and enjoy many of the same comforts you would experience in your own home.
In-Suite Kitchens. For many business travelers, in-suite kitchens are the big advantage of extended stay lodging. If your business trip is only scheduled to last a couple of days, preparing your own meals may not be very appealing. But for trips that last more than two or three days, the cost of dining out for every meal can really add up - not to mention the fact that restaurant food usually doesn't do any favors to your waistline. In-suite kitchens are well-equipped, allowing you to prepare your own meals and enjoy them in the comfort of your room.
Communication Resources. Extended stay hotels tend to be very sensitive to the needs of business guests. Although it's important to do your research, most extended stay lodges provide business guests with high-speed Internet, Wi-Fi and other resources so you can remain connected and productive throughout your stay.
Share this article
---
Additional Resources for Entrepreneurs