Lodging for Business Travel
Finding the Right Business Trip Hotel
The quality of your lodging can make or break a business travel experience. Here are several issues you should consider before you book a hotel for your next business trip.
For many SMBs, business travel is a normal business activity. Long hours on the road may be unavoidable, but that doesn't mean you should settle for the first hotel you encounter.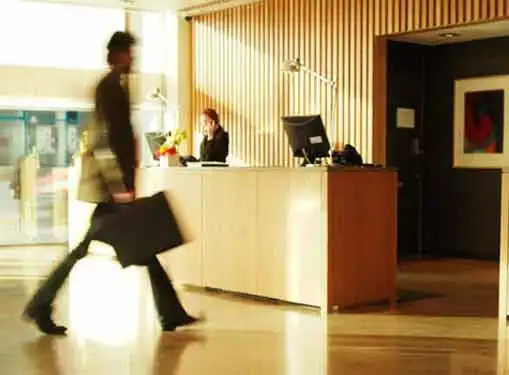 The simple fact is that staying in the right hotels can vastly improve comfort and productivity in business travel.
If you are a business travel newbie, it's important to learn how to properly evaluate hotels for trip planning. But it's also important for veteran road warriors to periodically re-evaluate their standard lodging selections - the business lodging industry is highly competitive and you can sometimes find better accommodations for a lower price.
Does the hotel cater to business travelers?
The first question you need to ask is whether or not the hotel caters to business travelers. If it doesn't, you could easily find yourself surrounded on all side by vacationing families or college kids on spring break. Also, hotels that cater to business travelers tend to offer amenities intended to improve productivity on the road.
The other benefit of hotels that cater to business travelers is networking. With very little effort, you can usually initiate conversations with other guests who are traveling for business purposes, some of whom may become valuable contacts.
Does the hotel offer in-room Internet access?
A decade ago, hotels that offered Internet access in their business center were more than acceptable. But now that more and more business is conducted online, it's important to make sure you can access the Internet from your room, either through Wi-Fi or a plug-in connection.
What are the dining options?
Access to multiple dining options is a key consideration when choosing a hotel for business travel. Business travelers often try to squeeze as much into a day as possible, causing them to have irregular eating patterns. Are there several restaurants located near the hotel? Does the hotel offer room service and/or a continental breakfast? Research your food options and plan accordingly.
What do other business travelers say about the hotel?,
Online reviews can be a great way to determine whether or not the hotel lives up to its promises. Sites like Trip Advisor and Hotels.com feature guest reviews for an extensive list of hotels. Although all reviews can be helpful, you may want to place higher value on reviews from other business travelers.
Share this article
---
Additional Resources for Entrepreneurs