Lodging for Business Travel
Hotel Safety Tips for Business Travelers
Most business travelers mistakenly assume that their hotel is a completely secure environment. In reality, there are several things you can do to ensure a safe and incident-free stay.
There are plenty of stories are out there about business travelers who wrongly believed that nothing bad could happen to them within the confines of their hotel.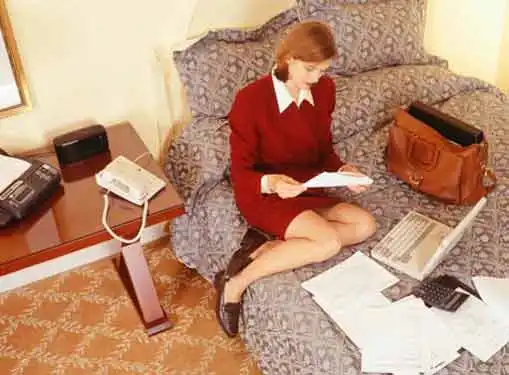 Yet most travelers choose to believe that although hotels aren't entirely secure environments, nothing bad could ever happen to them.
Crooks, thieves and con artists make a living off that mentality, targeting business travelers who head into the field with a false sense of invincibility. Obviously, there are no guarantees in business travel; sometimes negative experiences are unavoidable. But in many cases, you can reduce the potential for crime and safety threats by including a handful of hotel safety tips into your travel routines.
Before You Travel
Hotel safety begins long before you hit the road. For starters, you'll want to inform both family members and coworkers about your itinerary, and provide them with the address and phone number of your hotel. Periodically check in with family members to let them know you're okay and on schedule. You should also leave a copy of your credit card number and credit card company customer service number at home just in case your credit cards are stolen while you're away.
Personal Security
Although female business travelers need to be particularly concerned about their personal security in hotels (especially if they are traveling alone), male business travelers should also be aware of basic personal security precautions.
When you check in, look to see if elevator access is restricted to guests or if the lobby is a free-for-all where anyone can make their way to upper floors. Once you get to your room, make sure it is equipped with computerized card access that automatically shuffles the code at check-out, as well as a deadbolt and peephole.
If you feel that your security has been compromised for any reason during your stay, request a personal escort to your room or car. If you believe the hotel is not equipped to provide for your personal security, check out immediately and find another lodging alternative.
Fire Safety
When you check in, confirm that the hallways are outfitted with automatic sprinkler systems, fire alarms and other fire safety resources. If possible, request a room no higher than the 6th floor - fire department ladders are only capable of extending six floors.
It goes without saying that you will want to follow the fire safety rules you learned in elementary school: know your escape routes, stop and drop if you smell smoke, etc. Even though most hotel fire alarms are false alarms, never stay in your room when an alarm goes off. Exit the building with other guests, even it means leaving the comfort of your room in the middle of the night.
Protecting Valuables
As a rule, when you're traveling for business don't bring anything with you that isn't essential for the business trip. For example, that flashy, diamond necklace your husband gave you on your anniversary might look fantastic, but on a business trip it will just be bait for thieves.
Place all valuables in your in-room safe at night and whenever you leave the room. If your room isn't equipped with a safe, ask the front desk to secure your property for you - and get a receipt.
Share this article
---
Additional Resources for Entrepreneurs