Starting a Business
How to Start an Automobile Oil Change Business
Want to become your own boss? Start an auto oil and lube business. We've gathered advice, strategies, and tactics that have worked well for other entrepreneurs.
Wondering how to start an auto oil and lube business? We take you step-by-step from start to success.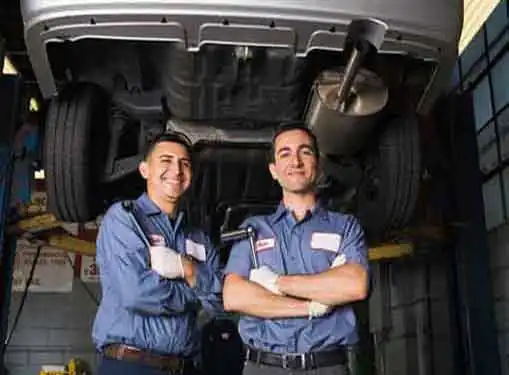 Customer Profile for Oil Change Startups
Above all else, the automotive oil change business is convenience-driven. Oil change customers begrudgingly accept the fact that they need to have their vehicles serviced periodically, usually every three months or so. But what they won't accept are oil change businesses that fail to place a premium on fast turnaround and customer convenience.
Most of today's oil change customers are also accustomed to buying additional services like total fluid replacements and tire rotations when they come in for an oil change. As long as you provide a certain level of comfort (e.g. coffee, a comfortable customer area) while they are waiting for their cars, they usually don't mind investing extra cash and a few more minutes of their time.
Differentiation in an Oil Change Business Startup
Startup oil change businesses face intense pressure from entrenched chain competitors like Jiffy Lube and auto dealerships. Although you may be able to compete on price against some dealerships, the odds of coming out on top in a price war with a specialty chain like Jiffy Lube are remote.
Instead, you'll need to identify ways to differentiate your shop based on service and the customer experience itself. Keeping in mind that convenience is oil change customers' first priority, conduct a survey of your local market and devise a market strategy to offer an even more convenient oil change experience.
Alternative Business Models: Mobile Oil Change Businesses
One of the ways startup oil change businesses are capturing market share these days is to offer mobile oil change services. Rather than forcing customers to come to them, these startups go their customers, delivering a superior oil change experience at the customer's home or place of employment.
Although the startup requirements for a mobile oil change business are slightly different than a stationary startup, it's worth exploring whether a mobile approach can be employed to quickly differentiate your startup from the competition.
Best Automobile Oil Change Company Business Plans
If you're like most startup business owners, there aren't enough hours in the day to accomplish everything that's on your to-do list. Every task on your list is important, but writing a business plan is one of the things your auto oil and lube business needs to do ASAP.
If time is scarce, business plan software can be used to streamline the process. A business plan software solution is an effective tool for time-strapped auto oil and lube business owners who understand the importance of a great business plan.
Properly utilized, business plan software has the potential to transform your business plan from a throwaway business requirement to an integral strategic resource.
Can Local Business Sustain You?
Startup auto oil and lube businesses rely on local customers for the majority of their business. In making your business projections, don't assume that your business will immediately be popular with the local community. To survive, you need to be able to do well enough, even if business ramps much more slowly than expected.
Check Out Competitors
Prior to launching an auto oil and lube business in your area, it's worthwhile to find out how many competitors you have. We've provided the link below to help you get a list of local competitors in your area. Complete the form by entering your city, state and zip code to get a list of auto oil and lube businesses that are close by.
Is the established competition doing a good job? It's important to understand their strengths and weaknesses and think through how you'll stake up against those established businesses.
Learn from Others Who Are Already In This Space
If you want to open an auto oil and lube business you really ought to talk to somebody who is already in the business. If you think your local competitors will give you advice, you're being overoptimistic. The last thing they want to do is help you to be a better competitor.
Thankfully, an owner of a an auto oil and lube business in a location that is not competitive to you may be more than happy to give you a few tips, once they realize that you are not going to directly compete with them in their community. In that case, the business owner may be more than happy to discuss the industry with you. In my experience, you may have to call ten business owners in order to find one who is willing to share his wisdom with you.
How does one go about finding an auto oil and lube business owner in a different locale who can assist you?
Here's one way to do it. Just use our link below, find somebody and call them.
Acquired Automobile Oil Change Businesses: Competitive Advantages
Pursuing an auto oil and lube business acquisition can be an effective route to profitability for emerging entrepreneurs.
A business acquisition also delivers an established brand - a big advantage in competitive markets. The notion of buying a business to get an established brand can be a savvy business strategy for new auto oil and lube business owners.
In a competitive market, the right acquisition can be leveraged to catapult your business into a market leadership position, even if you personally lack industry credentials.
Don't Rule Out Franchising
If you prefer to partner with others to launch your new business, you may want to consider purchasing a franchise.
Before you consider starting an auto oil and lube business, you may want to check out whether franchise opportunities in your space might be worth investigating.
The link below gives you access to our franchise directory so you can see if there's a franchise opportunity for you. You might even find something that points you in a completely different direction.
More Startup Articles
These additional resources regarding starting a business may be of interest to you.
Characteristics of Successful Entrepreneurs


Share this article
---
Additional Resources for Entrepreneurs