How to Start a Small Business
How to Start a Fire Extinguisher Business
Launching a fire extinguisher company is an excellent entrepreneurial opportunity as long as you separate yourself from the competition. We offer tips and advice to develop the business successfully.
Thinking about opening a fire extinguisher company? We tell you what you need to know to get started.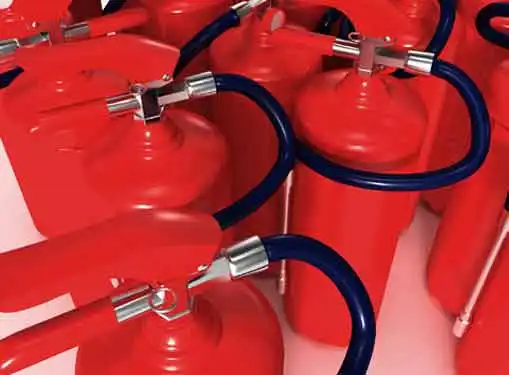 Demand for Fire Extinguisher Products & Services
Fire extinguishers are a common sight in most commercial, industrial and institutional settings. But what surprises many people is the fact that fire extinguishers also represent a vibrant economic industry that is ripe for new startups and entrepreneurially minded fire safety professionals.
Businesses and institutions are legally required to maintain a certain number of fire extinguishers on premises. But full legal compliance takes a lot more than stashing a few fire extinguishers in the supply room. To comply with fire codes, businesses and institutions must have their fire extinguishers inspected and recharged at regular intervals.
As a fire extinguisher startup owner, you'll need to brush up on local fire codes so you can properly educate business owners about their legal responsibilities. But more importantly, your startup's advertising messages should educate prospects and the public about the safety benefits of routine fire extinguisher maintenance and replacement.
Preparing for a Fire Extinguisher Business Launch
Before you can take tangible steps toward the launch of your fire extinguisher startup, you will need to immerse yourself in fire safety and the fire safety equipment industry. Participation in trade organizations like the National Association of Fire Equipment Distributors (NAFED) can help, but you will ultimately need to educate yourself about the different classes (A,B,C,D) of fire extinguishers and their proper applications.
You will also need to recruit, train and certify staff to perform site inspections, refilling/maintenance and fire safety reviews for your clients. NAFED offers certification programs that will need to be completed by any of personnel who will directly repair or service your clients' safety equipment.
Customer Relations in a Fire Extinguisher Startup
A coherent customer relations strategy is the key to creating a reliable revenue stream for a fire extinguisher startup. Rather than waiting for your customers to call you, it's in your best interest to keep individual maintenance schedules for all of your customers and contact them when their fire extinguishers need to be serviced.
At Gaebler, we advise fire extinguisher startups to implement a Customer Relationship Management (CRM) software solution. With CRM solutions currently available in a variety of formats and price points, it shouldn't be difficult to find software that meets your needs and budget parameters.
Business Plans 101 for Fire Extinguisher Business Startups
You've been working on your fire extinguisher company's business plan for a while now and you think you're really starting to make progress. You've covered your mission, your strategy and the financial chapter is top notch. Now it's time to address details about your industry.
Industry analyses are standard chapters in fire extinguisher company business plans and are often required by lenders or investors. In this section, your readers will gain a clearer understanding of your business stacks up against the rest of the industry.
Although it sounds complicated, most entrepreneurs can create an effective industry analysis section by simply steering clear of common industry analysis mistakes.
Review Competitors
Prior to launching a fire extinguisher company in your town, it's essential to determine how you will fit in the competitive landscape. Try our link below to generate a list of competitors in your city. After clicking on the link, type in your city, state and zip code to get a list of fire extinguisher businesses near you.
How are you going to successfully complete with existing firms? It's important that you never underestimate the competition.
Find Good Remote Business Advice
As part of your due diligence on opening a fire extinguisher company, the next step is to speak with somebody who is already in the business. It's very unlikely that the local competition will talk to you. It'd be crazy for them to teach you the business.
On the other hand, an individual who has a fire extinguisher company in another town can be a great learning resource for you, once they realize that you are not going to directly compete with them in their community. In that case, the business owner may be more than happy to discuss the industry with you. In my experience, you may have to call ten business owners in order to find one who is willing to share his wisdom with you.
Want the scoop on finding somebody who runs a fire extinguisher company in a different locale who can assist you?
No problem! Just use the link below and try a random city/state or zipcode. Then start dialing for advice until you are successful.
Gaining Access to Fire Extinguisher Business Ownership
Common sense will tell you that to enter the world of fire extinguisher company, you'll either need to start a new business or acquire a promising company on the business-for-sale marketplace. There are a lot of benefits of buying a fire extinguisher company.
In today's marketplace, buyers clearly have the upper hand, making it relatively easy to find a fire extinguisher company that meets your personal and professional objectives.
Is Franchising the Right Option?
The odds of achieving your primary goal of growing your business are much greater if you decide to franchise rather than going it alone.
If your goal is to start a fire extinguisher company, you ought to assess whether franchising might simplify your entering the business.
The link below gives you access to our franchise directory so you can see if there's a franchise opportunity for you. You might even find something that points you in a completely different direction.
Related Articles on Starting a Company
These additional resources regarding starting a business may be of interest to you.
Share this article
---
Additional Resources for Entrepreneurs