How to Start a Small Business
How to Start a Fire Sprinklers Maintenance Business
Is your goal to open a fire sprinklers maintenance business? Here are a few practical suggestions to help you get started.
Thinking about opening a fire sprinklers maintenance business? We tell you what you need to know to get started.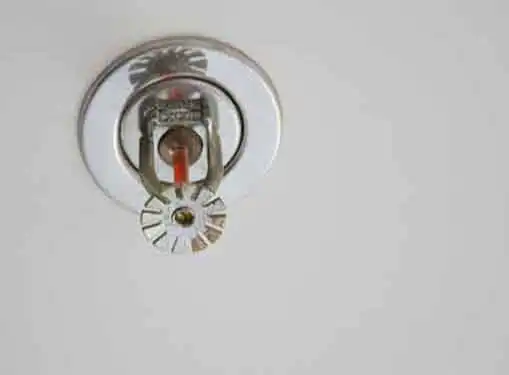 Fire Sprinkler Maintenance & Inspection Requirements
Fire sprinklers are required installations for many commercial properties and public gathering places. When fire sprinkler systems work properly they distribute a flow of water through piping systems to sprinkler heads located throughout the building. But when sprinkler systems don't function according to design, they burn with everything else in the building, underscoring the importance of periodic inspection and maintenance.
Most states and municipalities mandate sprinkler system inspections at regular intervals. Trained, fire sprinkler maintenance providers routinely perform visual inspections and conduct water flow tests, fire pump tests, alarm tests and trip tests of the piping and valves that constitute the sprinkler system.
Inspection and maintenance standards are dictated by the National Fire Prevention Association's guideline NFPA 25. In addition to a certain amount of industry experience, startup fire sprinkler maintenance business owners must be familiar with these guidelines as well as state and municipal fire codes for commercial properties in their areas.
Tips for Acquiring & Retaining Customers in a Fire Sprinkler Maintenance Startup
Even though there are thousands of properties that need fire maintenance and inspection services, finding and keeping new customers for your startup can be frustrating. In many cases, property owners have pre-existing relationships with your competitors and may be hesitant to try out an unknown provider.
But with a little diligence and creativity, it's possible for your startup to penetrate the regional marketplace and begin building a loyal customer base. Here's how . . .
Online Marketing. Both B2B and B2C customers have shifted their buying patterns in favor of online marketing channels. By positioning your sprinkler maintenance company to take full advantage of SEO marketing, email campaigns and other online marketing tactics, you can quickly capture market share.
Customer Loyalty Strategies. Once you have acquired a new customer, the next step is to strengthen your relationship with them through customer loyalty strategies. Remember: Fire inspection and maintenance services aren't a one-time purchase. They are repeat services that are ripe for loyalty initiatives.
Customer Referral Programs. Business owners often look to their peers for referrals. The key to customer referral programs is to target customers who have the most influence with other business owners.
Characteristics of a Good Fire Sprinklers Maintenance Company Business Plan
Every business plan is unique. However, the most effective business plans do address specific sound business plan elements:
Mission Statement – Your description of your fire sprinklers maintenance business's reason for existing.
Goals & Objectives – A list of mile markers on your fire sprinklers maintenance business's road to success.
Financial, Marketing & Action Plans – Specific plans that describe your business environment, demographic targets and quantitative estimates.
Assess the Competition
Prior to launching a fire sprinklers maintenance business within your community, it's a smart move to see how you will fit in the competitive landscape. Use the link below to find competitors near you. Simply enter your city, state and zip code to get a list of fire sprinklers maintenance businesses in your town.
Is the established competition doing a good job? It's important to understand their strengths and weaknesses and think through how you'll stake up against those established businesses.
Learn from Others Who Are Already In This Space
If you want to open a fire sprinklers maintenance business it's essential that you learn as much as you can from somebody who is already in the business. If you think your local competitors will give you advice, you're being overoptimistic. Why would they want to educate a future competitor?
Fortunately, somebody who runs a fire sprinklers maintenance business in a different city may be willing to share their entrepreneurial wisdom with you, once they realize that you are not going to directly compete with them in their community. In fact, they are often very willing to share startup advice with you. It can take a while to find an entrepreneur who is willing to talk, but it's well worth the effort.
So, what can you do to find an entrepreneur who is running a fire sprinklers maintenance business in another community?
It's not that hard. Just use the handy link below and enter in a random city/state or zipcode.
Three Arguments for Buying a Fire Sprinklers Maintenance Business
For years, street-smart entrepreneurs have known that whenever possible, it's more advantageous to buy an existing fire sprinklers maintenance business than it is to start one from scratch.
Although buyers should always perform thorough due diligence, there at least three reasons you should consider a fire sprinklers maintenance business purchase as your entryway to business ownership.
Initial Revenue. Startups struggle to bring in revenue right out of the gate while existing businesses usually have a steady stream of income.
Operational Efficiency. When you're shopping for a fire sprinklers maintenance business, be sure to look for ones that have all of the necessary processes and systems to ensure seamless operations from your first day of ownership.
Capital Acquisition. With several years of operations under its belt, a purchased company is much more appealing to lenders and investors interested in avoiding the risk of an unproven startup.
Franchising May Be a Better Way to Go
The chances of becoming a successful entrepreneur are much better when you franchise and leverage their successful brand and track record.
Before opening a fire sprinklers maintenance business, you would be wise to check out whether franchising might make your life much easier.
The link below gives you access to our franchise directory so you can see if there's a franchise opportunity for you. You might even find something that points you in a completely different direction.
More Advice for Startups
These additional resources regarding starting a business may be of interest to you.
Share this article
---
Additional Resources for Entrepreneurs