How to Start a Small Business
How to Start a Fish & Chips Restaurant
Here's some helpful information that is ideal for entrepreneurial folks who hope to start a fish and chips restaurant. Read these tips before you start!
Wondering how to start a fish and chips restaurant? We take you step-by-step from start to success.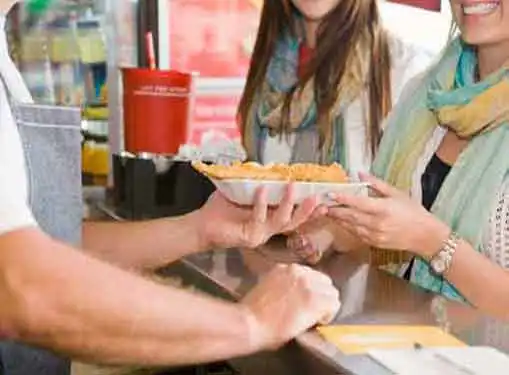 Why Fish & Chips?
Fish and chips restaurant startups are positioned to benefit from two long-term trends in the food service industry. First, today's diners are extremely interested in dining experiences with international flair. As a traditionally British food category, fish and chips establishments have the ability to capitalize on aspects of Irish and British culture to create one-of-a-kind local food experiences.
The other significant trend working in your advantage is the movement toward more casual dining options. Although formal dining establishments still exist, they aren't nearly as popular as informal and family-friendly establishments. Fish and chips restaurants fit squarely in the informal dining category, a feature that can be enhanced by creating a pub-style atmosphere.
How to Lease Space for a New Fish & Chips Restaurant
Not surprisingly, location is a major concern for fish and chip startups. Proximity to high traffic areas is essential in drawing first-time customers into your establishment. Since a large percentage of diners will select your restaurant on impulse, street visibility is also a key factor in startup success.
In the ideal scenario, you'll be able to identify leased space that has already been outfitted for a restaurant. If not, you may need to perform a retrofit of existing space. During lease negotiations, discuss whether the landlord will be willing to foot the bill for part of the retrofit in exchange for other concessions (e.g. a slightly longer lease term).
Tips for Equipping Your Fish & Chips Startup
Compared to other types of restaurants, fish and chips restaurants are fairly inexpensive startups, primarily because of their informal nature. Basic commercial kitchen equipment and an ample number of deep fryers are all you'll need to start pumping out the best fish and chips in town.
Yet entrepreneurs with limited startup capital may still find the equipment acquisition to be financially challenging. Leased equipment is an option, but a better alternative may be to look for good quality kitchen equipment on the secondary market. The restaurant industry has an exceptionally high business turnover rate, making it easy for new restaurant owners to find great deals on quality equipment.
Best Fish & Chips Restaurant Business Plans
As a startup small business owner, you need to have a business plan you can rely on for both external and internal purposes.
A shoddy business plan is a major misstep for a startup fish and chips restaurant. Even though it takes time to write a high quality plan, there are a lot of arguments why your company can't succeed without an effective business plan.
From a business ownership perspective, that makes business planning your first priority - and not a task that can be assigned to the back burner.
Where to Locate the Business
Most fish and chips restaurants sell primarily to local customers. As an aspiring entrepreneur, the most important advice we can give you is to avoid investing in an underperforming, unprofitable location. Given the option of paying more money for rent each month or investing that money in marketing, many local businesses find that it's a better investment to put the money into securing a great location.
Take a Look at Competitors
Well in advance of opening a fish and chips restaurant in your area, it's a good idea to determine how you will fit in the competitive landscape. Use the link below to generate a list of competitors nearby. Just enter your city, state and zip code to get a list of fish and chips restaurants in your community.
Is the local market large enough to support another fish and chips restaurant? If not, you had better be sure that you are doing things much better than the competition.
Talk to People Who Are Already in the Business
After you've evaluated your local competitors, it's essential that you talk to somebody who is already in the business. If you think owners of nearby fish and chips restaurants will give you advice, think again. The last thing they want to do is help you to be a better competitor.
On the other hand, an individual who has a fish and chips restaurant in a different city may be willing to share their entrepreneurial wisdom with you, provided that you won't be directly competing with them. In that case, the business owner may be more than happy to discuss the industry with you. Our estimate is that you may have to contact many business owners to find one who is willing to share his wisdom with you.
The key question new becomes: how to find an entrepreneur who is running a fish and chips restaurant who is willing to advise you because you live in different cities?
No problem! Just use the link below and try a random city/state or zipcode. Then start dialing for advice until you are successful.
Advantages of Using a Business Broker
Business owners are decision makers. And the first decision you'll need to make is between a fish and chips restaurant startup and an acquisition. In most cases, there are compelling financial and practical reasons buying an existing fish and chips restaurant.
Although you could navigate a business acquisition on your own, most prospective fish and chips restaurant owners enlist the services of a business broker.
The best business brokers will ensure that you get the right business for the right price, and will help you avoid common fish and chips restaurant acquisition mistakes.
Is Franchising the Right Option?
Your chances of achieving the entrepreneurial goal of achieving your top business goals greatly improve if you become a franchisee and benefit from the prior work of others and their lessons learned.
Before you get too far along in your plan to open a fish and chips restaurant, you would be wise to assess whether there are good franchise opportunities available that might simplify your entering the business.
The link below gives you access to our franchise directory so you can see if there's a franchise opportunity for you. You might even find something that points you in a completely different direction.
More Advice for Startups
These additional resources regarding getting started as an entrepreneur may be of interest to you.
Share this article
---
Additional Resources for Entrepreneurs