Business Startup Instructions
How to Start a Golf Carts Wholesale & Manufacturers Business
Launching a golf carts wholesale and manufacturers business is an excellent entrepreneurial opportunity but it's important to plan out the business in detail before you start. This article contains nuts-and-bolts information on the essential elements for business success.
Thinking about opening a golf carts wholesale and manufacturers business? We tell you what you need to know to get started.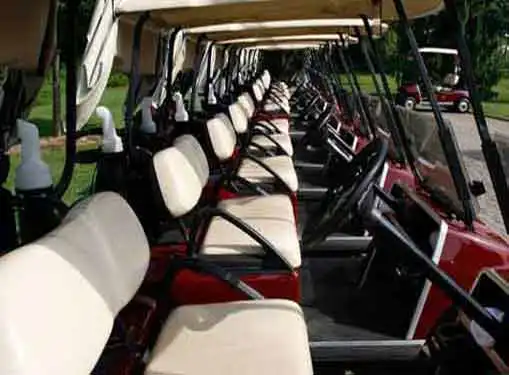 Golf Cart Industry Sales & Growth Forecast
Golf cart manufacturers and wholesalers play a pivotal role in supplying the nation's 17,000+ golf courses with electric and gas-powered golf cars. It's estimated that approximately 150,000 individual golf carts are sold each year, for combined annual sales of roughly $150 million.
New golf cart wholesalers and manufacturers need to be prepared to compete in an industry that is dominated by a handful of manufacturers. E-Z-Go, Yamaha and Club Car are big names in the industry. To capture market share, new entrants to the manufacturing and wholesale marketplace will need to devise business strategies to exploit gaps in custom cart manufacturing and other specialty areas.
Additionally, startup golf cart manufacturers and wholesalers should be aware of the fact that the golf industry is currently in a state of transition. Many courses are experiencing declines in the number of golfers and rounds played. It has yet to be determined whether the industry will rebound as the U.S. emerges from recession, but for now golf cart manufacturers/wholesalers need to be particularly sensitive to their clients challenges and realities.
Expanding Golf Cart Product Lines to Capture Market Share
In the current industry climate, startup golf cart manufacturers and wholesalers must offer more than one-size-fits-all golf cars. To be profitable, startup manufacturing operations need to expand both their product line and their customer base.
Custom Golf Carts. Although golf clubs and courses are attractive customer acquisition targets, many emerging golf cart manufacturers achieve success through the sale of customized carts to individuals. Custom carts can be adapted to include a range of features for on-road or off-road use as well as design characteristics like paint and decals.
Non-Traditional Golf Cart Customers. Golf courses transportation is just one of the many ways consumers use golf carts these days. In many retirement and gated communities, golf cars are the primary source of transportation. Likewise, hunters and nature enthusiasts use modified carts for transportation in the field. The bottom line is that your startup has to diversify to meet the needs of non-traditional customers -- not just golfers.
Golf Cart Trends. Environmental pressures and other factors routinely influence trends in golf cart manufacturing and design. As a startup, it's important to leverage current trends to differentiate your business from the rest of the field. Consider participating in the National Golf Car Manufacturers Association and other organizations to stay informed about industry developments.
Business Plan Mechanics for Golf Carts Wholesale & Manufacturers Businesses
If you haven't written a business plan for your new golf carts wholesale and manufacturers business, it's time to get started.
At Gaebler, we advise new business owners to keep your business plan simple. Ultimately, your business plan is intended to be a resource for you, the business owner.
Instead of investing countless hours in a lengthy business plan, put pen to paper now and document the essentials with the understanding that your plan will be revised as you move forward.
Look Over Competitors
Prior to opening a golf carts wholesale and manufacturers business within your community, it's a good idea to see how strong the competition is. We've provided the link below to help you get a list of local competitors near you. Simply enter your city, state and zip code to get a list of golf carts wholesale and manufacturers businesses in your town.
Is the established competition doing a good job? It's important to understand their strengths and weaknesses and think through how you'll stake up against those established businesses.
Learn from Others Who Are Already In This Space
After you've evaluated your local competitors, it's a smart move to learn as much as you can from somebody who is already in the business. Local competitors are not going to give you the time of day, mind you. What's in it for them?
But, a person who owns a golf carts wholesale and manufacturers business outside of your community may be willing to share their entrepreneurial wisdom with you, provided that you won't be directly competing with them. Many business owners are happy to give advice to new entrepreneurs In my experience, you may have to call ten business owners in order to find one who is willing to share his wisdom with you.
Where would you find a golf carts wholesale and manufacturers business founder that lives outside of your area?
Easy. Find them using our link below and start calling until you are successful.
Why You Should Buy (Instead of Start) a Golf Carts Wholesale & Manufacturers Business
It's no secret that entrepreneurs have a strong impulse to build companies from the ground up.
Yet a healthier and safer strategy may be to purchase an existing golf carts wholesale and manufacturers business.
When you buy an existing company, you get a functional (and presumably profitable) company from day one. And that's not to mention the fact that a purchase let's you avoid the trial-and-error mistakes that are common in startups.
Don't Forget About Franchising As an Option
Franchising doesn't guarantee success, but it will make starting a business much easier.
If you are thinking about opening a golf carts wholesale and manufacturers business, you would be wise to check out whether franchising might be worth investigating.
The link below gives you access to our franchise directory so you can see if there's a franchise opportunity for you. You might even find something that points you in a completely different direction.
Related Articles on Starting a Company
These additional resources regarding getting started as an entrepreneur may be of interest to you.
Coming Up With Good Business Ideas


Share this article
---
Additional Resources for Entrepreneurs