How Do I Start a Business
How to Start a Plastering, Drywall, & Insulation Business
Before you start a plastering, drywall, and insulation business, figure out why anybody will bother to care.
Thinking about opening a plastering, drywall, and insulation business? We tell you what you need to know to get started.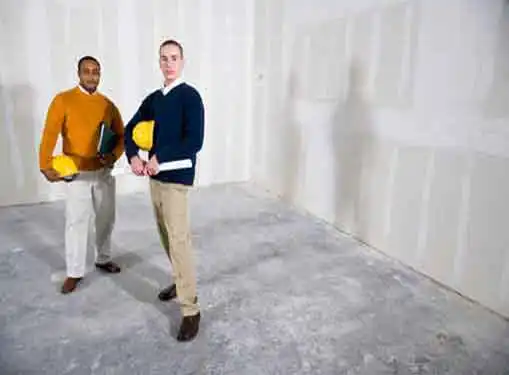 For best results, start by marketing your new plastering, drywall or insulation company to other established contractors.
Drywall Industry Essentials
Drywall continues to be a robust sector within the construction, home repair and remodeling industry. With approximately 20,000 active drywall businesses, the industry has annual revenue in excess of $30 billion.
Much of the drywall industry is driven by small businesses and new construction. While the majority of drywall businesses have fewer than 5 employees, 70% of industry revenue is garnered from new residential and commercial construction. The remainder of the revenue is earned through renovations and repair services.
To compete in the current marketplace, your startup will need to be equipped to handle a wide variety of drywall and plaster products as well as the installation of acoustic surfaces, metal support frames, ceiling tiles, insulation and other building materials.
Drywall Customer Acquisition & Strategic Partnerships
Generally, drywall is a B2B (rather than a B2C) business. Rather than marketing your startup directly to consumers, you'll get more business by marketing your startup to other contractors. General contractors, painters, home remodelers, developers and other construction industry players should be targeted in your customer development strategy.
Drywall businesses depend on subcontracting arrangements for their primary revenue streams. As a result, the development of strategic partnerships and strategic alliances with complementary construction businesses is a critical requirement for startups. If you are an unknown in the local building trades community, business networking should be your first startup priority.
Startup Requirements for Drywall Contractors
Drywall, plastering and insulation businesses are relatively simple startups, partly because the startup requirements aren't overly burdensome. A general knowledge of the drywall and construction trade is important; most drywall entrepreneurs have worked in the industry before launching their own business.
In terms of equipment, you'll need commercial grade trowels, saws, screw guns and other hanging/framing tools. You will also need a commercial van or truck to transport materials. Assuming you already have a serviceable business vehicle, it's possible to get started for less than $5k.
Hiring may be the biggest hurdle your startup will face since finding experienced and reliable drywallers can be a challenge. Expect to encounter a fair amount of employee turnover before you locate workers who are truly dedicated to your company and their craft.
Tips for Creating a Great Plastering, Drywall, & Insulation Company Business Plan
A business plan is the skeletal framework for your plastering, drywall, and insulation business's mission, goals and strategic vision.
In contemporary business culture, business plans are also litmus tests used by external interests to assess real world viability and marketability.
Learning how to write the market analysis section of a business plan is a critical skill for startup entrepreneurs. While a robust market analysis can be a selling point for a plastering, drywall, and insulation business startup, weak market research is a sure giveaway for a business that hasn't invested adequate effort in planning.
Review Competitors
Prior to opening a plastering, drywall, and insulation business within your community, it's a good idea to determine how many competitors you have. Try our link below to find competitors in your city. After clicking on the link, type in your city, state and zip code to get a list of plastering, drywall, and insulation businesses near you.
Prior to opening your doors for business, be sure you fully understand the competitive landscape and where your new business will fit in.
Turning Competitors Into Collaborators
Once you've finished assessing the competion, it's essential that you learn from folks who are already in business. Local competitors are not going to give you the time of day, mind you. It'd be crazy for them to teach you the business.
On the other hand, an individual who has a plastering, drywall, and insulation business outside of your community can be a great learning resource for you, as long as they don't view you as a competitive threat. In fact, they are often very willing to share startup advice with you. It can take a while to find an entrepreneur who is willing to talk, but it's well worth the effort.
Where would you find a plastering, drywall, and insulation business founder in another city who you can speak with?
Simple. Let your fingers do the walking by using the link below.
Entry Options for Plastering, Drywall, & Insulation Businesses
Would-be plastering, drywall, and insulation business business owners can either launch a new business or acquire an existing operation.
Startup plastering, drywall, and insulation businesses can be attractive because they allow the entrepreneur to have more control and greater influence. Yet startups are also more difficult to finance because their nature is inherently risky.
Acquired plastering, drywall, and insulation businesses are known quantities - and are less risky for lenders. Buying a business means that you'll have access to a documented financial history, an established business model and other factors that are unknowns in a startup – and that makes the ownership opportunity less of a risk to both you and your plastering, drywall, and insulation business's key stakeholders.
Don't Forget About Franchising As an Option
Choosing to partner with a franchisor makes it a certainty that you get access to great ideas that have been tested and proven over time.
Prior to starting a plastering, drywall, and insulation business, a smart move is to check out whether there are good franchise opportunities available that might help you avoid common entrepreneurial mistakes.
The link below gives you access to our franchise directory so you can see if there's a franchise opportunity for you. You might even find something that points you in a completely different direction.
More Advice for Startups
These additional resources regarding starting a business may be of interest to you.
Questions to Ask Before Starting a Business
Consideration Before Buying a Franchise


Share this article
---
Additional Resources for Entrepreneurs