Business Startup Ideas
How to Start a Raft Trips & Tours Business
Opening a raft trips and tours business is an excellent entrepreneurial opportunity if you have the creativity and tenacity necessary to be a successful entrepreneur. Here is a friendly, comprehensive guide that demystifies what it takes to be successful.
Thinking about opening a raft trips and tours business? We tell you what you need to know to get started.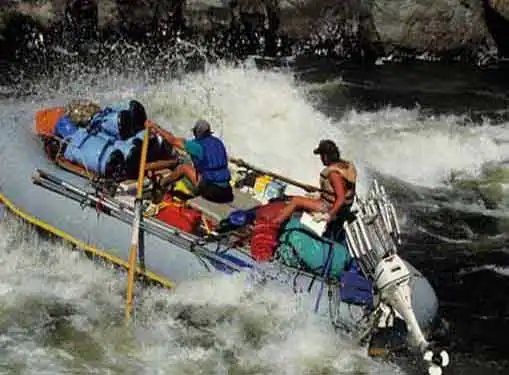 Prerequisites for New Rafting Companies
Rafting is a popular recreational activity for many Americans. Combining consumer's love of water sports with the thrill of whitewater, rafting offers single or multi-day experiences for families -- and the possibility of significant profits for entrepreneurs throughout the U.S.
But life on the river isn't necessarily easy, particularly for entrepreneurs who fail to discern key startup requirements. For starters, you'll need access to a river that sustains its water level for all or most of the year. Public launches are an option, but you can add value to your operation by securing a lease on a private launch area.
Another big entry requirement is raft inventory. Even though your startup funds may be limited, resist the urge to go cheap on your rafts. Raft quality is a safety issue. But you'll also achieve better ROI from quality craft because they will last substantially longer than flimsy inflatables.
Risk Management Tips for Rafting Entrepreneurs
Have you thought about liability insurance for your rafting startup yet? If you haven't, you need to get on it ASAP. It's getting harder to fin liability coverage for rafting businesses and other activities deemed risky by insurance carriers. But without adequate liability protection, your startup is "dead in the water".
In the meantime, you will need to begin to implement comprehensive safety policies throughout your operation. Lifejackets, helmets and other safety equipment are a good start. But you will also need to research the industry to identify other standard safety procedures. If you're stuck, consider joining a local rafting association if there's one in your area, as they often provide recommendations on best practices for safe rafting.
How to Hire Guides for a Raft Trip Startup
A well-outfitted rafting operation can't succeed without a skilled team of guides and support personnel. Finding guides for your startup won't be easy. Although many people claim to have rafting experience, identifying candidates with guide experience on your specific waterway can be tricky.
Local networking is the best way to locate qualified guides. Job listings in local papers and on career websites will inevitably deliver a spate of applicants. But since you will be looking for guides with local knowledge, it's hard to beat referrals from peers in your geographic territory.
In addition to local rafting experience, you should consider requiring applicants to agree to a drug and alcohol policy. The last thing your startup needs is the negative publicity that would be generated by an intoxicated guide jeopardizing the lives of your customers.
Creating a Business Plan for a Raft Trips & Tours Business
A common mistake for a new business owner is to launch your company without having written a business plan.
The key benefit of writing a business plan is that it establishes both a framework and a roadmap for your business. If you don't have a business plan, your leadership will be handicapped, limiting your raft trips and tours business's ability to succeed long-term.
Start by defining your business mission. The process of writing a mission statement doesn't have to be complicated. From there, the other piece of the business plan puzzle will begin to fall in place.
Take a Look at the Competition
Before you open a raft trips and tours business in your town, it's a good idea to determine how strong the competition is. Try our link below to find competitors in your area. After clicking on the link, type in your city, state and zip code to get a list of raft trips and tours businesses near you.
Gain a knowledge of how existing firms have positioned themselves in the marketplace, and then design your business in a way that sets you apart from the others.
Getting Advice from Experienced Entrepreneurs
Once you've finished assessing the competion, you really ought to talk to somebody who is already in the business. If you think your local competitors will give you advice, you're being overoptimistic. It'd be crazy for them to teach you the business.
On the other hand, an individual who has a raft trips and tours business on the other side of the country can be a great learning resource for you, once they realize that you are not going to directly compete with them in their community. In fact, they are often very willing to share startup advice with you. Our estimate is that you may have to contact many business owners to find one who is willing to share his wisdom with you.
So, what can you do to find a raft trips and tours business entrepreneur outside of your area who is willing to talk?
Simple. Let your fingers do the walking by using the link below.
Advantages of a Raft Trips & Tours Business Purchase
On a percentage basis, more entrepreneurs intend to enter raft trips and tours business ownership through a startup than through a business purchase. Yet raft trips and tours business startups aren't easy - many fail within the first year.
There are a lot of factors that need to be considered in buying vs. starting a business. By buying a profitable raft trips and tours business, you'll shorten the amount of time it takes to achieve a return on your investment because you'll have the advantage of a proven operation and an existing customer base.
Don't Rule Out Franchising
Your chances of achieving the entrepreneurial goal of doing well in business are higher if you go the franchising route and benefit from the prior work of others and their lessons learned.
If you planning on starting a raft trips and tours business, a smart move is to determine whether franchising might be the right move for you.
The link below gives you access to our franchise directory so you can see if there's a franchise opportunity for you. You might even find something that points you in a completely different direction.
Related Articles on Starting a Company
These additional resources regarding getting started as an entrepreneur may be of interest to you.
Characteristics of Successful Entrepreneurs
Coming Up With Good Business Ideas
Buying vs. Starting a Business


Share this article
---
Additional Resources for Entrepreneurs