Starting a Business Articles
How to Start a Retail Tire Business
A tire store is a great way to make a living. This article explains exactly what you need to do to get started.
Thinking about opening a tire store? We tell you what you need to know to get started.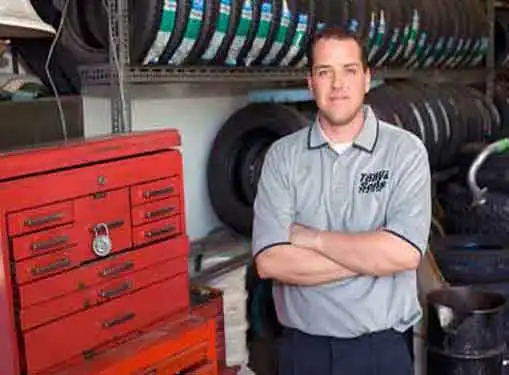 Launching a Brick-and-Mortar Tire Retail Business
Like other retail sectors, the tire retail industry has been dramatically affected by the advent of Internet commerce. Cost-conscious consumers often go online to purchase tires rather than buying directly from service providers.
The downside of online retailing is that it limits revenue exclusively to tire sales. For this and other reasons, many startup entrepreneurs prefer to launch brick-and-mortar tire shops. Launching a brick-and-mortar tire shop requires the same skills and fundamentals as any other successful retail establishment: Good location, reliable inventory management and a team of workers trained in customer service skills.
The only difference is that your tire retail business will also need to include a shop space with enough service bays to accommodate anticipated customer demand. Although this adds a wrinkle to your search for leased space, a quality service area is a non-negotiable feature of your tire retail startup.
Revenue Streams for New Tire Retailers
Tire retailers sell tires from brand manufacturers like Goodyear, Dunlop, BFGoodrich and Michelin. They also provide their customers with a variety of services including wheel alignment, brake service, vehicle inspections, oil changes, preventive maintenance and general repair.
Each of these services represents a potential revenue stream for your startup. In some instances, you may even be able to generate recurring revenue streams by scheduling customers for periodic maintenance or inspection activities. However, the combination of multiple service offerings is itself a value-added component for customers because it establishes your operation as a one-stop provider for many of your customers' vehicle maintenance needs.
Tips for Competing with Online Tire Retailers
Brick-and-mortar tire shops can't ignore competitive pressure from online retailers. Inevitably, a percentage of customers will purchase tire online and bring them to your shop for installation. To compete, you'll need to rely on a combination of competitive pricing and consumer education.
For examples, brick-and-mortar retailers often include installation in the price of a new tire. If the customer buys the tire online he may pay less for the actual tire, but actually pay more after the cost of installation is factored into the final price.
We recommend that startup tire retailers carefully research online and local markets to determine the right pricing for tire sales and installation-only services. Once you have established the right pricing model, craft messaging to inform customers about the advantages of buying tire products directly from your shop.
Business Plan Mechanics for Tire Stores
Haven't created a business plan for your tire store yet? You could be in big trouble.
At Gaebler, we advise new business owners to keep your business plan simple. Ultimately, your business plan is intended to be a resource for you, the business owner.
If your time is limiting, outline the essentials of your tire store's business plan now and make a commitment to come back to it later.
Check Out the Competition
Before you open a tire store within your community, it's a smart move to find out what the competition looks like. Use the link below to generate a list of competitors in your area. After following the link, enter your city, state and zip code to get a list of tire stores in your area.
How are you going to successfully complete with existing firms? It's important that you never underestimate the competition.
Find Good Remote Business Advice
If you are interested in starting a tire store, you really ought to learn from folks who are already in business. Local competitors are not going to give you the time of day, mind you. The last thing they want to do is help you to be a better competitor.
But, a person who owns a tire store outside of your community will be much more likely to talk with you, once they realize that you are not going to directly compete with them in their community. Many business owners are happy to give advice to new entrepreneurs. Our estimate is that you may have to contact many business owners to find one who is willing to share his wisdom with you.
Where can you find an owner of a tire store on the other side of the country to talk to?
No problem! Just use the link below and try a random city/state or zipcode. Then start dialing for advice until you are successful.
Why You Should Buy (Instead of Start) a Tire Retailer
It's no secret that entrepreneurs have a strong impulse to build companies from the ground up.
But from a business and financial perspective, it may make more sense to leverage an existing tire store as your vehicle for world domination.
Existing tire stores are proven operations with dependable revenue streams. As an added bonus, you'll also gain the ability to headaches and hassles of startup trial-and-error.
Explore Franchising Options
If this is your first venture, your best bet may be exploring becoming a franchisee.
If you planning on starting a tire store, you ought to check out whether buying a franchise could simplify your entering the business.
The link below gives you access to our franchise directory so you can see if there's a franchise opportunity for you. You might even find something that points you in a completely different direction.
Related Articles on Starting a Company
These additional resources regarding starting a business may be of interest to you.
Share this article
---
Additional Resources for Entrepreneurs