I Want to Start a Small Business
How to Start a Vent Hood Cleaning Business
These tips are ideal for aspiring entrepreneurs who are thinking about starting a vent hood cleaning business. Read this before you open up shop.
Wondering how to start a vent hood cleaning business? We take you step-by-step from start to success.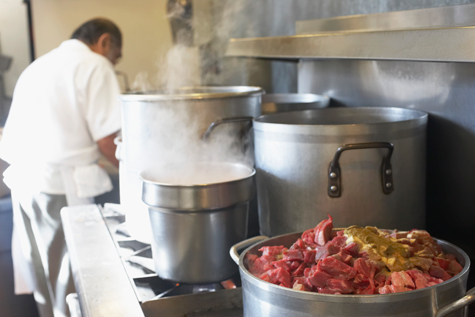 Industry Overview: Vent Hood Cleaning & Maintenance
Commercial kitchens are full of potential fire hazards. Vent hoods represent a significant fire risk because they accumulate grease and flammable residues that can quickly ignite, jeopardizing the lives of employees and patrons.
Fire inspectors routinely scrutinize vent hoods during annual and semi-annual inspections. As a vent hood cleaning provider, you'll need to familiarize yourself with local fire codes and market your services to commercial kitchens on a schedule that is geared toward pre-inspection vent hood maintenance.
Fire Safety Standards for Vent Hood Cleaning Companies
Vent hood cleaning businesses operate in accordance with the standards prescribed by the National Fire Protection Association, an organization that issues standards and codes for fire safety practices.
The specific code you need to be concerned about is NFPA 96: Standard for Ventilation Control and Fire Protection of Commercial Cooking Operations. After successfully completing cleaning and maintenance procedures, you will be expected to post a certificate on the vent hood canopy as a service to the kitchen owner and fire inspectors.
Resource Requirements for Operating a Vent Cleaning Business
The resources you'll need to effectively operate a vent cleaning business generally include cleaning equipment, chemicals and a vehicle capable of transporting materials to customer locations.
Industry experience and a working knowledge of fire safety practices is also helpful. Likewise, you'll need to educate your team about the proper use and disposal of vent hood cleaning chemicals in order to comply with environmental codes and industry best practices.
Business Plan Mechanics for Vent Hood Cleaning Businesses
Haven't created a business plan for your vent hood cleaning business yet? You could be in big trouble.
Rather than avoiding your business plan, keep your business plan simple. Ultimately, your business plan is intended to be a resource for you, the business owner.
If your time is limiting, outline the essentials of your vent hood cleaning company's business plan now and make a commitment to come back to it later.
Investigate Competitors
Long before you open a vent hood cleaning business in your town, it's a good idea to find out how you will fit in the competitive landscape. Use the link below to find competitors in your city. Just enter your city, state and zip code to get a list of vent hood cleaning businesses in your community.
Prior to opening your doors for business, be sure you fully understand the competitive landscape and where your new business will fit in.
Turning Competitors Into Collaborators
If you are interested in starting a vent hood cleaning business, be sure to learn as much as you can from somebody who is already in the business. If you think your local competitors will give you advice, you're being overoptimistic. Why would they want to educate a future competitor?
On the other hand, an individual who has a vent hood cleaning business in a different city may be more than happy to give you a few tips, given that you don't compete with them in their area. In that case, the business owner may be more than happy to discuss the industry with you. Our estimate is that you may have to contact many business owners to find one who is willing to share his wisdom with you.
How would you find an owner of a vent hood cleaning business that lives outside of your area?
Easy. Find them using our link below and start calling until you are successful.
Why You Should Buy (Instead of Start) a Vent Hood Cleaning Business
It's no secret that entrepreneurs have a strong impulse to build companies from the ground up.
Yet a healthier and safer strategy may be to purchase an existing vent hood cleaning business.
Existing vent hood cleaning businesses are proven operations with dependable revenue streams. And that's not to mention the fact that a purchase let's you avoid the trial-and-error mistakes that are common in startups.
Don't Forget About Franchising As an Option
Young entrepreneurs are big on innovative marketing concepts, but fall short in the area of real world marketing experience.
A franchised startup compensates for marketing and branding deficiencies, giving your business a highly recognizable brand presence from the outset of operations.
It's possible to perform a successful vent hood cleaning business startup using a traditional model, but you can significantly improve your first-year position by exploring the vent hood cleaning business franchise startup opportunities in our cleaning and maintenance franchise directory.
Related Articles on Starting a Company
These additional resources regarding starting a business may be of interest to you.
Buying vs. Starting a Business
Characteristics of Successful Entrepreneurs


Have Friends Who Might Like This Article?

Share this on Twitter
Let them know on LinkedIn
Ready to Learn More? We Think You Might Like These Articles:
---
Additional Resources for Entrepreneurs