Start a Business
How to Start a Wedding Chapels Business
It's a prime time for starting your own business. This useful article about launching a wedding chapel provides explanations of all the steps needed in the startup process.
Thinking about opening a wedding chapel? We tell you what you need to know to get started.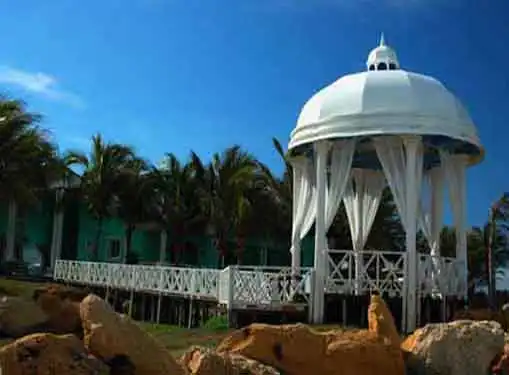 The U.S. Wedding Industry
In the U.S., weddings have mushroomed into a $40+ billion a year industry -- an irresistible target for entrepreneurs interested in promising startup opportunities.
A willingness to eschew traditional church ceremonies has led to the emergence of wedding chapels and reception venues that cater exclusively to bridal consumers.
Some wedding chapels feature themes while others feature a neutral or classic ambience. But either way, the most successful wedding chapels leave little to chance. They are highly organized businesses that go the extra mile to ensure that nothing spoils their customers' special day.
Turning Your Wedding Chapel Dream Into a Profitable Business
Wedding chapel entrepreneurs and other aspiring bridal business owners tend to be hopelessly optimistic people. After all, one of the things that drew you to a wedding chapel startup was your fondness for weddings and unshakeable belief in storybook endings.
But unfortunately, blind optimism can handicap your ability to run a profitable wedding chapel business. Great wedding chapels begin with business plans that contain realistic marketing and financial forecasts, accurate startup estimates and adequate funding.
As your chapel business grows, the decision to add a reception hall and catering business (if you don't already have one) is a good idea. Yet before you expand, you will need a carefully vetted strategic plan to make sure you can bring enough business to justify your investment. Even more, you'll need to make sure you have enough employees and resources to handle the added workload.
Eventually, your wedding chapel business will catch up with your entrepreneurial vision. And when that happens, you will be tempted to allow the business to coast on autopilot while you rest on your laurels.
That's a big mistake -- complacency is kryptonite for small business owners. Instead, you need to continuously educate yourself about the latest business developments in order to maintain your edge -- and your profits.
Characteristics of a Good Wedding Chapel Business Plan
Your wedding chapel's business plan should be tailored to your business's unique traits and goals. However, the most effective business plans do address specific sound business plan elements:
Mission Statement – A foundational statement of your company's direction and strategy.
Goals & Objectives – A list of mile markers on your wedding chapel's road to success.
Financial, Marketing & Action Plans – Specific plans that describe your business environment, demographic targets and quantitative estimates.
Investigate Competitors
Well in advance of opening a wedding chapel in your area, it's a smart move to determine how many competitors you have. We've provided the link below to help you generate a list of competitors in your area. Just enter your city, state and zip code to get a list of wedding chapels in your community.
If there's too much competition, it may be wise to consider starting the business in a less competitive marketplace.
Finding a Non-Competitive Business Mentor
If you want to open a wedding chapel it's essential that you talk to somebody who is already in the business. Local competitors are not going to give you the time of day, mind you. Why would they want to educate a future competitor?
Fortunately, somebody who runs a wedding chapel outside of your community may be willing to share their entrepreneurial wisdom with you, given that you don't compete with them in their area. Indeed, many experienced entrepreneurs enjoy offering advice to startup entrepreneurs. Our estimate is that you may have to contact many business owners to find one who is willing to share his wisdom with you.
Where would you find an owner of a wedding chapel outside of your area who is willing to talk?
Here's one way to do it. Just use our link below, find somebody and call them.
Three Arguments for Buying a Wedding Chapel
It's almost always preferable to buy a wedding chapel than to pursue a wedding chapel startup.
You'll want to conduct a comprehensive due diligence process, but here are three arguments why you should think about buying instead of a startup.
Initial Revenue. Startups struggle to bring in revenue right out of the gate while existing businesses usually have a steady stream of income.
Operational Efficiency. A good wedding chapel should already function like a well-oiled machine.
Capital Acquisition. In general, it's easier to finance an existing business than it is to fund a startup. While a startup only exists on paper (initially), established businesses have the benefit of historical earnings statements and tangible assets.
Franchising May Be a Better Way to Go
Too many new business owners fail simply because they didn't take the time to explore the possibility of a franchise. As a franchisee, you'll have access to a broad knowledge base, established supply chains, proven operational processes and other resources. Today's franchises offer a range of opportunities for ambitious startups.
For more information about wedding franchise opportunities, click on the link below to explore our franchise directory.
More Startup Articles
These additional resources regarding starting a business may be of interest to you.
Share this article
---
Additional Resources for Entrepreneurs