Starting a Business
How to Start an Art Consulting Firm
What does it take to start an art consulting firm? This article discusses all the basic steps you should know about starting and running an art consulting firm.
We offer our relevant advice on how to start an art consulting firm.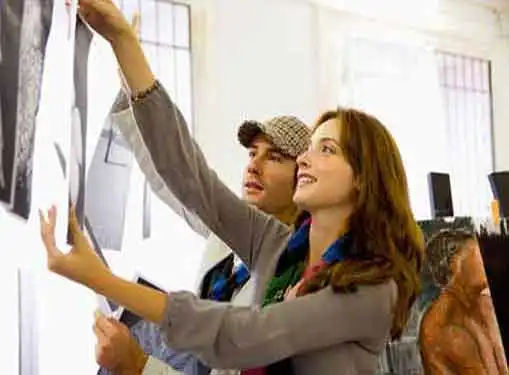 Art Consulting: Customer Profile
The average consumer doesn't have much need for art consulting services. In fact, most Americans don't know that art consultants even exist. But for art collectors, art consultants play a valuable role, delivering a range of services that enhance their personal enjoyment and increase the value of their acquisitions.
Typically, art consultants serve two constituencies: Individual collectors and corporations. Individual art enthusiasts are high net worth individuals with a passion for art and ample resources to enhance their collections. Corporations have similar liquid assets and may collect art as a sign of status or as a speculative investment opportunity.
Other markets for art consulting services include auction houses, estates and small museums that need occasional art appraisal, acquisition or selling advice.
Prerequisites for Art Consulting Entrepreneurs
Art consulting entrepreneurs clearly need a background in art, preferably a graduate degree and possibly even museum experience. But fine art experience isn't the only thing you'll need to run a successful art consulting firm - you'll also need entrepreneurial and business skills.
The best art consulting entrepreneurs are talented business professionals who are students of the marketplace and have carefully acquired the skills they need to become a dominant force in their field. Marketing abilities, appraisal expertise and negotiation skills will all come into play on a regular basis, especially if your consulting firm expands to include the sourcing of art to your clients.
How to Capture Clients as an Art Consultant
Networking undoubtedly plays a role in client acquisition for art consultants. It's important to quickly establish a presence in the circles where your clients congregate. Without an aggressive networking strategy, you won't gain the trust of your client base.
But another effective client acquisition strategy for art consultants is to establish your firm's expertise through public relations. An effective PR plan will help you leverage media placements to establish a thought leadership position for your firm.
Contributed articles in targeted trade journals, op-eds, media interviews and other tactics have the potential to impress collectors and send prospective clients streaming to your business website.
How to Create an Art Consulting Firm Business Plan
A good business plan is the foundation of your entrepreneurial journey. Despite the diversity that exists in business plan writing, there are several essential elements that good business plans simply must include.
If you're unfamiliar with business plan essentials, you may want to think about purchasing business plan software. The best business plan solutions can be tailored by industry, incorporating highly relevant metrics into your art consulting firm's business plan.
Our list of business plan software packages offers a comprehensive guide to the best solutions on the market.
Don't Overlook Competitors
Before you open an art consulting firm in your area, it's essential to see how many competitors you have. We've provided the link below to help you generate a list of competitors nearby. After clicking on the link, type in your city, state and zip code to get a list of art consulting firms near you.
Is the local market large enough to support another art consulting firm? If not, you had better be sure that you are doing things much better than the competition.
Talk to People Who Are Already in the Business
Once you've finished assessing the competion, it's a smart move to talk to somebody who is already in the business. Local competitors are not going to give you the time of day, mind you. It'd be crazy for them to teach you the business.
On the other hand, an individual who has an art consulting firm in another town can be a great learning resource for you, once they realize that you are not going to directly compete with them in their community. In fact, they are often very willing to share startup advice with you. If you are persistent, you can find a business mentor who is willing to help you out.
How does one quickly and easily locate somebody who runs an art consulting firm in a different locale who can assist you?
It's easy. Here's a link you can use to find a mentor outside of your area.
Why Buy an Art Consulting Firm?
More than a few experts advise prospective art consulting firm startup entrepreneurs to pursue an acquisition strategy. But what's so great about an art consulting firm acquisition?
Financing and funding concerns ought to play a central role in your strategy. Commercial lenders are usually more inclined to fund acquisitions than startups.
Buying a business to get acquisition capital is a legitimate ownership strategy for art consulting firm entrepreneurs.
Consider Franchising
To improve your chances of business success, consider the advantages associated with opting to buy a franchise.
Before opening an art consulting firm, you may want to determine whether franchise opportunities in your space might be the right move for you.
The link below gives you access to our franchise directory so you can see if there's a franchise opportunity for you. You might even find something that points you in a completely different direction.
More Advice for Startups
These additional resources regarding getting started as an entrepreneur may be of interest to you.
Coming Up With Good Business Ideas
Consideration Before Buying a Franchise


Share this article
---
Additional Resources for Entrepreneurs