Advice for Administrative Assistants
Meeting Etiquette
Are your office meetings meeting your expectations? Preparing meeting agendas can help make the most of a meeting. We offer tips and advice for planning and running productive meetings.
Your mother was right. Manners do matter.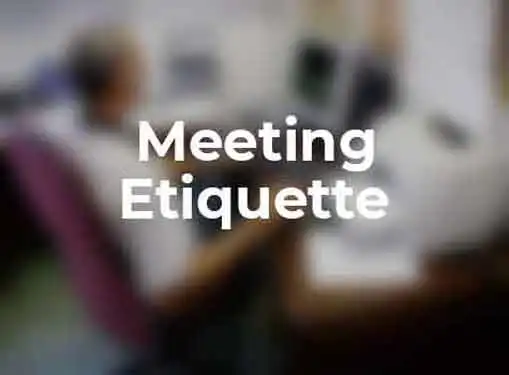 So, if you want to get ahead and stay ahead in business, it is important to follow some basic etiquette when planning and conducting a productive and successful meeting.
Make sure everyone is on the same page. Before you call your meeting, prepare and distribute your meeting agenda ahead of time. Then leave nothing to chance. Even if you generally hold all of your meetings in the same place, make sure that the meeting date, time, and place are clearly stated in the agenda heading.
Prepare properly for the meeting. In addition to the agenda, make sure that any documents that need to be reviewed or that require a response are distributed with the agenda. Having these documents ahead of time will signal meeting attendees that they should do some preparation themselves, which will save you valuable meeting time. It is polite to give them at least three days to review these materials, particularly if they include statistical reports.
State your purpose for the meeting. Keep the goal of the meeting in mind as you prepare the agenda. Then, make sure that the purpose of the meeting is clearly stated. It is important to tailor the agenda so that no point is left too nebulous or broad as to allow tangential or extraneous issues to consume valuable time and energy. If you keep your agenda focused on the topic at hand, it is likely that the discussion will stay on topic as well.
Start meetings on time. Everyone who attends the meeting should be there on time. Show respect for those who arrive on time by starting the meeting punctually. Don't make them wait for latecomers. If you consistently start on time, chronic latecomers will eventually get the hint and they should begin to conform to your schedule. Don't conform to theirs!
Rein in the discussion. Make sure that the goal of the meeting is reiterated at the beginning of the discussion and then hold people accountable. If the discussion begins to stray too far off topic, it is important to redirect them back to the task at hand. Nothing is more frustrating than listening to people wax and wane about something that has no bearing on the agenda. As the chair, it is your responsibility to limit discussion as needed so that everyone gets and opportunity to share without dominating the conversation or hijacking the agenda.
Build in some flexibility. When creating your agenda, realize that it is possible you may not get through everything. Prioritize your agenda and put less pressing items towards the end. Then, if time is running short you can table those items until the next meeting.
Finally, end on time...or even early! No one enjoys an open ended meeting that has no clear conclusion. Set an ending time and then stick to it. Avoid putting "miscellaneous items" or "other business" at the end of your agenda. These phrases simply invite random or irrelevant discussions that use up time unnecessarily. Finish your business and then let them get back to work!
Share this article
---
Additional Resources for Entrepreneurs