Couponing Advice
Online Coupons
So you've had success with printed coupons and now you want to expand into the world of online couponing. Is it even possible to run an effective coupon campaign via the Internet? Of course it is. Here's what you need to know.
When most people hear the word "coupon", they think about small scraps of paper that arrive at their doorstep by way of a mail carrier or a newspaper delivery person.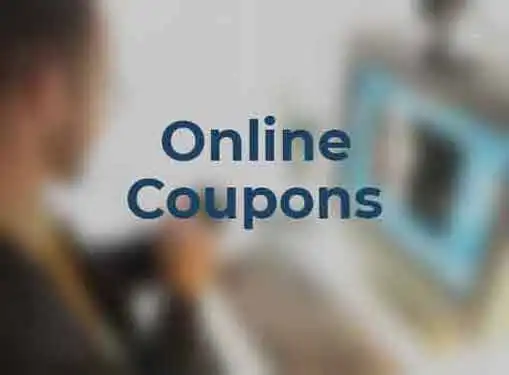 But in the Internet age, the way we access and even redeem coupons is changing, and business owners are exploring ways to offer coupon promotions online.
Online coupon promotions come in all shapes and sizes. Some online coupons are designed to be printed and brought to the store at the time of purchase. Others can be redeemed via a coupon code or other nontraditional redemption method.
Although the rules for online coupons continue to evolve, it's safe to say that the companies who are successfully employing online coupons share a common philosophy about the ways Internet-based coupon strategies can be used most effectively.
Here are a few tips to help you make the most of online couponing:
People look for coupons online. The desire to get more for less cuts across all demographic categories in today's economy. Rich, poor, young, old - everyone wants coupons that will provide real savings and they are looking for them online. According to experts, as many as two out of three consumers admit to looking for a coupon online before making a purchase.
You have to put your best coupons on your homepage. Sooner or later it will seem like a good idea to situate your coupons deep in your website so you can force web surfers to learn more about your business. Don't do it. It doesn't make sense to bury your coupons in your site, especially since coupon-seekers won't stay on your site for more than a few seconds and they rarely click past the homepage.
Email coupons. You don't have to wait for shoppers to visit your website to tap into the benefits of online couponing. A more proactive approach is to distribute coupons through email list. If you do it right, you can even solidify the loyalty of your customer base by offering premium coupons as rewards for past purchases.
Leverage coupon sites. Coupon sites can instantly expand the reach of your online coupon efforts. Many coupon sites have search features that give customers the ability to look for savings by product category. Some sites, like couponcraze.com and dealcatcher.com, offer the added benefit of helping shoppers find coupons for local businesses.
Share this article
---
Additional Resources for Entrepreneurs