Opening a Business
Opening a Barbershop
Here's some helpful information that is perfect for those of you who want to open a barbershop. This is a must-read before you start!
Hair grows whether the economy is up or down. So, opening a barbershop can be a very smart move.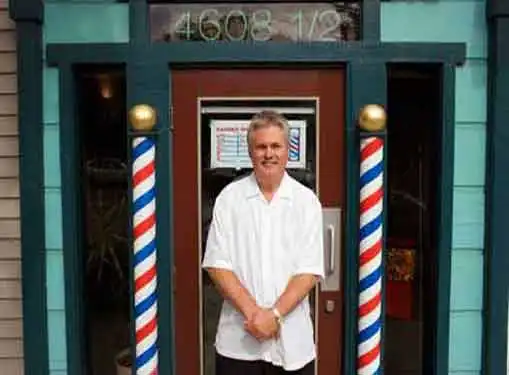 The Barbershop Business Model
Barbershops have a traditional presence in many U.S. towns and cities. But as hair salons and discount haircutters have gained popularity with male consumers, barbershops have had to contend with a declining customer base. Although you can still find barbershops, there are fewer in the marketplace and many survivors are older entrepreneurs biding their time until retirement.
That's the bad news about today's barbershop industry. The good news is that the barbershop business model is experiencing a revival in some areas, as an alternative to the other hair care providers in your target market.
Consumers who prefer a masculine hair care experience and are fed up with the poor service they receive from discount providers are demonstrating a preference for traditional barber shops - but only to the extent that their barber is willing to invest the time and energy to provide first-rate service and a traditional barber experience.
Selling Points for Barbershop Startups
To some degree, the success of your new barbershop will come down to your ability to provide a superior customer service experience. Forget about trying to compete with discount providers on price or trying to duplicate the range of products that are available at top hair care salons. Instead, focus on delivering traditional barber cuts in a customer-centered service environment.
Everything counts when it comes to customer service. From the comfort of your waiting room to cleaning hair cuttings from your customers' necks, it's the small details that will set your business apart from other providers. Everyone who works in your establishment should be trained to provide prompt, courteous and friendly service in a manner that differentiates your barbershop from everyone else in your market.
You may also want to consider offering services like shaves or complementary neck massages. These kinds of services are reminiscent of a different era in hair care services and may have nostalgic appeal to consumers.
Facility & Location for Your New Barbershop
Unless you have money to burn, leased space is better than a commercial real estate purchase, at least initially. No matter how thoroughly you've planned your startup, there's always a possibility that it won't succeed and commercial property ownership can complicate your exit.
When you are negotiating your lease, there are a number of factors that you will need to consider. You may not get everything you want from your landlord, but one of your non-negotiable requirements should be in the area of signage. A barber pole is an absolute must for a startup trying to communicate a traditional barbershop experience to consumers.
Tips for Creating a Great Barbershop Business Plan
Your barbershop's business plan is a blueprint that describes your company and the strategy you will execute to achieve specific goals.
In contemporary business culture, business plans are also litmus tests used by external interests to assess real world viability and marketability.
Learning how to write the market analysis section of a business plan is a critical skill for startup entrepreneurs. While a robust market analysis can be a selling point for a barbershop startup, weak market research is a sure giveaway for a business that hasn't invested adequate effort in planning.
Consider Local Demographics
No barbershop in the area? It could be because the local demographics are not right. The U.S. Census data can tell you the social, economic, rage and age profile of the people in your community. That's a good starting point to learn more about your local demographics.
Review Competitors
Well in advance of opening a barbershop in your town, it's worthwhile to see what the competition looks like. We've provided the link below to help you generate a list of competitors nearby. After clicking on the link, type in your city, state and zip code to get a list of barbershops near you.
Before you open up shop, make sure you know what you will offer to your customers that provides a significant advantage over your competition's offering.
Learning More About the Industry
If you are seriously contemplating launching a barbershop, you really ought to speak with somebody who is already in the business. If you think owners of nearby barbershops will give you advice, think again. The last thing they want to do is help you to be a better competitor.
But, a person who owns a barbershop in a location that is not competitive to you may be willing to share their entrepreneurial wisdom with you, given that you don't compete with them in their area. Many business owners are happy to give advice to new entrepreneurs If you are persistent, you can find a business mentor who is willing to help you out.
How does one go about finding a barbershop owner in a different locale who can assist you?
Simple. Let your fingers do the walking by using the link below.
Getting Started in Barbershop Ownership
Would-be barbershop business owners can either launch a new business or acquire an existing operation.
We understand why a startup may sound appealing. A new barbershop will definitely be more reflective of your personal business philosophy. But financially, startups present significant challenges because lenders are typically hesitant to fund startup barbershops.
Acquired barbershops are known quantities - and are less risky for lenders. Although buying a business doesn't guarantee success, it substantially increases your odds of obtaining financing and achieving profitability.
Consider Buying a Franchise
You should know that your odds of making a success of your new business are greatly increased if you go the franchising route rather than going it alone.
Before you get too far along in your plan to open a barbershop, you would be wise to investigate whether there are good franchise opportunities available that might make it easy to get started.
The link below gives you access to our franchise directory so you can see if there's a franchise opportunity for you. You might even find something that points you in a completely different direction.
Related Articles on Starting a Company
These additional resources regarding starting a business may be of interest to you.
Share this article
---
Additional Resources for Entrepreneurs