Opening a Business
Opening a Beef Jerky Business
If you are intent on starting a beef jerky business, start by taking the time to understand the industry and your local market.
Thinking about opening a beef jerky business? We tell you what you need to know to get started.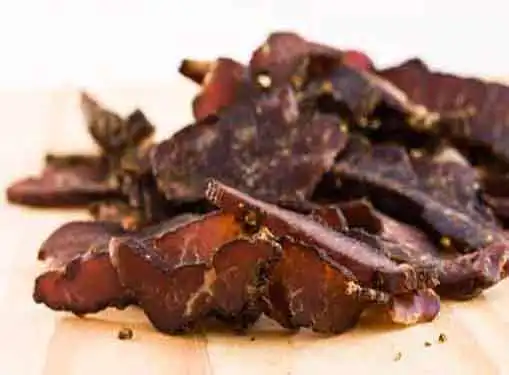 Ready to Open a Beef Jerky Business?
Selling beef jerky can be a great business. Maybe you've got a homemade beef jerky recipe that is to die for. Why not offer it to the public and see whether you can make a good living from your beef jerky business?
You may want to start off by selling beef jerky via the web, rather than opening a retail beef jerky store. That will allow you to work through the kinks and test the market without overinvesting in the business.
It's also a good idea to partner with businesses that can sell your beef jerky to consumers. Contact bars in your area, and convenience stores. Many will be willing to resell your beef jerky for a small cut of the profits. Pick a price point that makes sense. If you are offering gourmet beef jerky, you'll want to price your product accordingly. Remember, the key attributes of beef jerky are flavor, meat thickness, tenderness, and how dry or moist the beef jerky is. You'll want to experiment to find the right mix that will make your beef jerky a must-have for consumers and realtors. Of course, you don't necessarily have to make the beef jerky yourself. You may be able to find a beef jerky supplier and just purchase from them, rather than go through the trouble of making beef jerky yourself.
Creating Business Plans for a Beef Jerky Business
Never underestimate the value of a good beef jerky company business plan. If you have invested time and effort in its creation, your beef jerky company's business plan will serve as a blueprint for success.
To assist your efforts, you may want to consider enlisting the aid of a professional business plan writer.
Professional business plans can often be more effective than plans that are created in-house. Even so, we caution new business owners against removing themselves entirely from the business plan creation process.
As the primary stakeholder in your beef jerky business, you will intentionally need to insert yourself in various stages of the plan's development.
Don't Overlook Competitors
Well in advance of opening a beef jerky business in your area, it's a smart move to find out what the competition looks like. Try our link below to get a list of local competitors near you. After clicking on the link, type in your city, state and zip code to get a list of beef jerky businesses near you.
Gain a knowledge of how existing firms have positioned themselves in the marketplace, and then design your business in a way that sets you apart from the others.
Getting Advice from Experienced Entrepreneurs
After you've evaluated your local competitors, you really ought to learn as much as you can from somebody who is already in the business. If you think your local competitors will give you advice, you're being overoptimistic. What's in it for them?
Fortunately, somebody who runs a beef jerky business in a location that is not competitive to you will be much more likely to talk with you, after they realize you reside far away from them and won't be stealing their local customers. In that case, the business owner may be more than happy to discuss the industry with you. If you are persistent, you can find a business mentor who is willing to help you out.
Where does one find a beef jerky business entrepreneur that lives outside of your area?
We can help. Follow the link below, try a few city/state combos or zipcodes, and then start calling!
Is It Easier to Buy an Existing Beef Jerky Business?
Tough decisions are what business ownership is all about. And one of the first decisions you'll have to make is whether to start a business from scratch or buy an existing beef jerky business.
In general, purchased beef jerky businesses fare better than startups, at least during the initial few years. Existing companies have an established customer base, brand recognition and functional business models. More importantly, buying an existing beef jerky business makes it easier for you to begin collecting a salary sooner rather than later.
Entrepreneurs who are committed to a highly unique value proposition may need to pursue a startup approach. However, in today's business-for-sale marketplace, there is an abundance of beef jerky businesses worth considering.
Don't Rule Out Franchising
The chances of thriving in your new business are much better if you become a franchisee rather than going it alone.
Before opening a beef jerky business, you should check out whether there are good franchise opportunities available that might make sense for you.
The link below gives you access to our franchise directory so you can see if there's a franchise opportunity for you. You might even find something that points you in a completely different direction.
More Advice for Startups
These additional resources regarding starting a business may be of interest to you.
Characteristics of Successful Entrepreneurs


Share this article
---
Additional Resources for Entrepreneurs