Entrepreneur Business Opportunities
Opening a Loose Leaf Binders Retail Business
Here's some helpful information that is perfect for those who plan on opening a loose leaf binders retail business. Make sure you consider this advice before you open up shop.
Thinking about opening a loose leaf binders retail business? We tell you what you need to know to get started.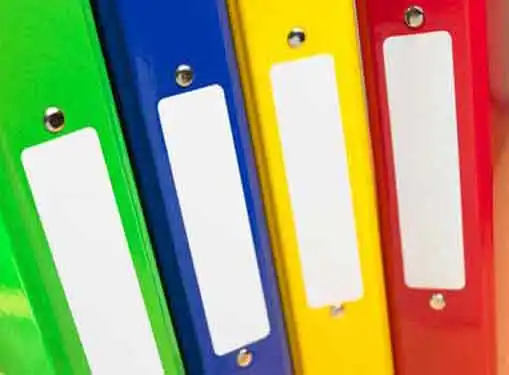 Navigating the Market for Loose Leaf Binders
Although they remain largely invisible, loose leaf binders play an important role in the daily lives of consumers, students and businesses. Although generic products comprise a decent share of the market, many retailers have tweaked their business models to tap into the lucrative custom binder market.
Custom loose leaf binders enable retailers to source businesses, institutions and other buyers with distinctive loose leaf merchandise. These binders are used in a variety of ways ranging from marketing collateral to internal recordkeeping. If your startup is able to develop long-term relationships with custom binder customers, you will gain the advantage of recurring revenue streams -- a key ingredient in business growth.
Products commonly sold by loose leaf binder retailers include vinyl binders, poly binders, index sets, pocket folders and similar types of merchandise. In today's market, it's common for retailers to tout value added elements such as environmental friendliness and superfast turnaround times.
Startup Requirements for New Loose Leaf Binder Retailers
Businesses that specialize in loose leaf binder retailing need to make sure they are equipped to handle the rigors of the marketplace. Here are just some of the startup requirements you'll need to address in your business plan.
Customization. Right away, your startup will need to develop a way to give customers custom printing options for their binders. This can either be accomplished in-house or through outsourcing. Although the profit margins are higher for in-house printing, so are the startup costs. Initially, many loose leaf binder companies opt for outsourcing, at least until they can raise enough capital to purchase the equipment they need to print internally.
Pricing. Pricing can become extremely competitive in the loose leaf binder industry. With corporate budgets being squeezed tighter than ever before, many business customers are looking to save cash wherever they can. As a startup, you probably won't be able to beat larger competitors on price -- but your pricing model should still be in the same ballpark.
Wholesale Relationships. In many cases, loose leaf retailers also offer wholesale pricing to small retail outlets that are willing to commit to a bulk purchase. This can be an especially appealing strategy if you are capable of performing custom printing in-house, allowing you to become a vendor for small retailers who lack print capabilities.
How to Write a Top Quality Loose Leaf Binders Retail Company Business Plan
Your loose leaf binders retail company's business plan is a blueprint that describes your company and the strategy you will execute to achieve specific goals.
Since lenders and investors will use your plan to gauge risk, it needs to contain industry-specific benchmarks and a detailed marketing plan.
For the sake of accuracy, you'll want to educate yourself about how to write the market analysis section of a business plan. While a robust market analysis can be a selling point for a loose leaf binders retail business startup, weak market research is a sure giveaway for a business that hasn't invested adequate effort in planning.
Don't Overlook the Competition
Before you open a loose leaf binders retail business within your community, it's essential to see how you will fit in the competitive landscape. We've provided the link below to help you find competitors in your area. Complete the form by entering your city, state and zip code to get a list of loose leaf binders retail businesses that are close by.
Before you open up shop, make sure you know what you will offer to your customers that provides a significant advantage over your competition's offering.
Learning More About the Industry
If you want to open a loose leaf binders retail business you really ought to talk to somebody who is already in the business. It's very unlikely that the local competition will talk to you. What's in it for them?
Fortunately, somebody who runs a loose leaf binders retail business in another town can be a great learning resource for you, as long as they don't view you as a competitive threat. Indeed, many experienced entrepreneurs enjoy offering advice to startup entrepreneurs. It can take a while to find an entrepreneur who is willing to talk, but it's well worth the effort.
Where do you find a loose leaf binders retail business entrepreneur in another city who you can speak with?
Simply, try our helpful link below, type in a random city/state or zipcode, and start calling.
Entry Options for Loose Leaf Binders Retail Businesses
There are two ways would-be entrepreneurs can gain entry to loose leaf binders retail business ownership: A startup or a business purchase.
Startup loose leaf binders retail businesses can be attractive because they allow the entrepreneur to have more control and greater influence. Yet startups are also more difficult to finance because their nature is inherently risky.
Acquired loose leaf binders retail businesses are known quantities - and are less risky for lenders. On the whole, buying a business minimizes uncertainty as well as many of the objections lenders use to disqualify startup entrepreneurs from financing.
Is Franchising the Right Option?
As an entrepreneur, your chances thriving in your new business increase if you become a franchisee rather than going it alone.
If you planning on starting a loose leaf binders retail business, a smart move is to assess whether franchise opportunities in your space might make sense for you.
The link below gives you access to our franchise directory so you can see if there's a franchise opportunity for you. You might even find something that points you in a completely different direction.
Related Articles on Starting a Company
These additional resources regarding starting a business may be of interest to you.
Share this article
---
Additional Resources for Entrepreneurs