How Do I Start a Business
Opening a Printing Press Business
These tips are ideal for entrepreneurial folks who hope to start a printing press business. Read this article before you start!
Thinking about opening a printing press business? We tell you what you need to know to get started.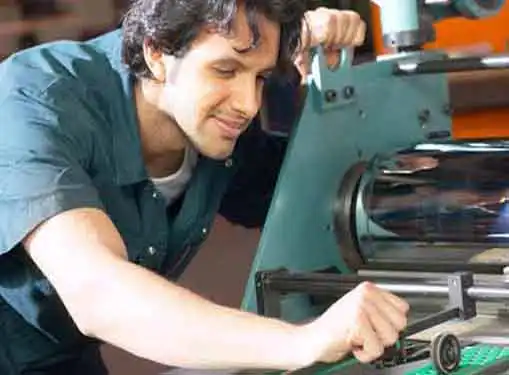 How to Outfit a New Printing Press Business
Printing press startups can be extremely costly business ventures. The printing industry's high entry costs are primarily due the price of modern presses. Unlike the old days, today's printing presses are technologically sophisticated assets featuring computer systems and other expensive components.
The first test of your business leadership will be to accurately estimate the cost of the printing equipment you will need to operate your startup. When creating a startup budget, the worse thing you can do is to blindly duplicate the printing presses found in the print rooms of entrenched competitors.
Why? Because there is a good chance that your startup's press doesn't need to have the same features and benefits as the presses owned by large competitors. Rather than engaging in a printing press "arms race", carefully analyze your target market's printing requirements and acquire assets that are tailored to your specific business model.
Startup Funding for Printing Press Entrepreneurs
Funding a new business venture is difficult, even for experienced entrepreneurs. Commercial borrowing is scarce, particularly for startup entrepreneurs in the current economy. Instead, most printing press entrepreneurs rely on their personal savings and other informal funding mechanisms.
Loans from friends and family members can be a double-edged sword. Although they are easier to obtain than commercial financing, many business owners feel uncomfortable asking their acquaintances to finance their business. As an alternative, consider leasing your equipment. You will pay more over the long run for a lease, but the upfront costs are negligible compared to the outright purchase of a commercial press.
Possible Market Segments for Printing Press Companies
Smart entrepreneurs launch their companies with a solid understanding of the types of people who are most likely to buy their products or services. Simply opening the doors and hoping for the best doesn't cut it these days. To succeed, you will need to strategically analyze your target market and tailor your business to providing them with the best possible print solutions.
There are several potential market segments that can be targeted by new printing press businesses. Commercial customers are extremely attractive because they tend to demand larger print orders and are willing to pay top dollar for high quality printed materials. However, the consumer print market is also attractive, especially for things like wedding invitations and graduation announcements.
If your startup is situated in a semi-saturated market, consider tailoring your business model to nonprofit customers. Not-for-profit organizations often have high print requirements and they are loyal to printers who understand their unique needs and circumstances.
Best Printing Press Company Business Plans
As a startup printing press business owner, writing a quality business plan is one of the first tasks you need to address.
If time is scarce, business plan software can be used to streamline the process. A reliable software solution will increase the accuracy and consistency of your business plan, dramatically improving its value to your printing press business.
As an additional benefit, most business plan solutions are geared toward providing the information most commonly requested by lenders and investors.
Don't Overlook the Competition
Prior to opening a printing press business within your community, it's worthwhile to determine what the competition looks like. We've provided the link below to help you find competitors in your city. Complete the form by entering your city, state and zip code to get a list of printing press businesses that are close by.
How are you going to successfully complete with existing firms? It's important that you never underestimate the competition.
Find Good Remote Business Advice
After you've evaluated your local competitors, it's a smart move to learn as much as you can from somebody who is already in the business. If you think owners of nearby printing press businesses will give you advice, think again. The last thing they want to do is help you to be a better competitor.
Thankfully, an owner of a a printing press business outside of your community will be much more likely to talk with you, once they realize that you are not going to directly compete with them in their community. Indeed, many experienced entrepreneurs enjoy offering advice to startup entrepreneurs. In my experience, you may have to call ten business owners in order to find one who is willing to share his wisdom with you.
How would you find somebody who runs a printing press business in another community?
No problem! Just use the link below and try a random city/state or zipcode. Then start dialing for advice until you are successful.
Acquired Printing Press Companies: Competitive Advantages
Pursuing a printing press business acquisition can be an effective route to profitability for emerging entrepreneurs.
A business acquisition also delivers an established brand - a big advantage in competitive markets. In fact, many entrepreneurs pursue acquisitions for the primary purpose of buying an established brand.
In a competitive market, the right acquisition can be leveraged to catapult your business into a market leadership position, even if you personally lack industry credentials.
Is Franchising the Right Option?
Recognize that your chances of avoiding failure in business are much greater when you choose to franchise instead of doing it all on your own.
Before you get too far along in your plan to open a printing press business, you should assess whether franchising might alleviate your startup process.
The link below gives you access to our franchise directory so you can see if there's a franchise opportunity for you. You might even find something that points you in a completely different direction.
Related Articles on Starting a Company
These additional resources regarding starting a business may be of interest to you.
Questions to Ask Before Starting a Business


Share this article
---
Additional Resources for Entrepreneurs