Business Startup Ideas
Opening a Residential Demolition Business
Want to become your own boss? Start a residential demolition business. It's an increasingly popular business...and for good reason.
Wondering how to start a residential demolition business? We take you step-by-step from start to success.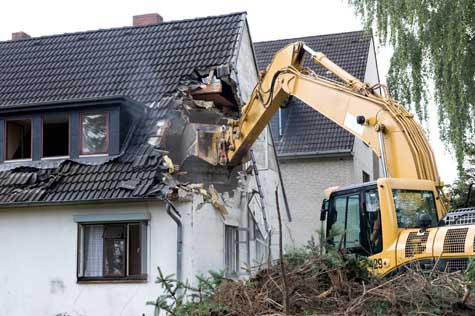 The Nuances of Residential Demolition
To outsiders, demolition sounds like the easiest job in the building and construction sector. But industry insiders know that residential demolition involves much more than razing a structure with sledgehammers and bulldozers. Residential demolition entrepreneurs who lack industry experience quickly find themselves in over their heads -- and often in violation of codes and standards.
Planning and preparation are critical selling points for residential demolition startups. The more equipped your business is to deal with utility connections, hazardous material abatement, permits & notifications, and on-site safety, the easier it will be for your business to land high value clients.
Finding Customers for a Residential Demolition Startup
From the outset of operations, your demolition startup will be engaged in a race to land enough clients to keep your equipment and personnel working at full capacity. But since finding customers can be challenging when your business is just getting on its feet, so you'll need to execute customer acquisition strategies on multiple fronts:
Traditional/Online Marketing. A residential demolition startup can benefit from many of the same marketing strategies as other B2C service providers. By pursuing the right mix of traditional and online marketing techniques, you can raise your company's profile and begin the process of creating a brand identity for your demolition business.
Industry Networking. At the local level, the construction trade is a tight-knit business community. It's fairly common for contractors to refer business to each other, so creating relationships with other local contractors is a priority. You'll also want to create relationships in the demolition community by participating in the National Demolition Association and other trade groups.
Government Contracts. Communities that are plagued with urban decay frequently initiate programs to raze condemned structures in order to clear the way for urban renewal efforts. As a fledgling demo business, it's important to research government-sponsored demolition programs and make connections with local authorities.
Writing Tips for a Residential Demolition Company Business Plan
Your new residential demolition business needs a business plan. But if you've never drafted a business plan before, the process can be intimidating.
But here's the good news: With a few tips, any entrepreneur can create a successful plan for their business. If you can get past the mystique, you'll see that a business plan just describes where your residential demolition business is headed and how you intend to get there.
Although there are many uses for a business plan, it's most important function is to guide your decision making and strategic planning.
Before you begin, we recommend reviewing a few sample business plans.
Assess Competitors
Well in advance of opening a residential demolition business in your town, it's a good idea to find out how you will fit in the competitive landscape. We've provided the link below to help you generate a list of competitors nearby. After following the link, enter your city, state and zip code to get a list of residential demolition businesses in your area.
How are you going to successfully complete with existing firms? It's important that you never underestimate the competition.
Find Good Remote Business Advice
Once you've finished assessing the competion, you really ought to have a conversation with someone who is in the business. It's very unlikely that the local competition will talk to you. What's in it for them?
Thankfully, an owner of a a residential demolition business on the other side of the country will be much more likely to talk with you, given that you don't compete with them in their area. Many business owners are happy to give advice to new entrepreneurs. Our estimate is that you may have to contact many business owners to find one who is willing to share his wisdom with you.
The key question new becomes: how to find a residential demolition business owner in another community?
No problem! Just use the link below and try a random city/state or zipcode. Then start dialing for advice until you are successful.
Purchasing a Residential Demolition Business
Many experts advise against starting a residential demolition business if you can buy an established operation. Yet the process of buying a residential demolition business introduces a new set of challenges.
Buying a business can be just as complex as starting one. For most prospective business buyers, the first step is to contact a business broker.
Although you could buy a residential demolition business on your own, you'll save time and money by recruiting a reputable broker with industry experience.
Consider Franchising
If you want to minimize your chances of failing, you should consider whether there are good franchise opportunities that would be right for you.
If you are thinking about opening a residential demolition business, it's worthwhile to determine whether franchising might make it easy to get started.
The link below gives you access to our franchise directory so you can see if there's a franchise opportunity for you. You might even find something that points you in a completely different direction.
More Advice for Startups
These additional resources regarding starting a business may be of interest to you.
Coming Up With Good Business Ideas
Have Friends Who Might Like This Article?

Share this on Twitter
Let them know on LinkedIn
Ready to Learn More? We Think You Might Like These Articles:
---
Additional Resources for Entrepreneurs