Business Startup Ideas
Opening a Roofing Contractors Business
We've collected some good advice that is written for entrepreneurial folks who hope to start a roofing contractors business. Read this article before you open up shop.
Wondering how to start a roofing contractors business? We take you step-by-step from start to success.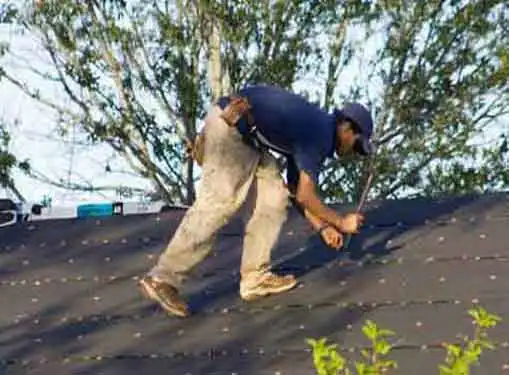 Roofing Contractor Fundamentals
Roofing contractors are key players in the residential/commercial construction and repair industry. One of the advantages of being a roofing contractor is flexibility -- when constructions dry up due to economic pressures, roofing contractors have the ability to focus on roof replacements and the installation of cost-cutting roofing applications (e.g. solar, insulated materials, etc.).
Roofing contractors also have the flexibility to adapt their operation to their resources and market demands. Small crews are common throughout the roofing industry, but the leading roofing providers routinely take advantage of new opportunities in the field -- regardless of their business size.
The key to exploiting new opportunities is to understand the demands of your market and the emergence of new products or processes in roofing. For information about the state of the industry, contact the National Roofing Contractors Association.
Service Options for New Roofing Contractors
Roofing contractors provide a range of services to their customers. Determining which services your startup will offer is a factor of your startup capital, regional market preferences and overall business capacity.
Some of the service options at your disposal include new roof installations, roof replacements & repair, gutters, skylights, preventative maintenance and inspections. Based on market realities, your business plan should address how your service offerings will differentiate your startup from the competition.
If you offer exactly the same services as the competition, you may need to achieve differentiation through pricing, service quality or other features.
Roofing Contractor Marketing Tips
Many roofing contractors are exceptionally poor marketers. Although they may provide the highest quality roof constructions and replacements in their market, their inability to inform prospective customers about their companies has a devastating impact on their bottom line profitability.
By mastering basic marketing skills early, you can give your startup a competitive edge. These days, business websites with images of successfully completed roof projects and high search engine visibility are standard for any serious roof contracting startup.
Additionally, you'll need to understand the difference between B2B and B2C marketing techniques to promote your startup to both commercial and residential customers. Since these sectors require unique marketing techniques, you may want to focus your resources on either the commercial or residential market, at least until you achieve enough growth to effectively market your startup to both types of customers.
How to Write a Top Quality Roofing Contractors Company Business Plan
Your roofing contractors company's business plan is a blueprint that describes your company and the strategy you will execute to achieve specific goals.
But from an outsider's perspective, your business plan is also a reality check. Third-party stakeholders want to make sure that the most important parts of your plan are based on real world information, including your business plan's market analysis section.
For the sake of accuracy, you'll want to educate yourself about how to write the market analysis section of a business plan. As you prepare the market analysis section, be careful to rely on substantiated market research rather than your hopes for your roofing contractors business.
Review the Competition
Long before you open a roofing contractors business in your town, it's a good idea to see how you will fit in the competitive landscape. Use the link below to generate a list of competitors in your city. Complete the form by entering your city, state and zip code to get a list of roofing contractors businesses that are close by.
Prior to opening your doors for business, be sure you fully understand the competitive landscape and where your new business will fit in.
Turning Competitors Into Collaborators
If you are seriously contemplating launching a roofing contractors business, it's essential that you learn from folks who are already in business. If you think owners of nearby roofing contractors businesses will give you advice, think again. It'd be crazy for them to teach you the business.
However, a fellow entrepreneur who has started a roofing contractors business on the other side of the country can be a great learning resource for you, after they realize you reside far away from them and won't be stealing their local customers. In that case, the business owner may be more than happy to discuss the industry with you. It can take a while to find an entrepreneur who is willing to talk, but it's well worth the effort.
How do you find a roofing contractors business entrepreneur in another city who you can speak with?
We can help. Follow the link below, try a few city/state combos or zipcodes, and then start calling!
Getting Started in Roofing Contractors Business Ownership
Would-be roofing contractors business business owners can either launch a new business or acquire an existing operation.
Startup roofing contractors businesses can be attractive because they allow the entrepreneur to have more control and greater influence. Yet startups are also more difficult to finance because their nature is inherently risky.
On the other hand, a roofing contractors business purchase is more attractive to lenders and investors. Although buying a business doesn't guarantee success, it substantially increases your odds of obtaining financing and achieving profitability.
Consider Buying a Franchise
The odds of achieving your primary goal of surviving in business are greatly increased when you choose to franchise in lieu of doing everything yourself.
Prior to making the decision to open a roofing contractors business, you would be wise to determine whether franchise opportunities in your space might simplify your entering the business.
The link below gives you access to our franchise directory so you can see if there's a franchise opportunity for you. You might even find something that points you in a completely different direction.
Related Articles on Starting a Company
These additional resources regarding getting started as an entrepreneur may be of interest to you.
Coming Up With Good Business Ideas


Share this article
---
Additional Resources for Entrepreneurs