Entrepreneur Ideas
Opening a Soda Fountain Shops Business
Time to become an entrepreneur? This helpful article on opening a soda fountain shops business features all the reliable, straightforward advice our readers expect.
Thinking about opening a soda fountain shops business? We tell you what you need to know to get started.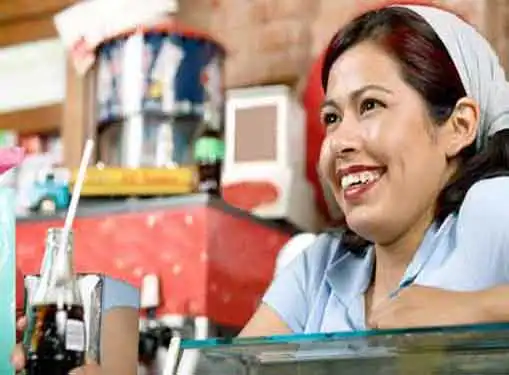 Soda Fountain Shops: Bringing New Life to an Old Business Concept
Soda fountain shops were a staple of American life for much of the 20th century. While some operated within drugstores, others were standalone operations that served flavored sodas, ice cream, confections and light meals. In many communities, the local soda fountain shop served as a gathering place for young people and even older adults.
The decline of the soda fountain industry can be traced to the soda industry's transition to canned products and self-dispensing soda machines. However, industrious 21st century entrepreneurs are reviving the soda fountain shop tradition by launching vintage theme shops throughout the nation. Today, successful soda fountain shops focus on delivering a combination of flavored sodas, ice cream and confections with an ambience that dispenses nostalgia as well as great tasting sweets.
Required Elements for a Soda Fountain Shop Startup
The first requirement for a soda fountain startup is an entrepreneurial commitment to the soda fountain shop concept itself. Soda fountain shops are nostalgia-based businesses. Although innovation and creativity are welcome additions to any startup, you can't deviate too far from the soda fountain shop mold without jeopardizing your ability to attract customers interested in reliving a piece of their past.
In addition to recreating the proper ambience, you'll need to equip your startup with commercial soda fountain equipment. If possible, consider trying to locate authentic soda fountain equipment (e.g. Bastian-Blessings fountains) that can be restored to its former glory in your startup. If your soda fountain shop will also feature chocolates and confections, glass cases and assorted other pieces of equipment will be essential startup acquisitions.
Growth Strategies for Young Soda Fountain Shops
The expansion of a soda fountain startup can be much trickier than it sounds. Retro business models are self-limiting by nature, so you'll need to be careful to grow your business in a way that doesn't threaten or irritate your core customer base.
Geographic expansion or the addition of a new location can be a profitable growth strategy -- but it is also one of the most costly ways to expand. As an intermediate step, you might want to think about expanding your services to include theme tasting parties, holiday events and catering options. These options can potentially increase your startup's revenues without dramatically increasing your overhead costs.
Best Practices for Soda Fountain Shops Company Business Plans
The idea of writing a business plan is intimidating to most aspiring soda fountain shops business owners. A good soda fountain shops company business plan, however, is a reality check that gauges your business instincts against hard industry numbers.
After the plan has been completed, its effectiveness will largely depend on what you do next.
A business plan distribution strategy represents the backend of your business planning requirements. Generally, effective distribution models include the incorporation of tracking systems into the company's startup plan.
Don't Ignore Competitors
Well in advance of opening a soda fountain shops business within your community, it's worthwhile to find out how strong the competition is. Use the link below to generate a list of competitors in your city. After following the link, enter your city, state and zip code to get a list of soda fountain shops businesses in your area.
Before you open up shop, make sure you know what you will offer to your customers that provides a significant advantage over your competition's offering.
Learning More About the Industry
If you are seriously contemplating launching a soda fountain shops business, it's a wise move to talk to somebody who is already in the business. Local competitors are not going to give you the time of day, mind you. It'd be crazy for them to teach you the business.
But, a person who owns a soda fountain shops business in another town may be more than happy to give you a few tips, after they realize you reside far away from them and won't be stealing their local customers. Indeed, many experienced entrepreneurs enjoy offering advice to startup entrepreneurs. It can take a while to find an entrepreneur who is willing to talk, but it's well worth the effort.
How does one quickly and easily locate an owner of a soda fountain shops business that lives outside of your area?
Simply, try our helpful link below, type in a random city/state or zipcode, and start calling.
Leveraging the Branding Benefits of a Soda Fountain Shops Business Acquisition
Startup soda fountain shops businesses typically suffer when it comes to brand recognition because unlike entrenched competitors, new brands lack visibility and history with their customers.
To compensate, one of the techniques entrepreneurs use is to buy a business to get an established brand. As a startup, the best you can hope for is to gradually develop brand awareness over a period of months and years.
Acquiring an established soda fountain shops business brand, on the other hand, has the potential to deliver the kind of brand recognition most startup can only dream about.
Consider Franchising
Your chances of achieving the entrepreneurial goal of doing well in business are substantially improved if you go the franchising route and benefit from the prior work of others and their lessons learned.
Prior to starting a soda fountain shops business, you should determine whether there are good franchise opportunities available that might be worth investigating.
The link below gives you access to our franchise directory so you can see if there's a franchise opportunity for you. You might even find something that points you in a completely different direction.
More Advice for Startups
These additional resources regarding starting a business may be of interest to you.
Share this article
---
Additional Resources for Entrepreneurs