Starting a Business
Opening an Air Ambulance Services
Ready to start an air ambulance services? With our primer on how to get started, you'll soon be on your way.
We offer a few good recommendations on how to start an air ambulance services.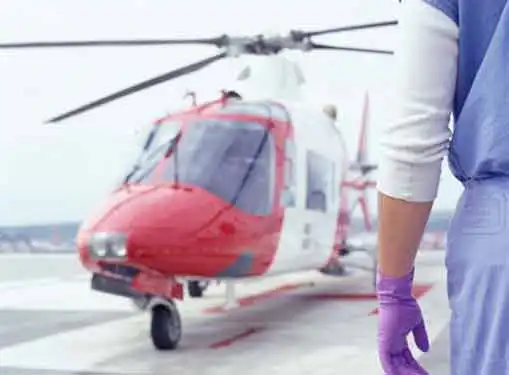 Choosing an Air Ambulance Business Model
Air ambulance services are situated at the nexus of two large and vibrant industries: Air transportation and healthcare. The size of these two industries can be intimidating for SMB entrepreneurs anxious to make their mark in business. However, with the right business model, emergency medical transportation is an open field for emerging entrepreneurs.
Many patients and potential air transport entrepreneurs don't realize that the air ambulance industry features several different service models. While some air ambulance companies operate out of hospitals using hospital medical staff, others operate on a community-wide basis or in disaster relief scenarios where it is necessary to field an internal medical team.
In some cases, a single air ambulance provider can provide multiple business models. But as a startup, you will need to consider the potential benefits of specializing in an underserved service model rather than trying to do it all from day one.
Challenges in Launching an Air Ambulance Business
Air ambulance startups face a handful of unique challenges. Although most of these challenges are industry-specific requirements, you will need to carefully discern their impact on your startup plan and budget forecast.
Around the Clock Service. Air ambulance service providers have to be prepared to transport patients on a 24/7/365 basis. If your team and aircraft aren't equipped to perform in any weather environment, your startup will lose credibility and experience the effects of negative PR in the close-knit medical transportation community.
Fleet Acquisition. Securing a fleet of aircraft that has been outfitted for medical transportation is a significant barrier to entry for startup entrepreneurs. Standard aircraft must be modified with advanced medical and flight equipment, further increasing cost barriers. If resources are limited, we advise startup owners to explore aircraft leasing opportunities as a way to reduce the cost of startup overhead.
Pilot & Medical Team Staffing. Staffing is a challenge for any startup. But for an air ambulance startup, staffing is complicated by the need to hire trained and experienced pilots and medical personnel. Similar to fleet leasing, employee leasing may enable you to reduce overhead and administrative requirements without jeopardizing the quality of service you provide to your patients.
How to Write a Top Quality Air Ambulance Services Business Plan
A business plan is the skeletal framework for your air ambulance services's mission, goals and strategic vision.
But from an outsider's perspective, your business plan is also a reality check. Third-party stakeholders want to make sure that the most important parts of your plan are based on real world information, including your business plan's market analysis section.
For the sake of accuracy, you'll want to educate yourself about how to write the market analysis section of a business plan. While a robust market analysis can be a selling point for an air ambulance services startup, weak market research is a sure giveaway for a business that hasn't invested adequate effort in planning.
Investigate Competitors
Long before you open an air ambulance services within your community, it's a good idea to see what the competition looks like. Use the link below to generate a list of competitors near you. Just enter your city, state and zip code to get a list of air ambulance services in your community.
Before you open up shop, make sure you know what you will offer to your customers that provides a significant advantage over your competition's offering.
Learning More About the Industry
After you've evaluated your local competitors, the next step is to speak with somebody who is already in the business. It's very unlikely that the local competition will talk to you. It'd be crazy for them to teach you the business.
But, a person who owns an air ambulance services in a different city can be a great learning resource for you, after they realize you reside far away from them and won't be stealing their local customers. Many business owners are happy to give advice to new entrepreneurs. Our estimate is that you may have to contact many business owners to find one who is willing to share his wisdom with you.
Where can an aspiring entrepreneur like you find an air ambulance services entrepreneur on the other side of the country to talk to?
Simply, try our helpful link below, type in a random city/state or zipcode, and start calling.
Entry Options for Air Ambulance Services
As a prospective air ambulance services owner, your entry options are limited to buying a viable business or building one from scratch.
Startup air ambulance services can be attractive because they allow the entrepreneur to have more control and greater influence. But financially, startups present significant challenges because lenders are typically hesitant to fund startup air ambulance services.
Acquired air ambulance services are known quantities - and are less risky for lenders. Buying a business means that you'll have access to a documented financial history, an established business model and other factors that are unknowns in a startup – and that makes the ownership opportunity less of a risk to both you and your air ambulance services's key stakeholders.
Is Franchising the Right Option?
As an entrepreneur, your chances being a successful business owner immediately improve if you buy a franchise instead of doing it all on your own.
As part of your process in starting an air ambulance services, it's worthwhile to assess whether franchising might make it easy to get started.
The link below gives you access to our franchise directory so you can see if there's a franchise opportunity for you. You might even find something that points you in a completely different direction.
Related Articles on Starting a Company
These additional resources regarding starting a business may be of interest to you.
Share this article
---
Additional Resources for Entrepreneurs