How to Open a Business
Opening an Italian Restaurant
What does it take to start an Italian restaurant? We cover the most important things you should consider when opening an Italian restaurant.
Wondering how to start an Italian restaurant? We take you step-by-step from start to success.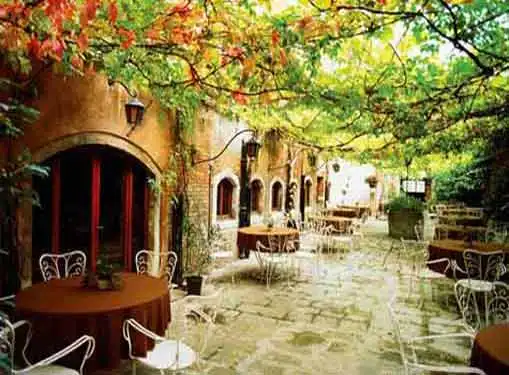 Navigating the Crowded Italian Restaurant Market
The Italian restaurant concept is a favorite among aspiring restaurateurs. Italian cuisine is extremely popular with U.S. dining patrons and the ingredients can be much less expensive when compared to other restaurant industry concepts. So how could an Italian restaurant startup possibly go wrong?
Unfortunately, the factors that make Italian restaurants so successful also make it difficult for new entrepreneurs to break into the market. The popularity of Italian startups means that you'll face stiff competition from a glut of mediocre Italian restaurants already active in the marketplace.
In order for your startup to succeed, you'll need to offer Italian diners something extra. Although there are many ways to differentiate your startup, gourmet pizzas, an emphasis on authenticity and other quality-based selling points can be useful for making your restaurant stand out from the rest of the field.
Marketing Tips for New Italian Restaurants
More than anything else, your ability to market your Italian restaurant will determine your ability to attract and retain customers during its critical first year of life. Fantastic Italian eateries close everyday, not because their menu was lacking, but because the owner simply didn't know how to market an Italian restaurant to 21st century diners.
Online Marketing. Online marketing is the ace in the hole for emerging Italian restaurant owners. Many older Italian restaurants don't market online simply because they have never needed to use the Internet to promote their businesses. But with today's consumers increasingly relying on the Internet to connect with dining options, a strong business website can be the tool your startup needs to capture the attention of local patrons.
Free Promotions. During the first year, your emphasis needs to be on getting people in the door. Increased profitability will eventually come, but only to the degree you are able to generate steady dining traffic. By offering giveaways like free pizzas on birthdays, free desserts to graduates and other gimmicks, you give people a reason to give your restaurant a try and hopefully transfer their loyalty to your establishment.
Mobile Marketing & Social Media. Determined Italian restaurant entrepreneurs understand the importance of marketing via mobile devices and social media outlets. Geolocation and online coupons make mobile marketing strategies a must-have for aggressive restaurateurs. At the same time, the public's continuing fascination with Facebook, Twitter and other social networking sites makes social media marketing a no-brainer for converting diners to committed brand advocates.
Creating a Business Plan for an Italian Restaurant
A common mistake for a small business owner is to launch your company without having written business plan for your startup Italian restaurant.
The key benefit of writing a business plan is that it establishes both a framework and a roadmap for your business. The absence of an effective business plan inevitably results in impulsive leadership, limiting your Italian restaurant's ability to succeed long-term.
Start by defining your business mission. The process of writing a mission statement doesn't have to be complicated. From there, it's time to initiate the hard work involved with writing the rest of your Italian restaurant's business plan.
Don't Be Shy
If you're a startup Italian restaurant owner, you understand how important it is to anchor your new business in the local community. Most Italian restaurants are local businesses that are marketed to a geographically concentrated customer base. So, before getting too far along with your startup business, we strongly recommend that you survey local residents if they would buy from a new Italian restaurant, if one were to open up in the area.
Don't Overlook Competitors
Before you open an Italian restaurant in your area, it's a smart move to determine how strong the competition is. Use the link below to find competitors near you. After clicking on the link, type in your city, state and zip code to get a list of Italian restaurants near you.
How tough is the competition in the market you are considering? If the competition is too tough, you may need to think about starting the business in a different area or even start a completely different business instead.
Studying the Market
If you want to open an Italian restaurant the next step is to learn as much as you can from somebody who is already in the business. It's very unlikely that the local competition will talk to you. It'd be crazy for them to teach you the business.
On the other hand, an individual who has an Italian restaurant outside of your community may be willing to share their entrepreneurial wisdom with you, given that you don't compete with them in their area. Many business owners are happy to give advice to new entrepreneurs In my experience, you may have to call ten business owners in order to find one who is willing to share his wisdom with you.
How do you locate an Italian restaurant manager in another community?
It's not that hard. Just use the handy link below and enter in a random city/state or zipcode.
Benefits of Buying an Italian Restaurant
On a percentage basis, more entrepreneurs intend to enter Italian restaurant ownership through a startup than through a business purchase. But the harsh reality is that startup Italian restaurants experience a high failure rate compared to entrepreneurs who buy existing Italian restaurants.
The decision of buying vs. starting a business shouldn't be taken lightly. While other startups are just getting on their feet, a business purchase dramatically improves the odds that your Italian restaurant will be realizing net income from the outset of your ownership engagement.
Is Franchising the Right Option?
Buying a franchise makes it a certainty that you get access to great ideas that were developed by experienced entrepreneurs who know your industry inside and out.
Before you consider starting an Italian restaurant, you may want to investigate whether franchise opportunities in your space might help you on your entrepreneurial journey.
The link below gives you access to our franchise directory so you can see if there's a franchise opportunity for you. You might even find something that points you in a completely different direction.
Other Useful Articles for Startup Entrepreneurs
These additional resources regarding starting a business may be of interest to you.
Questions to Ask Before Starting a Business


Share this article
---
Additional Resources for Entrepreneurs