Advice for Scientist Entrepreneurs
Preparing for Due Diligence
Written by Tamsen Valoir, PhD for Gaebler Ventures
Due diligence involves intense scrutiny of all of your documents. It's critical to keep your documents well-organized and readily accessible.
Throughout this series of articles, I've discussed the path to commercialization as though that was every start-up company's ultimate goal.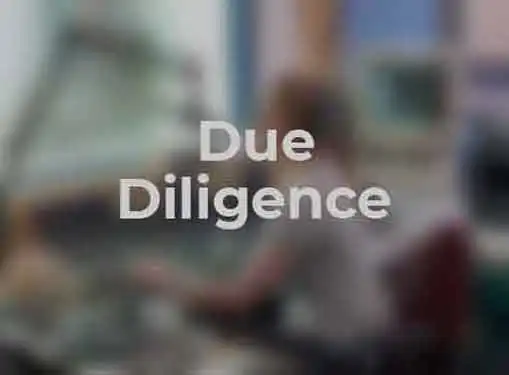 But there are many different exit strategies, ranging from obtaining private investment to selling the company outright to partnering with a bigger company to going public with an Initial Public Offering (IPO) of shares.
Regardless of what the company's strategy is, be prepared and have all of the company documents well organized and available for the inevitable due diligence that will occur.
PDF all documents and label each in a meaningful way. Organize the PDF files in a sensible way in well labeled folders, and keep copies of all e-files in an offsite location, preferably in another city—something Katrina taught us all.
Due diligence files should include at least the following categories:
Organizational. Include all incorporation documents, bylaws and the like.
Financial. Include copies of all financing documents, lists of shareholders, tax filings, business plan, market analyses and the like.
Employment. Include copies of all employment contracts and any related employee benefit information, including a summary of all employees and their significant rights.
Confidentiality Agreements. Include copies of each, and ensure that everyone with access to confidential information, including third party vendors, executes a confidentiality agreement.
Intellectual Property. Include copies of all patent applications and assignments, and an up-to-date summary of patents, their ownership, the scope of claims, freedom to operate, status, maintenance and expiry information. Include additional files for trademarks, trade secrets, copyrights and domain names as needed.
Licenses. Include copies of all in-and out-licensed technology, and a summary describing the general scope of each and significant terms, such as royalty obligations, and restrictions on transfer, field of use, or geography.
Contracts. Include copies of all non-employee contracts such as with laboratory or computer service providers, landlords, and the like.
Publicity. Include copies of all publications, press releases and brochures.
FDA. Include copies of all communications with the FDA and all supporting data.
Other. Include such material as lists of assets, real estate, a description of any disputes or litigation and supporting documents, environmental documents including permits, audits and lists of hazardous materials, etc.
I hope that the tips I have provided give you the courage needed to start a technology company and give your company a better chance at success by making you aware and able to avoid some common pitfalls.
The risks are great, but the rewards can also be great, and what better way to express a passion for research and commitment to the betterment of humanity than to successfully bring new technology to the public.
More Tips for Scientist Entrepreneurs
To learn more about how to bring a product out of the laboratory and transition from the role of scientist to that of entrepreneur, please browse the rest of the tips for science entrepreneurs in this article series:
Tamsen Valoir, PhD is a partner in the Houston office of Baker & McKenzie, LLP. She has a JD and LLM in Intellectual Property, a doctorate in molecular biology from Rice University, and her practice is primarily in intellectual property in the life sciences. As a leading Houston patent attorney, she can assist scientists with patent preparation and prosecution, opinion writing, IP due diligence and licensing in the life sciences. She can be reached at [email protected] or by phone at (713) 427-5007.
Share this article
---
Additional Resources for Entrepreneurs