Human Resources Articles
Productivity Management
Written by Stefan Martinovic for Gaebler Ventures
Productivity improvement can not happen without a strong productivity management system. Learn how to improve productivity within your organization.
As a small business owner, it is necessary to extract every bit of potential from your employees in order to obtain the maximum benefit for your business.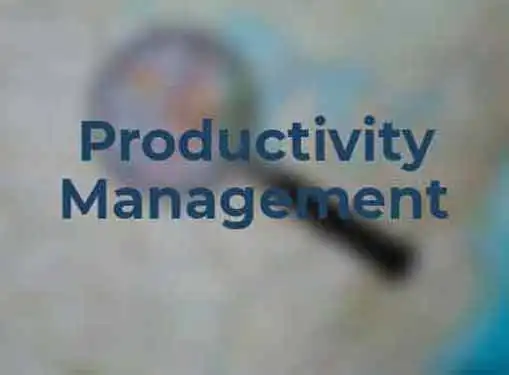 Now that you have hired the individuals which you believe will propel your business into the future, ensuring their performance is up to par is vital to getting the most from your manpower dollar.
Instituting a productivity management system for individual performance review can help you as a manager gain insight as to the capabilities of your employees as well as provide your staff with constructive feedback on how to improve their efficiency.
The key to productivity management is setting up a standardized system for review. If each individual employee is evaluated using a different criteria, it becomes increasingly difficult for management to have an accurate understanding as to who is underperforming and who is exceeding expectation.
By putting a uniform system in place company-wide, it speeds the evaluation process by allowing you to compare employee performance side by side with other individuals in similar job functions. As the owner, you have the best handle on the day-to-day happenings of your business and will be better able to gauge employees of different job functions by observing their roles within the company.
An employee should understand their responsibilities and what is expected of them from the onset of their employment.
It stands to reason that the employees' skill sets matched the needs of the position and that they are capable of the work, being that you made the decision to hire them. What is a bit more subjective, however, is what the goals of the employee are in their current position.
Whether an individual views their position as a career or simply as a job can impact their work ethic significantly. As you already expect the employee to know what you as a manager expect gain with their employment, making the effort to understand what their career goals and long-term aspirations are can help to give you an eye into the mindset of your staff.
Now that you have a standardized evaluation format laid out and have determined your employees' goals, putting your productivity management system in place is the next step.
Depending on your personal preference and what you determine the needs of your company to be, setting up a periodic employee performance review allows you to gather information on employee progress. Generally, these reviews are held either quarterly or twice a year, depending on the company.
These employee performance review meetings can be used to go over what the employee has accomplished in relation to his or her goals in an effort to ensure their job satisfaction.
This is also a good opportunity to review projects and tasks accomplished to rate company satisfaction with the employee.
Consistently good reviews may result in positive reinforcement through compensation or advancement, whereas consistently poor review may result in termination
By incorporating a productivity management system into your human resources strategy, you ensure that all employees feel like they are a part of a cohesive unit.
This allows you as a manager to constantly keep a finger on the pulse of your business and make adjustments with a minimum of disruption.
Stefan Martinovic has an extensive body of work across the financial services, manufacturing, and retail industries. He is currently pursuing an MBA in Management and Entrepreneurship at The College of William & Mary.
Share this article
---
Additional Resources for Entrepreneurs