Small Business Insurance
Professional Liability Insurance
Running a business without professional liablity insurance can be a big mistake. We explain why buying professional liability insurance is essential for all service providers.
In the old days, malpractice insurance was reserved for doctors, dentists, and other medical professionals. Unfortunately, those days are over.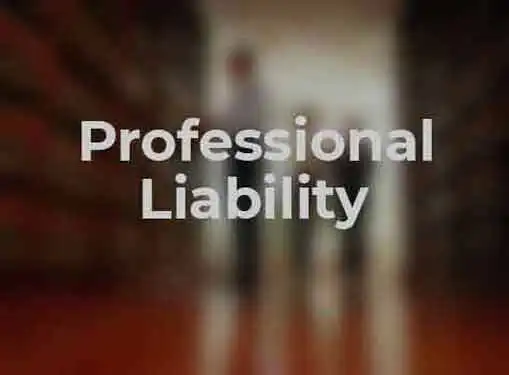 There's a good chance that your small business qualifies you as a professional and without professional liability insurance coverage, your entire company could be at risk.
The need for expanded professional liability insurance is due, in a large part, to the increasingly litigious nature of society. With each new lawsuit, it seems another small business owner finds it necessary to defend himself from allegations of professional malpractice. In recent years, the ranks of these "new professionals" have grown to include accountants, architects, insurance agents, consultants, travel agents, and many other small business-based professions.
The two primary forms of professional liability claims are breach of contract suits and negligence in the performance of services suits.
Breach of contract suits are less common and (as the name suggests) related to claims that a professional has failed to fulfill contractual obligations.
The more common - and more costly - suits relate to professional negligence. Negligence suits seek damages for claims that a professional failed to adhere to professional standards, resulting in a subsequent loss by the client. In order to qualify as negligence, it must be proven that there is a close connection between the acts of negligence and the damage they cause.
Professional liability insurance policies generally cover claims against the business and individuals within the organization such as owners, directors, and employees. In most cases, coverage includes both judgment amounts and the legal costs associated with defending your business against lawsuits, regardless of whether or not the suits result in a judgment.
There is no set method for estimating the cost of professional insurance since premiums vary by field, size of the business, income, deductible, and coverage amounts. The only way to make sure you're getting the best possible deal is to shop around and compare policy coverages, eligibility limitations, and pricing.
To help manage the cost of premiums, it's also a good idea to implement a loss prevention program as soon as possible. The goal of an effective loss prevention program is twofold: To minimize opportunities for negligent actions and to provide documentation that can be used to defend your business against claims.
From a preventative standpoint, it's important to remain current on best practices and standards in your field, and to avoid situations that may represent a conflict of interest or leave you vulnerable to accusations of negligence. Beyond that, there's not much else you can do except to maintain accurate records in every area of the business. Your recordkeeping system should include documentation of business activities, phone records, billing calculations, correspondence, and contracts.
A good method for evaluating your prevention program is to subject your business to the scrutiny of a peer review. Invite others within your profession to conduct an unofficial "audit" of your business practices and recordkeeping system in exchange for conducting a similar audit of their business.
Share this article
---
Additional Resources for Entrepreneurs