Opening a Business
Starting a Bagel Shop
Starting a bagel shop is an excellent entrepreneurial opportunity if you have the creativity and tenacity necessary to be a successful entrepreneur. Here are tips and advice on successfully operating a small business.
No holes in this article! This guide provides the clear guidelines and advice that entrepreneurs need to start a bagel shop.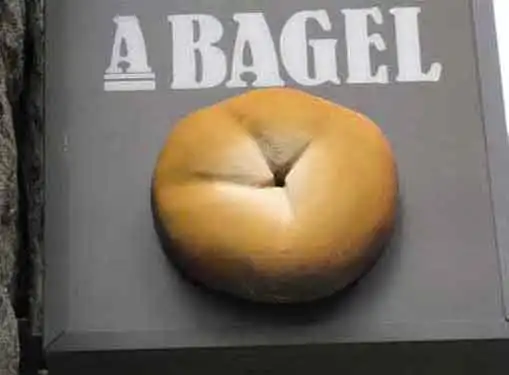 So you got bit by the bagel shop ownership bug? It can be a very good business, but it's also a highly competitive space.
Bagel Shop Launch Tips
A bagel shop is a viable entry point for entrepreneurs trying to gain a foothold in the food service industry. What could be easier? Make bagels. Sell bagels. Repeat. Unfortunately, today's bagel industry isn't that simple -- it's a highly competitive food service sector with leading sellers incorporating a range of innovative business models and expansion opportunities.
These days, most bagel shops do more than sell bagels. Although bagels are their core competency, the best shops also offer specialty sandwiches, soup and other items designed to turn a traditional breakfast food into an all-day affair. Once your business opens in the morning, the cost of keeping it open the rest of the day is minimal, so you'll need to find a way to keep hungry crowds satisfied all day long.
Things to Think About
Let's get back to the bagels for a minute. How are you planning to make dozens of varieties of bagels on a daily basis? If you don't know how to make bagels, consider working at a bagel shop until you get the basics down. If possible, begin to experiment with recipes that might make your bagels stand out from the other bagel shops in your area.
Knowing how to make bagels and actually making them are two different things. The equipment and space requirements for bagel making can be substantial. If startup capital is at a premium, consider buying pre-made bagel dough from a wholesale distributor. You'll still have to bake the bagels, but your time and capital investments will be less and you will be able to sell bagels from a kiosk, a booth and other small locations while you're getting on your feet.
As you plan your bagel shop startup, be sure to brand all of your business's takeout products with the company logo and slogan. Bagel bags, coffee boxes, napkins and paper cups have a tendency to hang around kitchens and offices, exposing additional consumers to your brand and product line.
Best Bagel Shop Business Plans
As a startup small business owner, you need to have a business plan you can rely on for both external and internal purposes.
Although there are a lot of tasks screaming for your attention, cutting corners on your business plan can be a precursor to disaster. The evidence overwhelmingly supports the fact that your startup can't achieve long-term success without an accurate business plan.
Before you do anything else, perform a reality check on your startup business plan – and if it's lacking, drop everything and head back to the drawing board.
Begin With the End in Mind
You will likely start with a local focus, but it's a good idea to think about how you might eventually expand your business.
Because many bagel shops achieve growth by launching multiple sites and treating each location as a new, local business, we recommend that you build your bagel shop such that it can be replicated in other locations in the future.
Consider the Competition
Well in advance of opening a bagel shop within your community, it's worthwhile to determine how many competitors you have. Try our link below to generate a list of competitors in your area. After following the link, enter your city, state and zip code to get a list of bagel shops in your area.
If there's too much competition, it may be wise to consider starting the business in a less competitive marketplace.
Finding a Non-Competitive Business Mentor
As part of your due diligence on opening a bagel shop, it's a smart move to learn from folks who are already in business. Local competitors are not going to give you the time of day, mind you. The last thing they want to do is help you to be a better competitor.
On the other hand, an individual who has a bagel shop on the other side of the country may be more than happy to give you a few tips, after they realize you reside far away from them and won't be stealing their local customers. In fact, they are often very willing to share startup advice with you. Our estimate is that you may have to contact many business owners to find one who is willing to share his wisdom with you.
How do you locate a bagel shop founder that lives outside of your area?
Simple. Let your fingers do the walking by using the link below.
Business Brokerage for Bagel Shop Entrepreneurs
Business owners are decision makers. And the first decision you'll need to make is between a bagel shop startup and an acquisition. In most cases, there are compelling financial and practical reasons buying an existing bagel shop.
A qualified business brokers can provide a range of services designed to ease your transition into business ownership.
The best business brokers will ensure that you get the right business for the right price, and will help you avoid common bagel shop acquisition mistakes.
Is Franchising the Right Option?
Not looking forward to creating work routines and policies from scratch? Maybe you need to consider a franchise startup. Solid franchise opportunities equip startup owners with training and other resources designed to streamline workflows and operations.
Narrowing down the list of prospective franchisors can be confusing. There a lot of factors to consider, so you'll need to take your time and explore all of your options. Our bagel franchise directory will get you started in finding a bagel shop franchise startup that matches your business outlook and financial parameters.
More Startup Articles
These additional resources regarding starting a business may be of interest to you.
Characteristics of Successful Entrepreneurs
Share this article
---
Additional Resources for Entrepreneurs