Opening a Business
Starting a Bicycle Rental Business
Opening a bicycle rental business is a rewarding experience but it's important to plan out the business in detail before you start. This article contains tips and advice to improve your startup process.
Thinking about opening a bicycle rental business? We tell you what you need to know to get started.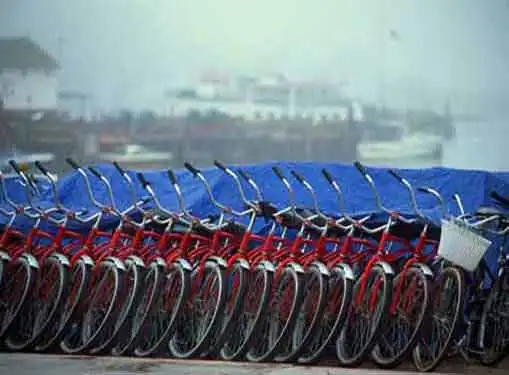 Location, Location, Location!
The importance of choosing the right location is a common mantra for small business startups. But for a bicycle rental business startup, the right location is an especially critical factor in success. Bike renters are almost exclusively tourists or locals interested in pedaling their way through local tourist destinations.
If your area doesn't see much tourist traffic, a bike rental business probably isn't a realistic startup option. Mountain bike rentals may be an exception, but even then your local area needs to offer mountain bike trails and a thriving mountain biking culture if your startup is going to have a chance at surviving more than a few months.
Startup Equipment
The most obvious startup requirement for a bike rental business is bikes -- but don't be afraid to start small. A fleet of five bikes is enough to start a small rental operation and if the business fails, it's easier to unload five bikes than it is to unload two dozen.
In addition to bikes, your business will need to have helmets, safety equipment and a central location. Although a small booth is sufficient to get started, you may want to relocate to a larger facility as the business grows and you expand your revenue streams.
Insurance is another consideration that needs to be addressed prior to launch. If someone gets hurt riding one of your bikes, you'll need adequate insurance to protect your rental shop and your personal assets from legal liability.
Rental Rates & Expansion Opportunities
Bike rental outfits charge by the hour, half-day, day and weekend. Rates vary from one market to the next, but a typical pricing structure might look something like this:
Hour: $12
Half-day: $25
Full day: $40
Weekend: $70
The idea is to encourage riders to rent bikes for longer periods of time by offering step discounts. Sales staff should be taught how to upsell renters by encouraging them to move up to the next rung on the rental ladder.
Eventually, you may want to expand your rental offerings to include skates and/or skis. Another expansions possibility is to grow your business to include a bike pro shop that sells bikes, safety equipment, apparel and other products.
Best Bicycle Rental Company Business Plans
A first-rate business plan is job one for your startup bicycle rental business.
If time is scarce, business plan software can be used to streamline the process. A business plan software solution is an effective tool for time-strapped bicycle rental business owners who understand the importance of a great business plan.
Properly utilized, business plan software has the potential to transform your business plan from a throwaway business requirement to an integral strategic resource.
Consider the Competition
Prior to opening a bicycle rental business in your town, it's a good idea to find out how strong the competition is. We've provided the link below to help you find competitors in your city. After following the link, enter your city, state and zip code to get a list of bicycle rental businesses in your area.
Is the established competition doing a good job? It's important to understand their strengths and weaknesses and think through how you'll stake up against those established businesses.
Learn from Others Who Are Already In This Space
If you are interested in starting a bicycle rental business, it's a wise move to have a conversation with someone who is in the business. If you think your local competitors will give you advice, you're being overoptimistic. It'd be crazy for them to teach you the business.
But, a person who owns a bicycle rental business outside of your community will be much more likely to talk with you, as long as they don't view you as a competitive threat. In that case, the business owner may be more than happy to discuss the industry with you. It can take a while to find an entrepreneur who is willing to talk, but it's well worth the effort.
Want the scoop on finding somebody who runs a bicycle rental business outside of your area who is willing to talk?
It's easy. Here's a link you can use to find a mentor outside of your area.
Acquired Bicycle Rental Businesses: Competitive Advantages
Pursuing a bicycle rental business acquisition can be an effective route to profitability for emerging entrepreneurs.
A business acquisition also provides the benefit of intangible assets like a brand identity. In fact, many entrepreneurs pursue acquisitions for the primary purpose of buying an established brand.
In a competitive market, the right acquisition can be leveraged to catapult your business into a market leadership position, even if you personally lack industry credentials.
Explore Franchising Options
Looking for a quicker way to launch your bicycle rental business? Franchise startups dramatically shorten the startup cycle, giving your business a fast track to earnings, profits and growth.
The link below will take you to the Gaebler rental franchise directory, a resource containing a list of bicycle rental business franchise startup opportunities in your area.
More Advice for Startups
These additional resources regarding getting started as an entrepreneur may be of interest to you.
Coming Up With Good Business Ideas
Share this article
---
Additional Resources for Entrepreneurs