How to Start a Small Business
Starting a Fingerprinting Services & Equipment Business
Opening a fingerprinting services and equipment business is an excellent entrepreneurial opportunity but it's important to plan out the business in detail before you start. We offer tips and advice on successfully operating a small business.
Thinking about opening a fingerprinting services and equipment business? We tell you what you need to know to get started.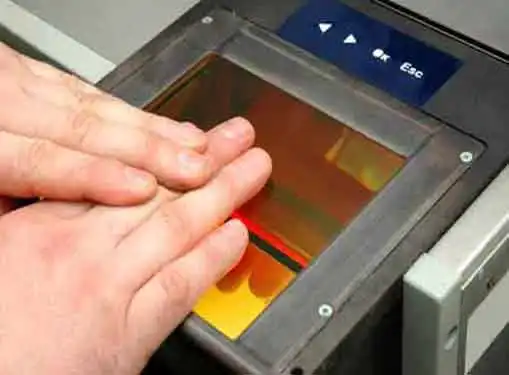 Setting Up a Fingerprinting Business
We live in a security-conscious world. Employers routinely screen employee backgrounds and often require fingerprinting for workers in sensitive job categories. In the corporate world, fingerprinting is a high stakes security feature that demands first-rate service from an outside fingerprinting provider.
Entrepreneurs considering a fingerprinting services and/or equipment startup need to carefully consider the scope of the services they will offer before they jump into the marketplace. Some businesses offer basic fingerprinting while others sell fingerprinting equipment or provide a wider range of security services. More service means that your business can survive with fewer clients; fewer services mean that you'll need to be the best and target a broader client base.
Considerations for New Entrepreneurs In This Business
Since fingerprinting is a natural fit for businesses that offer complete employee background checks, many startups expand their business model to provide a one-stop experience for employers. By combining fingerprinting with background checks, reference checks, photo IDs and other services, you can significantly increase revenues and entrench your business in your customers' hiring routines.
Like other industries, the fingerprinting industry has experienced dramatic technological changes in recent years. Live scan technology now makes it possible to collect fingerprints electronically and feed them into a criminal background system. Whether you perform fingerprinting yourself or sell equipment to fingerprinting providers, it's critical to stay current with the technology.
Fingerprinting licenses and certifications vary by state. Some states don't permit private companies to perform live scan fingerprinting; others are more open to contracted fingerprinting service providers. Do your research, and obtain proper licensing and insurance coverage before you contact prospective clients.
Best Practices for Writing a Fingerprinting Services & Equipment Company Business Plan
Many new fingerprinting services and equipment business owners feel unprepared for the challenge of writing a business plan.
But even though you have primary responsibility for drafting a business plan for your fingerprinting services and equipment business, you aren't entirely alone. These days, there are tons of great resources and solutions available to support the business plan writing process.
For more information, take a look at our Business Plan Help section.
Consider Competitors
Before you open a fingerprinting services and equipment business in your town, it's a good idea to determine how strong the competition is. Use the link below to get a list of local competitors in your city. Complete the form by entering your city, state and zip code to get a list of fingerprinting services and equipment businesses that are close by.
Gain a knowledge of how existing firms have positioned themselves in the marketplace, and then design your business in a way that sets you apart from the others.
Getting Advice from Experienced Entrepreneurs
If you want to open a fingerprinting services and equipment business it's essential that you learn from folks who are already in business. If you think your local competitors will give you advice, you're being overoptimistic. What's in it for them?
However, an entrepreneur who owns a fingerprinting services and equipment business in a different city may be more than happy to give you a few tips, once they realize that you are not going to directly compete with them in their community. Many business owners are happy to give advice to new entrepreneurs It can take a while to find an entrepreneur who is willing to talk, but it's well worth the effort.
What's the best way to find a fingerprinting services and equipment business manager in a different locale who can assist you?
No problem! Just use the link below and try a random city/state or zipcode. Then start dialing for advice until you are successful.
Benefits & Drawbacks of a Fingerprinting Services & Equipment Business Acquisition
An acquisition can be a great way to enter fingerprinting services and equipment business ownership. But it's important to evaluate the benefits and drawbacks of buying a business before you decide on either an acquisition or startup approach.
BENEFITS: Acquired fingerprinting services and equipment businesses should be profitable right out of the gate; they should also be capable of demonstrating a loyal customer base, brand identity and operational efficiencies.
DRAWBACKS: On the downside, fingerprinting services and equipment business acquisitions can be difficult to adapt to your unique business philosophy so it's important to make sure the business is capable of achieving your ownership goals before you initiate the buying process.
Consider Franchising
The chances of doing well in business go up significantly if you buy a franchise in lieu of doing everything yourself.
Before you consider starting a fingerprinting services and equipment business, you would be wise to assess whether franchising might make it easy to get started.
The link below gives you access to our franchise directory so you can see if there's a franchise opportunity for you. You might even find something that points you in a completely different direction.
Related Articles on Starting a Company
These additional resources regarding getting started as an entrepreneur may be of interest to you.
Coming Up With Good Business Ideas


Share this article
---
Additional Resources for Entrepreneurs