How to Start a Small Business
Starting a Flea Market Business
Here's some helpful information that is perfect for those who are thinking about starting a flea market business. Read these tips before you start!
Thinking about opening a flea market business? We tell you what you need to know to get started.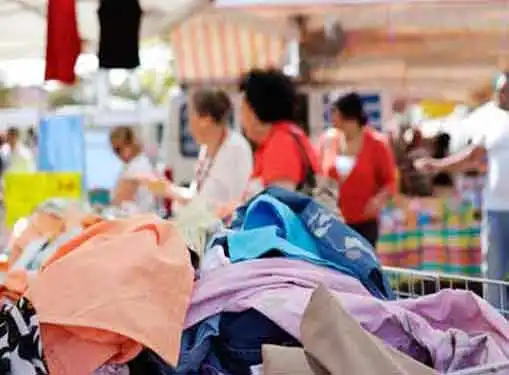 Flea Market Startup Requirements
On the surface, a flea market would appear to be a low overhead, low risk business concept. Entrepreneurs who have access to a sizeable piece of real estate and decent parking area can just find vendors, charge daily or monthly booth fees and watch the profits roll in, right?
That's a very na´ve way to approach a flea market startup. How will your flea market attract enough vendors and customers to make it worthwhile? Will there be restroom facilities? Food booths? And God forbid, what if someone gets hurt on your property? These and many other issues need to be addressed before you can begin thinking about how to spend your profits.
Vendor Considerations
Flea market vendors are a skittish group of people. Let's say you plan to charge $50 per booth per weekend. Although it's not a huge investment, when you consider the amount of time vendors will spend setting up and manning their booths, their investment in your flea market skyrockets. But more importantly, every hour they spend at your flea market is an hour they can't spend at a more established venue.
So for the most part, vendors prefer to sell at established flea markets with proven traffic volumes. To encourage vendors to give your flea market a shot, consider initially discounting your booth fees or even offering free booths for the first few weeks of business. More vendors means more traffic and more traffic will ultimately justify the rates you'll eventually charge for booth space.
Insurance & Zoning
You simply can't launch a flea market without adequate insurance coverage. A lot of insurance companies resist insuring the business use of residential property. Those who do will charge a pretty penny for coverage.
An alternative is to require vendors to provide proof of insurance. The problem there is that many vendors don't have insurance and will pass on your venue rather than obtain proper coverage.
Zoning is another issue that can complicate your life because some municipalities aren't keen on flea markets cluttering the landscape. Check with your local Chamber of Commerce and municipal authorities to verify whether or not you need a permit to operate a flea market in your area.
How to Write an Effective Flea Market Company Business Plan
It's virtually impossible for your flea market business to succeed without an effective business plan.
Accuracy and an eye for detail count when writing a business plan. Fudging the numbers is the equivalent of sabotaging your flea market business's strategic interests.
The bottom line is that a first-rate business plan is probably more attainable than you realize. For more information about flea market company business plans, take a look at what the experts say about business plan writing.
Evaluate the Competition
Well in advance of opening a flea market business within your community, it's a good idea to determine how strong the competition is. Use the link below to generate a list of competitors in your city. Just enter your city, state and zip code to get a list of flea market businesses in your community.
Is the established competition doing a good job? It's important to understand their strengths and weaknesses and think through how you'll stake up against those established businesses.
Learn from Others Who Are Already In This Space
If you are interested in starting a flea market business, it's a wise move to talk to somebody who is already in the business. If you think your local competitors will give you advice, you're being overoptimistic. It'd be crazy for them to teach you the business.
On the other hand, an individual who has a flea market business in a location that is not competitive to you can be a great learning resource for you, given that you don't compete with them in their area. Indeed, many experienced entrepreneurs enjoy offering advice to startup entrepreneurs. In my experience, you may have to call ten business owners in order to find one who is willing to share his wisdom with you.
How does one quickly and easily locate somebody who runs a flea market business outside of your area who is willing to talk?
Here's how we would do it. Try the useful link below and key in a random city/state or zipcode.
Guidelines for a Flea Market Business Acquisition
There are a lot of reasons why it may be preferable to acquire a flea market business instead of starting a new business venture.
An acquisition isn't necessarily a bed of roses. You'll need to thoroughly evaluate the factors involved with buying a business. The first criteria to consider is whether the existing business can be adequately adapted to your business philosophy.
If the business appears to meet your requirements, you'll need to verify your impressions through broker-assisted due diligence and legal research.
Consider Buying a Franchise
Purchasing a franchise doesn't mean you still can't fail but it can mitigate many risks that increase your chance of failure.
As part of your process in starting a flea market business, you ought to assess whether buying a franchise could make your life much easier.
The link below gives you access to our franchise directory so you can see if there's a franchise opportunity for you. You might even find something that points you in a completely different direction.
Related Articles on Starting a Company
These additional resources regarding starting a business may be of interest to you.
Consideration Before Buying a Franchise
Share this article
---
Additional Resources for Entrepreneurs