How to Start a Small Business
Starting a Flower Shop
Ready to leave the rat race? This useful article about starting a flower shop provides a wealth of information about how to do it right.
Thinking about opening a flower shop? We tell you what you need to know to get started.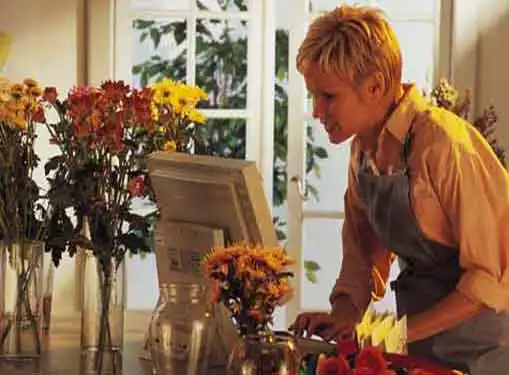 How to Write a Top Quality Florist Business Plan
If it includes hard numbers, a flower shop business plan can become the catalyst for an executable business strategy.
In contemporary business culture, business plans are also litmus tests used by external interests to assess real world viability and marketability.
Early in the process, it's worth your time to learn how to write the market analysis section of a business plan. It includes the identification of your target market and in many cases, the inclusion of supporting research to back up your claims and sales forecasts.
Evaluate the Competition
Before you open a flower shop in your town, it's worthwhile to determine what the competition looks like. We've provided the link below to help you find competitors nearby. Just enter your city, state and zip code to get a list of flower shops in your community.
How tough is the competition in the market you are considering? If the competition is too tough, you may need to think about starting the business in a different area or even start a completely different business instead.
Studying the Market
If you want to open a flower shop the next step is to talk to somebody who is already in the business. If you think owners of nearby flower shops will give you advice, think again. What's in it for them?
On the other hand, an individual who has a flower shop in a location that is not competitive to you may be willing to share their entrepreneurial wisdom with you, as long as they don't view you as a competitive threat. In that case, the business owner may be more than happy to discuss the industry with you. It can take a while to find an entrepreneur who is willing to talk, but it's well worth the effort.
How does one go about finding somebody who runs a flower shop in another city who you can speak with?
We can help. Follow the link below, try a few city/state combos or zipcodes, and then start calling!
Getting Started in Florist Ownership
As a prospective flower shop owner, your entry options are limited to buying a viable business or building one from scratch.
We understand why a startup may sound appealing. A new flower shop will definitely be more reflective of your personal business philosophy. Yet startups are also more difficult to finance because their nature is inherently risky.
Armed with several years of actual financials and a current asset appraisal, it is much easier to convince lenders to take a chance on a flower shop acquisition. On the whole, buying a business minimizes uncertainty as well as many of the objections lenders use to disqualify startup entrepreneurs from financing.
Don't Rule Out Franchising
The four-year survival rate for business startups is less than fifty-percent. Survival rates improve when entrepreneurs launch a flowers, florists and flower shops business franchise. Unlike traditional business models, franchise startups launch with many of the resources and learnings that other startups acquire over time.
At a minimum, click the link below to explore the possibility of pursuing a franchised approach to your flowers, florists and flower shops business startup.
Related Articles on Starting a Company
These additional resources regarding starting a business may be of interest to you.
Share this article
---
Additional Resources for Entrepreneurs