Entrepreneur Idea Guide
Starting a Hair Accessories Shop
Opening a hair accessories shop is your ticket to owning a good, stable business as long as you separate yourself from the competition. This article contains a few secrets on successfully operating a small business.
Wondering how to start a hair accessories shop? We take you step-by-step from start to success.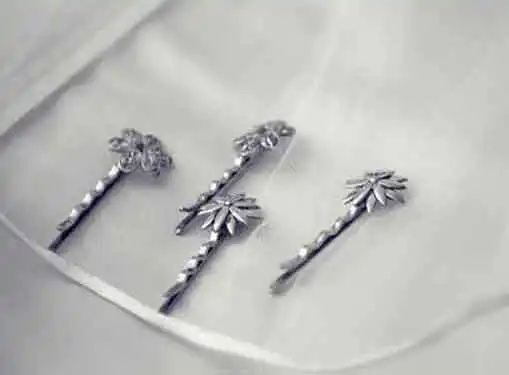 Retail Hair Accessories
Hair accessories can jumpstart your retailing career.
Envision customers walking into your hair accessories store and enjoying your wide selection of hair ribbons, hair bows, headbands, hair brushes, bandanas, barrettes, pony tail holders and scrunchies.
Market Overview: Hair Accessories
Hair accessory shops sit at the nexus of two thriving industries: Fashion and hair care. For the right entrepreneur, a hair accessories shop is an opportunity to earn profits while exercising their flair for style.
Apart from typical retail requirements, the barriers to entry are minimal. Although that might sound like good news, it also means that you will face a large volume of offline and online competitors, many of which have been in the business for years. So before you launch your hair accessory startup, you'll need to determine what features make your shop different from the rest of the field.
Types of Hair Accessory Shops
There is a wide spectrum of hair accessory stores in today's market. Some primarily sell inexpensive accessories to kids, teens and budget-conscious adults. Others are true boutiques that sell high-end accessories like jewel-encrusted pins, claws and tiaras. Before you decide on an approach, research the local market and position your shop to exploit competitive opportunities.
The type of shop you decide to launch will play a role in location selection. Many hair accessory shops are located in malls and other high traffic shopping venues. While these locations can work for many types of shops, boutiques may also want to consider locations situated near other luxury fashion stores.
Establishing an Online Sales Channel
Leading hair accessory shops maintain both in-store and online sales channels. If your startup plan calls for an online component, the first step is to create a first-rate, e-commerce website. This site should features quality images of your inventory of hairpins, claws, combs, barrettes and other products as well as a user-friendly ordering mechanism. If you're at the top of your game, you can integrate your site strategy with a social media strategy designed to generate buzz about your shop through Facebook and Twitter.
Decisions You Will Need To Make
Will you specialize in your own homemade hair accessories or will you purchase hair accessories from a wholesaler or manufacturer?
What's your target audience? Will you go high-fashion with very expensive items or maybe focus on hair accessories for children instead?
There are a quite a few decisions to make as you start the process of launching a hair accessories shop. What's most important is that you understand what other stores are offering and make sure you've got something that rises above what everyone else offers.
Business Plans for Hair Accessories Shops
A first-rate business plan is job one for your startup hair accessories shop.
Now here's the good news: You can minimize the amount of time it takes to write a business plan by buying business plan software. A business plan software solution is an effective tool for time-strapped hair accessories shop owners who understand the importance of a great business plan.
Properly utilized, business plan software has the potential to transform your business plan from a throwaway business requirement to an integral strategic resource.
Earn Your Startup Some Local Love
This type of business is usually dependent on local customers for most of the company's revenues. To capture local favor, you'll need to craft a business identity that incorporates a commitment to community stakeholders. As such, every action you take in building your business must actively court local customers.
Take a Look at the Competition
Prior to opening a hair accessories shop within your community, it's essential to find out how strong the competition is. Use the link below to get a list of local competitors nearby. After clicking on the link, type in your city, state and zip code to get a list of hair accessories shops near you.
It's important to be aware of what the competition is doing. Take the time to visit the competition to properly assess their strengths and weaknesses.
A Good Source of Advice
As part of your due diligence on opening a hair accessories shop, it's a wise move to learn as much as you can from somebody who is already in the business. It's very unlikely that the local competition will talk to you. Why would they want to educate a future competitor?
Thankfully, an owner of a a hair accessories shop on the other side of the country may be willing to share their entrepreneurial wisdom with you, given that you don't compete with them in their area. In fact, they are often very willing to share startup advice with you. If you are persistent, you can find a business mentor who is willing to help you out.
Where does one find a hair accessories shop owner in another city who you can speak with?
No problem! Just use the link below and try a random city/state or zipcode. Then start dialing for advice until you are successful.
Acquired Hair Accessories Shops: Competitive Advantages
Pursuing a hair accessories shop acquisition can be an effective route to profitability for emerging entrepreneurs.
A business acquisition also provides the benefit of intangible assets like a brand identity. In fact, many entrepreneurs pursue acquisitions for the primary purpose of buying an established brand.
In a competitive market, the right acquisition can be leveraged to catapult your business into a market leadership position, even if you personally lack industry credentials.
Is Franchising the Right Option?
The odds of achieving your top business goals go up significantly if you opt for franchising and leverage their successful brand and track record.
If you planning on starting a hair accessories shop, it's worthwhile to check out whether buying a franchise could be the right move for you.
The link below gives you access to our franchise directory so you can see if there's a franchise opportunity for you. You might even find something that points you in a completely different direction.
Entrepreneur Interviews
These interviews should be of interest to you.
Other Useful Articles for Startup Entrepreneurs
These additional resources regarding getting started as an entrepreneur may be of interest to you.
Share this article
---
Additional Resources for Entrepreneurs